BERN, Switzerland (AN) — For only the second time in its 144-year history, the international postal organization held an "Extraordinary Congress" to assess a new century. This time, it grappled with a cost-shifting, high-tech world of email, text messages, online shopping and private delivery.
The Universal Postal Union, or UPU, faces some hard decisions providing the framework for the world's widest distribution network. It gathered 1,000 people in Addis Ababa, Ethiopia for five days of talks last week that led to agreement on simpler election procedures, better regional representation and lower member fees for small, developing island nations that struggle to pay UPU contributions.
UPU's Director General Bishar A. Hussein said the goal of the Congress was "to ensure that UPU is fit for the purpose of spurring sustained development across the international postal network." But the Congress put off a decision until its next meeting in 2020 at Ivory Coast that deals with how to rework its "postal remuneration" — one of its biggest pressures, resulting mainly from a campaign waged by U.S. President Donald Trump's administration to change UPU-negotiated international postal rates.
The first Extraordinary Congress was held in Bern in July 1900 to mark the organization's 25th anniversary. The second one was called to address urgent strategic issues, working practices and questions about its role in the modern world. It succeeded in gaining consensus approval for a compromise plan to "modernize, rationalize and integrate" the postal remuneration systems of member nations, according to a UPU statement.
Trump announced little more than a week before UPU's Congress began that he wanted it to adopt "fair and nondiscriminatory rates for goods that promotes unrestricted and undistorted competition," a demand based on manufacturers' complaints about shipments from China. He specifically wanted stiffer rates imposed on China and developing nations that raise their "terminal dues," the fees postal services pay around the world to reimburse countries for international mail deliveries.
Trump said in a presidential memo that the "rates charged for delivery of foreign-origin mail containing goods do not favor foreign mailers over domestic mailers." He cited national security concerns on the basis that international mail could contain "high-risk" packages, including opioids.
In the United States, the Postal Service collects terminal dues, or below-cost payments, when it delivers small packages weighing less than 4.4 pounds (2 kilograms) that are sent from international shippers. Manufacturers complain Chinese counterfeiters take advantage of the payments by using online shopping to promote and deliver cheap goods to Americans.
Trump also warned in the August 23 memo that his administration would "consider taking any appropriate actions to ensure that rates for the delivery of inbound foreign packages satisfy those criteria, consistent with applicable law" if UPU's Congress failed to satisfy his demands. This could include withdrawing from the UPU to try to strike a better deal.
"President Trump is standing up for American workers and companies who are being hurt by this outdated, unfair international agreement on shipping rates," U.S. Senator Bill Cassidy, a Louisiana Republican, said in a statement about the "unfair UPU-set rates" after Trump's memo. "American companies are being run out of business by foreign competitors making cheap knockoff products they can ship to Louisiana for less than it costs an American company to mail the genuine product."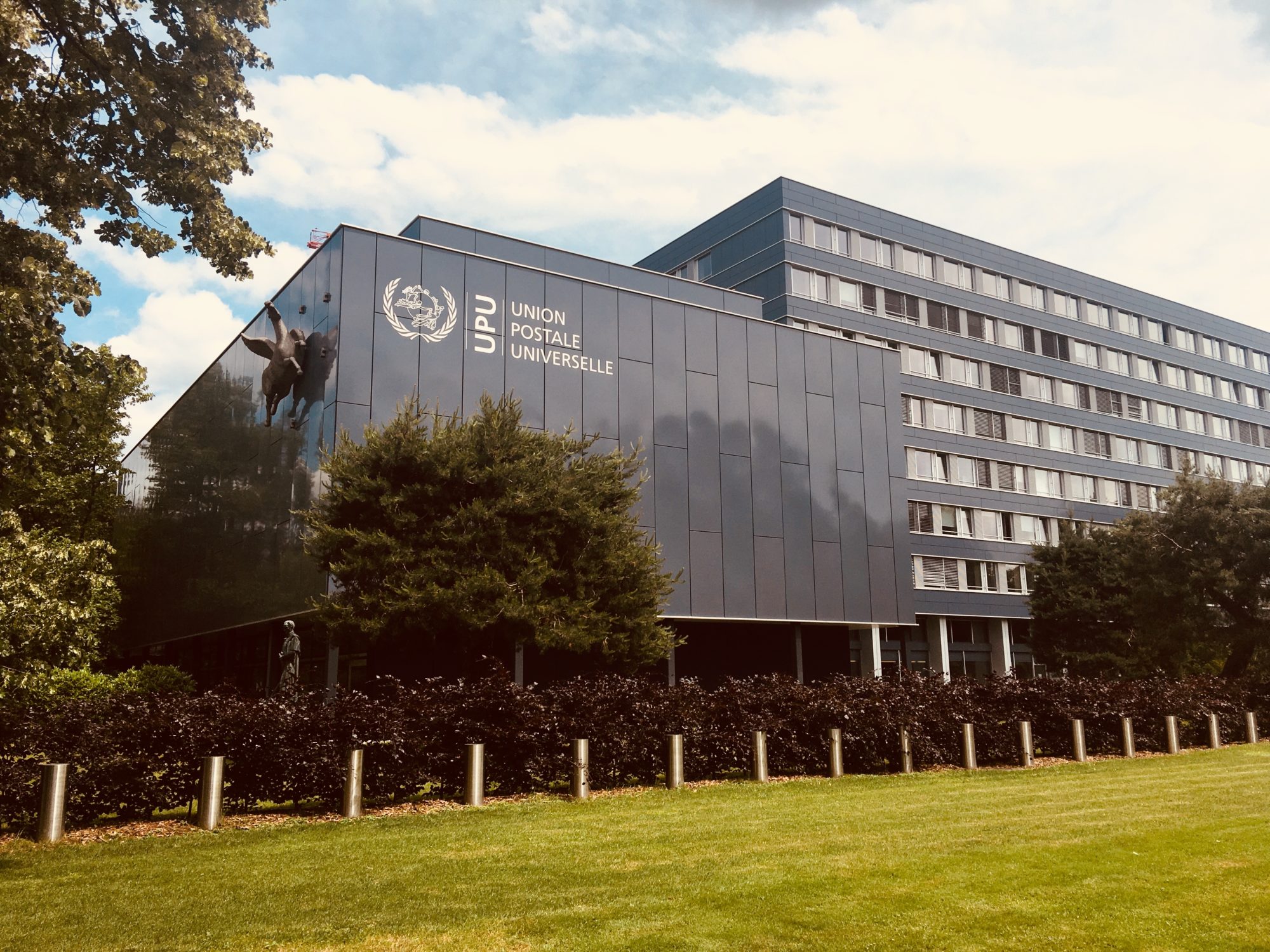 Universal Postal Union headquarters in Bern, Switzerland (AN/J. Heilprin)
Fees and more
Wealthier nations pay more such fees than developing countries under the rules set by the UPU, which is headquartered in the Swiss capital Bern, and the fees are an important source of revenue for many of the UPU's 192 member countries. But the Trump administration also is challenging the need for international organizations and their rules with his "America First" agenda.
The UPU was established in 1874 under the Treaty of Bern, which came out of an international conference in the Swiss capital on how to exchange international mail. In 1948, the UPU became part of the United Nations system. The world's postal services now account for US$492 billion in revenue in 2016, up slightly from 2015, driven mainly by parcel and express deliveries, according to the Brussels-based International Post Corporation, which forecast US$2 trillion in global e-commerce by 2021.
"Apart from mail, the three main sources of industry revenue are parcels and express, financial services and logistics and freight; on average, both the parcels and logistics segments saw revenue grow faster than mail in 2016," the IPC said in a summary of its key findings.
The world's postal services include 600,000 post offices, 5.3 million staff and physical infrastructure covering 192 countries, according to industry figures. The postal sector also is seen as an important factor in the U.N.'s anti-poverty Sustainable Development Goals for 2030.
It serves as the main forum for cooperation between national postal services, providing advice, mediation and technical assistance, but it also sets the rules for international mail exchanges and makes recommendations to grow and improve postal services.
At the Congress, Hussein began by telling delegates that the decisions they make will have a big impact on the future of the UPU.
"Different countries use different means of transportation, for example airlines, railways, even donkeys are still used in some countries. But I can tell you, no matter how much technology progresses, if you order goods from China or eBay, the technology cannot deliver that mail to its recipients. Someone still needs to physically do that and that is UPU's invaluable experience," he told reporters at the opening news conference.
"The postal network is the world's widest distribution network. But we are much more than just a delivery service of letters," he said. "E-commerce today is a booming business. You can order anything online. The Post is offering so many services to societies, and there are so many more market segments to be explored."
Comments