UNITED NATIONS (AN) — Some 40% of the United Nations' 193 member nations committed on Monday to achieving carbon neutrality by 2050, and nearly the same amount vowed to take greater action to fight global warming by 2020.
Along with the commitments from 77 nations to net zero carbon emissions, and from 70 nations on global warming, 130 banks representing a third of the global banking sector and 100 business leaders pledged to run greener operations by shifting to renewable energy and curbing fossil fuel-burning linked to climate change.
The corporate moves were intended to align businesses with the 2015 Paris Agreement on climate change and the U.N.'s 17 Sustainable Development Goals for 2030.
The promises to strengthen national commitments under the Paris accord and to transform the business sector towards more sustainable and cleaner energy sources coincided with the daylong U.N. Climate Action Summit organized by U.N. Secretary-General António Guterres, who demanded that world leaders show up with real action plans instead of well-meaning speeches.
Guterres issued a stark warning at the start of the summit held on the sidelines of the annual 193-nation U.N. General Assembly.
"Nature is angry. And we fool ourselves if we think we can fool nature. Because nature always strikes back. And around the world, nature is striking back with fury," he said. "Our warming Earth is issuing a chilling cry: Stop. If we don't urgently change our ways of life, we jeopardize life itself."
A group of the world's largest asset-owners, responsible for managing more than US$2 trillion, committed to move to carbon-neutral investment portfolios by 2050. The International Development Finance Club, a Paris-based partnership of 24 development banks with US$4 trillion in assets worldwide, announced that it will mobilize US$1 trillion in clean energy funding by 2025 in 20 of the least-developed nations.
Microsoft founder Bill Gates said his foundation would give US$310 million and the World Bank and several European governments agreed to contribute another US$480 million for a combined US$790 million in pledged aid to help 300 million of the world's small farmers adapt to consequences of climate change.
Some nations such as Britain, France, Germany and Norway agreed to double their contributions to the Green Climate Fund, or GCF, created in 2010 to help developing countries fulfill the 194-nation international treaty known as the U.N. Framework Convention on Climate Change, or UNFCCC.
Germany and Finland also promised to outlaw coal-burning within a decade. France said it will cease making trade agreements with nations whose policies run counter to the Paris accord.
After the Paris climate agreement was enacted, the GCF, which manages almost US$2.6 billion in projects, became a centerpiece for action focused on the poorest countries, which are the most vulnerable to the effects of climate change but emit only about a fifth of the world's heat-trapping carbon emissions.
More than US$5.2 billion has been pledged to the fund. Due to financing problems, however, during the summer of 2018 the GCF failed to add any new items to the portfolio of 76 projects that it supported, most of them in developing nations of Asia and Africa.
Still more action needed
The United Nations said the private sector "had a chance to demonstrate how it can bring about real positive change" when 87 major companies with a combined market capitalization of over US$2.3 trillion and 4.2 million employees — and annual carbon emissions equivalent to 73 coal-fired power plants — committed to setting climate targets across their operations.
The Paris accord's goals require keeping global average temperatures from rising by no more than another 1 degree Celsius above current levels, or only a half-degree C. more if possible, in keeping with the consensus projections and dire assessments carried out by the world's top climate scientists.
Nations with the five biggest shares of carbon emissions — China, 29%; the United States, 16%; India, 7%; Russia, 5%; and Japan, 4% — signaled vastly different approaches at the summit, ranging from business as usual to mild ambitions. Together they account for just over three-fifths of global emissions of carbon, methane and other heat-trapping greenhouse gases.
China said it will propose 150 new initiatives to cut emissions by 10 billion to 12 billion tons annually through reforestation and other "natural solutions." India committed to more than doubling its renewable energy use by 2030, though the country still relies heavily on coal-fired power plants.
Russia announced it had ratified the Paris accord.  Japan said it would reduce methane emissions from rice paddies, as one of more than 60 countries that agreed to cut short-lived climate pollutants. These pollutants, which also include black carbon and
hydrofluorocarbons,
or HFCs, have a potent warming effect and outsized public health impact though they linger in the atmosphere only a short time.
By contrast, the United States, which plans to withdraw from the Paris accord next year, had no climate announcement to make. U.S. President Donald Trump, who professes to disbelieve in climate science and opposes most every U.S. regulation to fight climate change, joined Vice President Mike Pence and Secretary of State Mike Pompeo in making a brief, surprise appearance at the Climate Action Summit to listen to Indian Prime Minister Narendra Modi and German Chancellor Angela Merkel.
Trump later told reporters he dropped by to catch a small portion of the climate summit "because I believe in clean air and clean water, very simple. We have the cleanest air, we have the cleanest water."
However, the U.S. state of Maine's Governor Janet Mills appeared at the summit to say that her state is committed to fighting global warming by going carbon neutral by 2045. She signed an executive order on Monday setting the net zero carbon emissions goal in line with Maine's mandate to cut greenhouse gas emissions by 45% below 1990 levels by 2030, and by 80% below 1990 levels by 2050.
"And if our small state can do it, you can," said Mills, whose northern New England state is concerned about the effects of a warming planet on its prominent lobster fisheries, timber industry and tourism-dependent Atlantic coastlines. "Because we've got to unite to preserve our precious common ground, for our common planet, in uncommon ways for this imperative common purpose."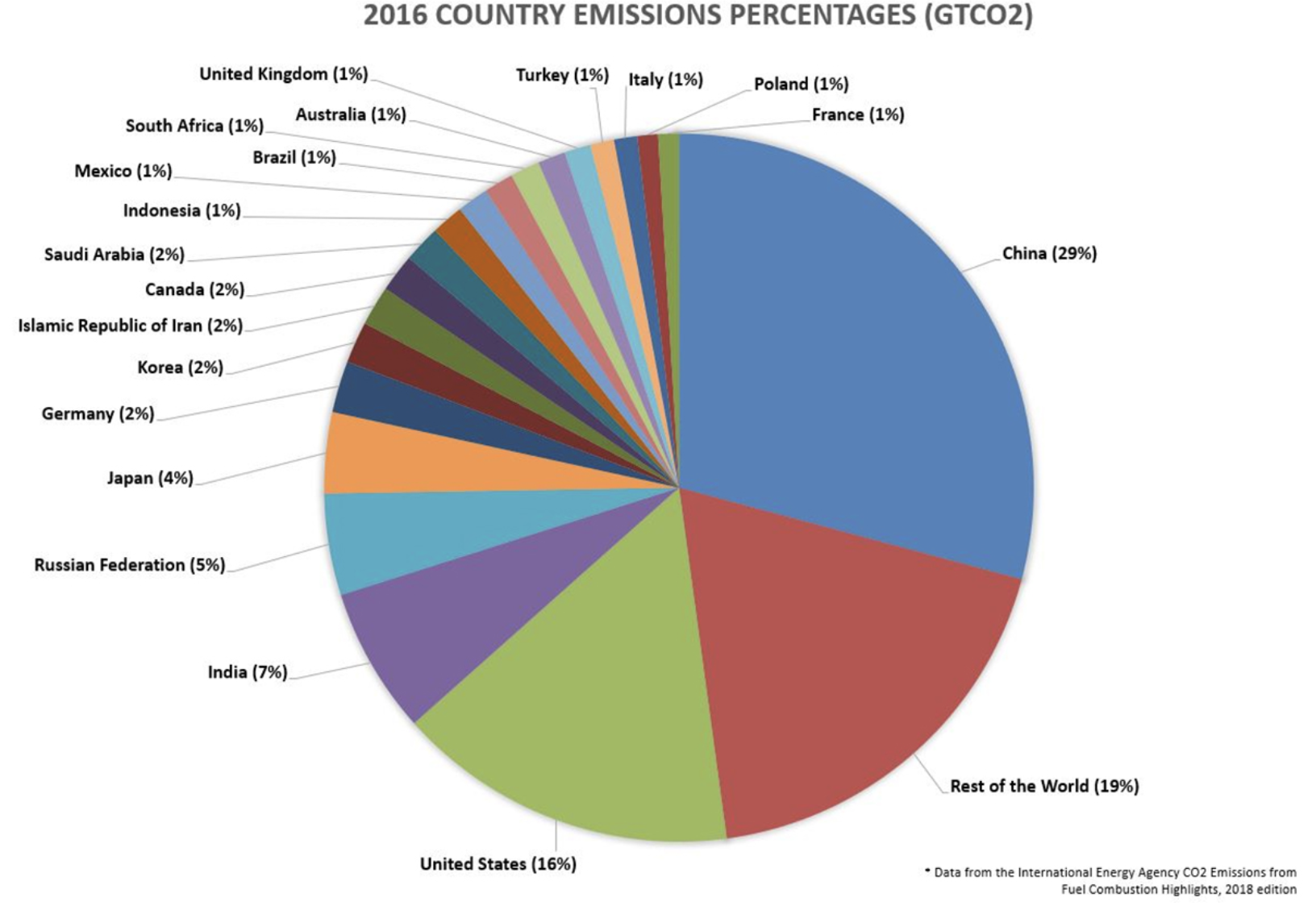 Union of Concerned Scientists
A riveting outburst of anger
Swedish climate activist Greta Thunberg, the 16-year-old student who sparked the Fridays for Future climate strike movement worldwide and crossed the Atlantic in a zero-emissions sailboat to attend the summit and provide testimony to the U.S. Congress, electrified the gathering when she angrily denounced world leaders for failing to do more to prevent the planet from warming further.
"This is all wrong. I shouldn't be up here. I should be back in school on the other side of the ocean. Yet you have come to us young people for hope. How dare you," said a clearly emotional Thunberg, setting a somber tone before the world leaders' 3-minute speeches. "You have stolen my dreams and my childhood with your empty words."
French President Emmanuel Macron told the summit he was "very struck by the emotion in the room" when some of the young people, including Thunberg, addressed the world leaders. "I also want to play my role in listening to them," he said. "I think that no political decision maker can remain deaf to this call for justice between generations."
Thunberg told the United Nations that even the most optimistic scenarios for cutting emissions only give the world a 50-50 chance of holding future warming to another 0.4 degrees C., which would be a failure. "We will not let you get away with this," Thunberg said. "Right now is where we draw the line."
By the end of the summit, Guterres said he wanted to "thank young people around the world for leading the charge — and holding my generation accountable," in a nod to the momentum gained from the millions of youth "climate strike" protesters. But he acknowledged far greater efforts will be needed.
"We have been losing the race against climate crisis. But the world is waking up. Pressure is building. Momentum is growing. And — action by action — the tide is turning," said Guterres. "We absolutely must guarantee the implementation of the commitment by developed countries to mobilize US$100 billion a year from private and public sources by 2020 for mitigation and adaptation in developing countries."
Comments