NAIROBI, Kenya (AN) — A huge "gap" in what is needed to cut carbon emissions puts the planet on track for average temperatures to rise "in excess of 3 degrees Celsius this century," the U.N. Environment Program said on Wednesday.
The pandemic is expected to cause a 7% drop in heat-trapping greenhouse gases from less industry, power use and travel this year.
This temporary dip, however, offers "insignificant" help — the equivalent of a 0.01 degree reduction — in scaling back emissions that help nations meet their 2015 Paris Agreement obligations of preventing global average temperatures from rising more than 2 degrees C. above pre-industrial levels, or 1.5 degrees C. if possible, UNEP said.
That is because emissions from fossil fuel burning since 2010 have grown on average by 1.4% per year, according to UNEP's 128-page Emissions Gap Report 2020. Carbon dioxide, methane and other major industrial emissions have accelerated extreme climate changes around the world such as Arctic ice losses, African droughts and famine, and Russian and American heat waves and wildfires.
The report measures the "gap" between actual emissions and promised cuts under the Paris climate treaty. The solution for closing that gap, UNEP recommended, is for the richest 1% of the global population, which accounts for more than twice the combined emissions of the poorest 50%, to increase conservation, scale back consumption and covert to using cleaner energy sources.
"This elite will need to reduce their footprint by a factor of 30 to stay in line with the Paris Agreement targets," said UNEP's executive director, Inger Andersen, in a foreword to the report.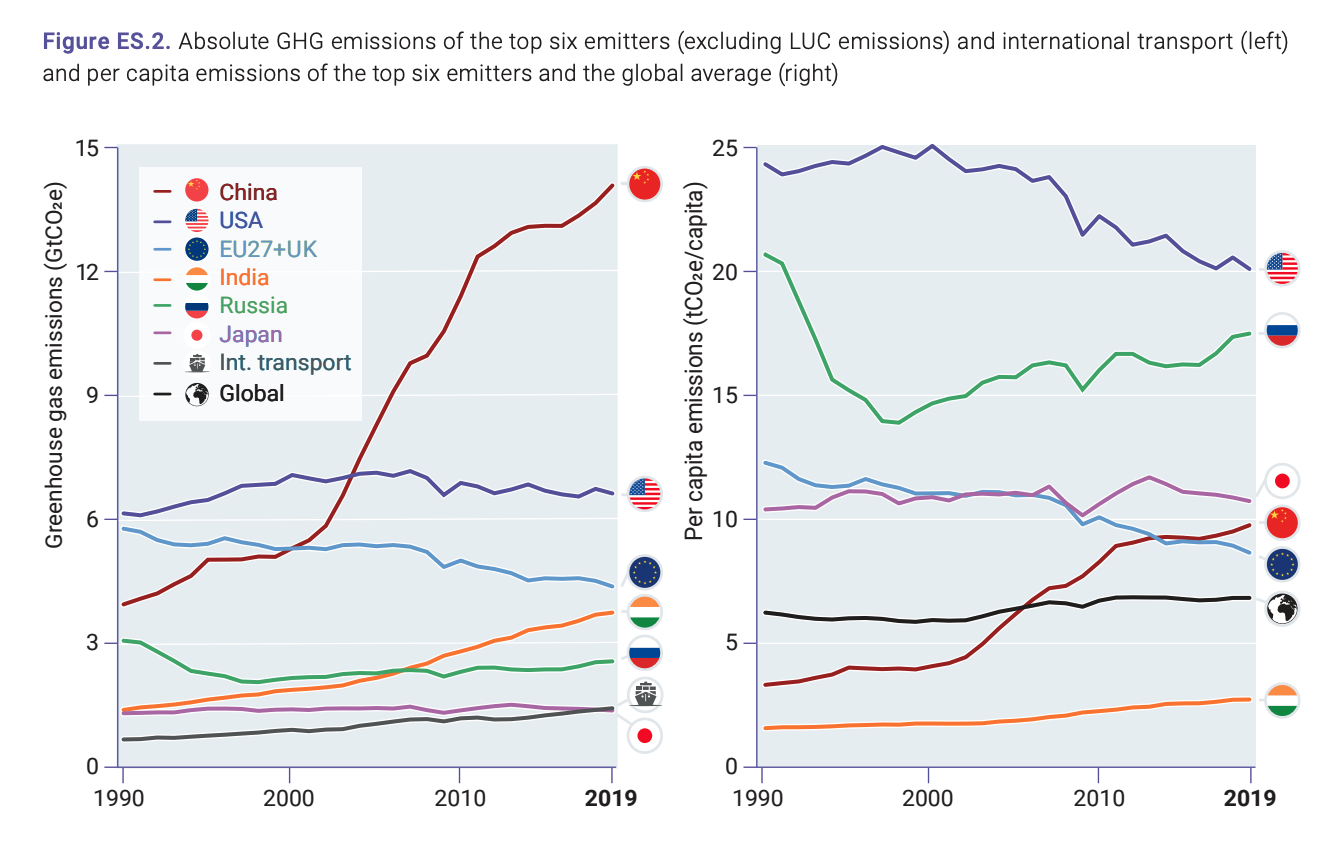 UNEP
'A major opportunity'
The report shows only around a quarter of all members of the Group of 20 major economies — Argentina, Australia, Brazil, Britain, Canada, China, the European Union, France, Germany, India, Indonesia, Italy, Japan, Mexico, Russia, Saudi Arabia, South Africa, South Korea, Turkey and the United States — have dedicated up to 3% of their GDP to the promotion of low-carbon energy measures.
Last month, the United Nations' top official for global climate action said 65% of the world body's 193 member nations, up from 40% last year, will seek net zero carbon emissions by 2050. Mark Carney, the U.N. special envoy for climate action and a former Bank of England governor, said 126 nations, up from 77 last year, committed to the goal set at the 2019 U.N. Climate Action Summit.
In September, Chinese President Xi Jinping told the General Assembly his nation, the world's biggest emitter of greenhouse gases, plans to achieve carbon neutrality by 2060. Xi called for a "green revolution," despite China's heavy reliance on coal to produce electricity.
American voters' choice of President-elect Joe Biden and Vice President-elect Kamala Harris signaled defeat for the "America First" policies of U.S. President Donald Trump, who considered climate change a hoax and regularly campaigned against energy efficient products. The incoming Biden-Harris administration is expected to immediately rejoin the Paris climate treaty that Trump renounced.
Andersen, a Danish economist and environmentalist, recommended that G-2o member nations invest in far more "green recovery measures," such as zero-emissions technologies and large-scale landscape restoration and reforestation, after the pandemic. That could cut 25% from predicted 2030 emissions, she said, and put the world "close to" achieving the Paris climate treaty's 2 degrees goal.
"The pandemic is a warning that we must urgently shift from our destructive development path, which is driving the three planetary crises of climate change, nature loss and pollution," Andersen said. "But it is clearly also a major opportunity."
Comments