UNITED NATIONS (AN) — The U.N. General Assembly opened its first virtual meeting of world leaders and government officials on Tuesday, forced by the coronavirus pandemic to convert its global stage for diplomacy into a ghost village of video conferences and pre-recorded speeches.
Despite being sidelined at home, leaders from 193 U.N. member nations began a meeting that promised to be more cerebral than visceral. Gone were the face-to-face meetings and chance encounters in backrooms, corridors and hotels around the world body's sprawling complex.
The usual New York City sightings of presidents, prime ministers and government officials in luxury black vehicles surrounded by security officers was replaced with computer screens, face masks and largely empty rows of tables and seats along Manhattan's East Side. The high-level session coincides with the U.N.'s 75th anniversary of its creation from World War II's ruins.
As expected, the U.S.-China contest for dominance of the traditionally Western-led multilateral institutions that sprung up after the war took center stage. U.S. President Donald Trump and Chinese President Xi Jinping, in videotaped speeches, bitterly clashed while laying out diametrically opposed ideas on the pandemic, global warming, terrorism and human rights.
U.N. Secretary-General António Guterres told the assembly the world needs a cease-fire to stop all the worst conflicts and leaders must do everything in their power to avoid a new Cold War.
"We are moving in a very dangerous direction. Our world cannot afford a future where the two largest economies split the globe in a 'Great Fracture' — each with its own trade and financial rules and internet and artificial intelligence capacities," he said of the U.S.-China rivalry.
"A technological and economic divide risks inevitably turning into a geo-strategic and military divide," said Guterres. "We must avoid this at all costs."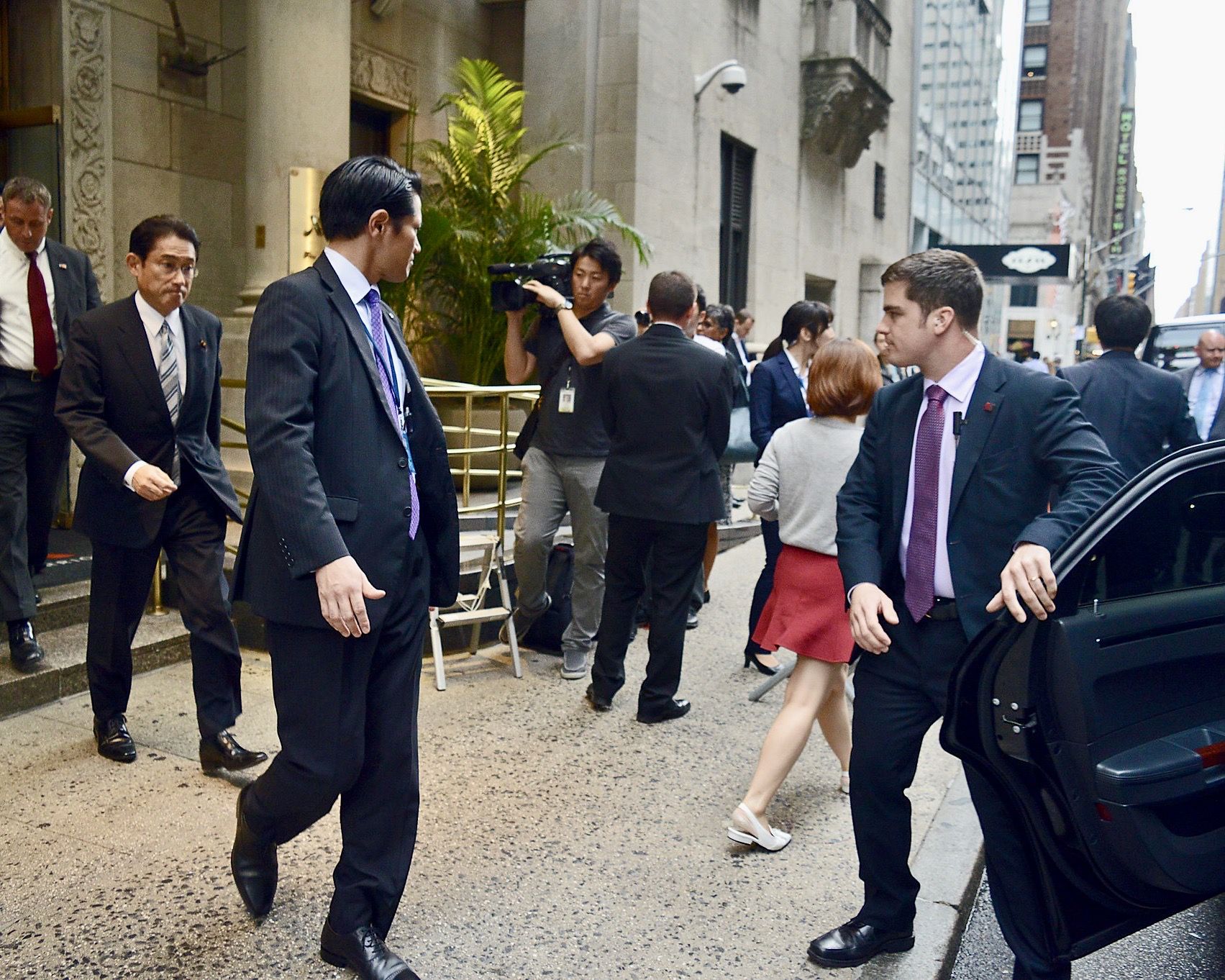 U.S. special agents open a car door for Japan's foreign minister at the 2016 U.N. General Assembly (AN/DSS)
Fighting a unilateralism-fueled pandemic
Along with Trump and Xi, world leaders delivering first-day speeches included Brazilian President Jair Bolsonaro, Turkish President Recep Tayyip Erdoğan, Russian President Vladimir Putin and French President Emmanuel Macron. There was plenty to discuss.
They touched on the COVID-19 pandemic, which has killed nearly 1 million of the 31 million people it has infected; a planet beset by flooding, wildfires and worsening famine from global warming; and a rise in authoritarianism amid social isolation, fear and economic hardship.
The pandemic has shown that the United Nations, despite its efforts, cannot bridge all of the gaps between competing nations to overcome the coronavirus. That has given rise to new calls for reforming the world body, whose frozen power structure reflects the end of World War II.
"The stakes could not be higher. Political leaders will come together to discuss the global challenges we face and the collective efforts needed to solve these issues," the asssembly's new president, Turkish diplomat Volkan Bozkir, said.
"Multilateralism is not an option but a necessity," said Bozkir, who called the pandemic his No. 1 priority. "The United Nations must be at the center of our efforts. The time for action is now."
In the 75 years since the U.N.'s founding, the major powers became less monochromatic and more interdependent, while inequalities between wealthy and developing nations rose sharply.
The world body was created to prevent "the scourge of war" from overtaking future generations, but its 193 member nations are struggling to unite over the pandemic and climate change.
"We could criticize the U.N. for this, but who are we really talking about when we blame 'the U.N.?' " Switzerland's President Simonetta Sommaruga said. "We are, in fact, talking about ourselves, because the U.N. is its member states. And it is often member states that stand in the way of the U.N.'s work."
https://youtu.be/wiOD9tccwT8
Comments