BERN, Switzerland — A small protest in the Swiss capital brought into focus a growing confluence of concerns over global weapons sales and the murder of a Saudi dissident journalist.
Outside the U.S. Embassy in Bern and Swiss Parliament Building, about a half-dozen activists gathered to hold signs to protest the role of global weapons sales in aggravating international conflicts amid the global uproar over Saudi journalist Jamal Khashoggi's apparent murder.
"I'm against weapons sales to Saudi Arabia in general," said Urs Arnold, a campaigner for the Swiss-based advocacy organization Campax, while demonstrating outside the U.S. Embassy under a permit that he said the police had used to restrict them to a brief window of time with no more than seven Swiss and American protesters. "Our message is Trump's sales should not trump human rights."
Germany's announcement this week that it would halt its arms sales to Saudi Arabia in the wake of Khashoggi's apparent orchestrated killing inside the Saudi consulate at Istanbul, Turkey has focused attention on the kingdom's large-scale military spending for largely Western-produced arms.
As the world's fourth biggest weapons exporter, Germany — whose biggest clients are South Korea, Greece and Israel — recommended that other countries follow its lead in halting arms sales to Saudi Arabia. It was an apparent rejoinder to U.S. President Donald Trump's repeated admonitions that he was reluctant to take action to block a source of significant revenue for U.S. arms manufacturers.
Human rights activists, international organizations and politicians in Europe and elsewhere also have ratcheted up pressure on governments to halt arms sales to Saudi Arabia, one of the world's biggest arms importers, and other nations widely considered to be serial human rights abusers.
Arnold and several others cited the war in Yemen and the Saudis' human rights record among their top reasons for protesting. In Switzerland, the Campax organization has been campaigning to stop the Swiss government from easing its rules that restrict weapons exports to conflict-affected nations.
"A regime that does not shy away from silencing critics in an unthinkably brutal way must not be further strengthened and supported by exports of Swiss weapons," Campax argued on its website.
In Yemen, a Saudi-led coalition allied with Yemen's overthrown government has been fighting for control with the Houthi Shiite rebels that took control of the capital, Sanaa, in 2014.
The United Nations said that an estimated 14 million people in Yemen, or half the population in the Arab world's poorest nation, faces a clear and present danger of imminent, large-scale famine. More than 10,000 people have been killed in the conflict, fueling the world's worst humanitarian crisis.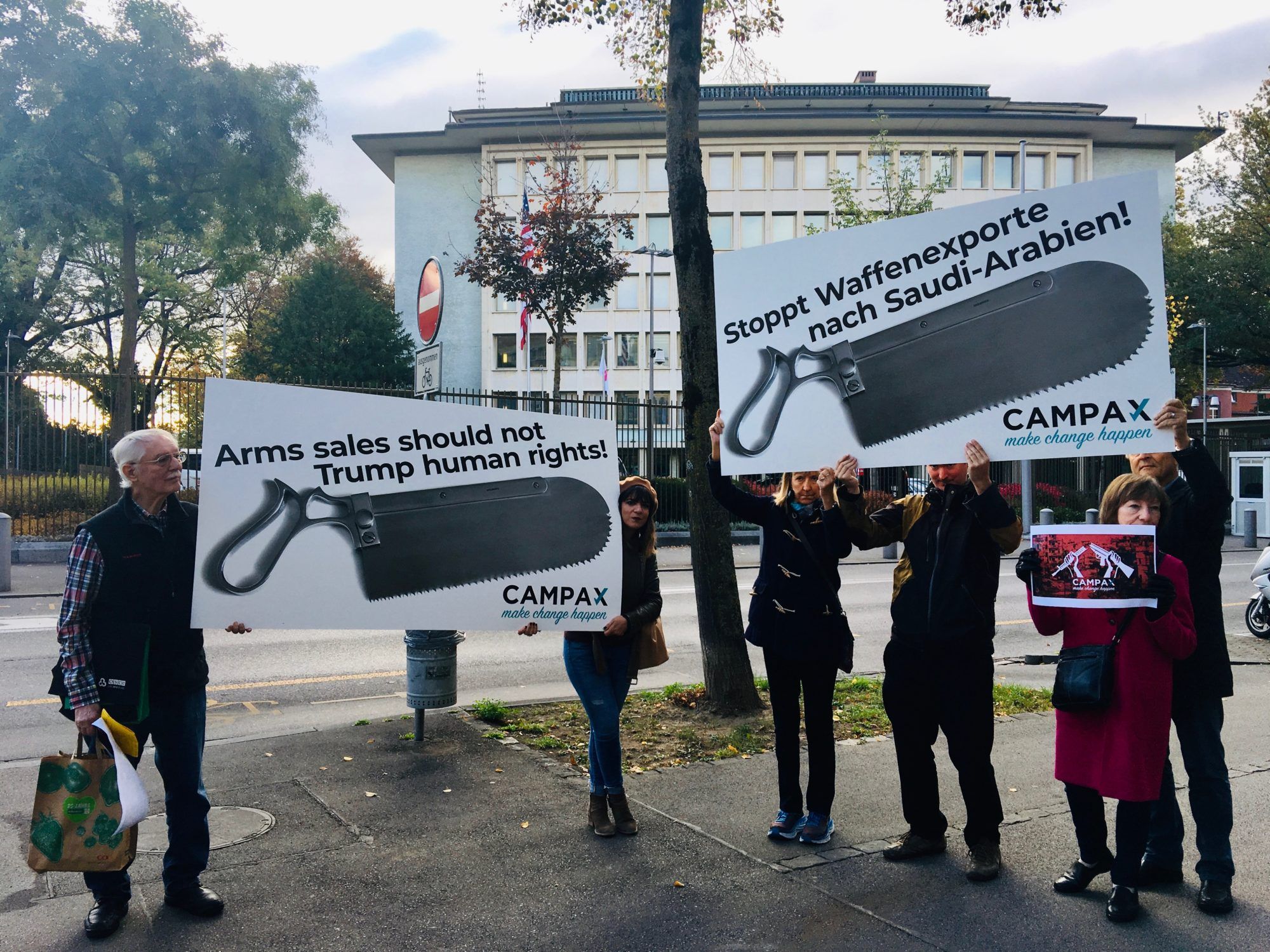 Protesters against global arms sales outside the U.S. Embassy in Bern, Switzerland (AN/John Heilprin)
A broader message
The protesters said their message was directed beyond the United States and Switzerland to other major weapons-exporting nations.
The top five largest exporters from 2013 to 2017 were the United States, Russia, France, Germany and China. Together, they accounted for 74% of total arms exports. The five largest importers during that same time were India, Saudi Arabia, Egypt, the United Arab Emirates and China. Together, they received 35% of all arms imports.
Despite its neutrality, Switzerland ranked 13th as an arms exporter, just ahead of Sweden, according to figures from the Stockholm International Peace Research Institute, or SIPRI. Another commonality among the United States, Switzerland and Canada, which was ranked 16th as an arms exporter: the No. 1 weapons-buying client for all three was Saudi Arabia.
None of the other countries that ranked among the top 25 weapons exporters counted Saudi Arabia as its No. 1 or No. 2 client in terms of the share of purchased exports. But Spain, Sweden, Turkey and Finland all counted Saudi Arabia as their No. 3 client.
"The United States needs to begin again to be a world leader on human rights," said Melinda Sedgley, an American living in Bern, adding that "it's outrageous that the U.S. has basically not reacted" to Khashoggi's murder. Deniz Daser, another American in Bern, said she believes that it is "incumbent on us to speak out when we see our country doing things that we don't agree with."
Recent media reports have claimed that Swiss-made weapons reached the hands of Islamic State group militants in Syria and Libyan militants. The Swiss Federal Audit Office said last m0nth arms exports regulations were easy to bypass.
Switzerland suspended weapons exports to Saudi Arabia in 2009, but regulatory loopholes — known as so-called "alternative export opportunities" — permit some weapons to reach the country. Armaments sold for civilian uses also can be converted to military use afterwards.
The United States had by far the highest military spending in the world: US$610 billion as of last year.
China was in second place, with US$228 billion, while Saudi Arabia was third, with US$69.4 billion. Total world military expenditures rose to US$1.739 trillion in 2017, up 1% from a year earlier, according to SIPRI's figures.
Comments