Top diplomats from the Group of Seven rich democracies called for pauses in the Israel-Hamas war so humanitarian aid can reach suffering civilians.
The G-7 foreign ministers on Wednesday condemned the militant group Hamas and its terror attack on Oct. 7 that killed 1,400 Israelis and began the fighting, and demanded that Hamas release about 240 Israeli and foreign nationals that have been held hostage in Gaza for a month. Several G-7 nations plus Israel have designated Hamas as a terrorist organization.
The foreign ministers agreed Israel, which declared war the next day, has a right to self-defense despite the grave concerns of human rights experts about Israel's siege tactics and merciless pounding of Gaza, where more than 2.3 million people – half of them under the age of 18 – have lived under Hamas' rule for the past 16 years.
"All parties must allow unimpeded humanitarian support for civilians, including food, water, medical care, fuel, and shelter, and access for humanitarian workers. We support humanitarian pauses and corridors to facilitate urgently needed assistance, civilian movement, and the release of hostages," said the foreign ministers for Canada, France, Germany, Italy, Japan, the U.S. and the U.K., plus the European Union.
"We underscore the importance of protecting civilians and compliance with international law, in particular international humanitarian law," they said at a G-7 meeting hosted by Japan in Tokyo. "Israelis and Palestinians have an equal right to live in safety, dignity, and peace. We reject anti-semitism and Islamophobia in any form in our own societies and anywhere in the world."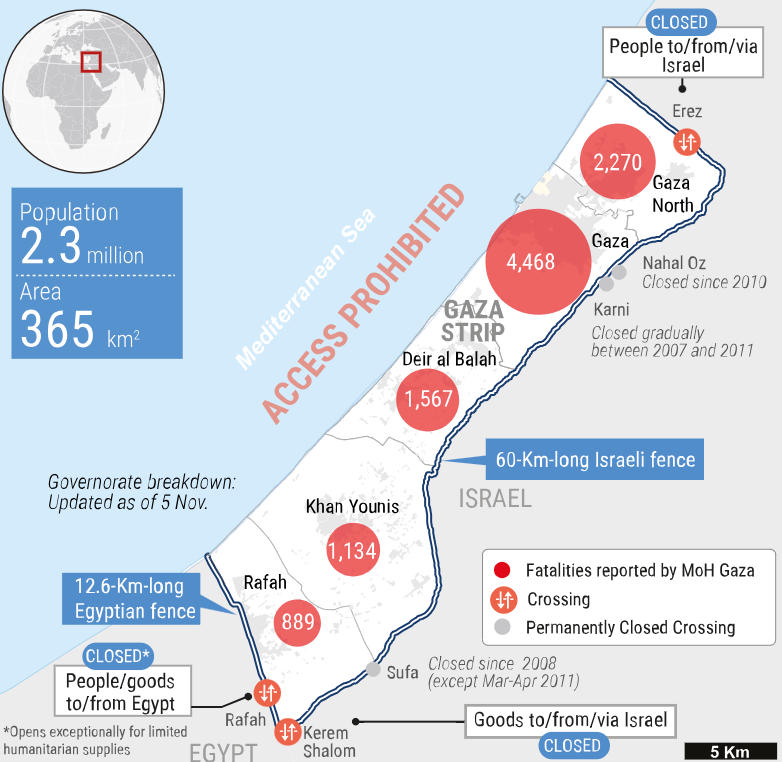 Gaza's 'immense needs'
More than 10,500 Palestinians, including at least 4,300 children, have been killed in Gaza, according to the Hamas-run Gaza Health Ministry. Thousands of Palestinians each day have been fleeing the combat area, but about 1.5 million people in Gaza are internally displaced, including 725,000 sheltering in 149 facilities run by the U.N. agency for Palestinian refugees known as UNRWA.
Meantime, the situation remains dire for hundreds of thousands of people in Gaza, where there are severe shortages of food, water, medicine and fuel. Medical facilities are running out of supplies and fuel, which Israel hasn't allowed into the Gaza Strip for a month now to prevent it from getting into the hands of Hamas.
UNRWA just made only the second delivery of medicine and supplies for the World Health Organization at Al-Shifa Hospital, Gaza's most important health facility, where there are two patients for every available bed.
"While welcome, the quantities we delivered are far from sufficient to respond to the immense needs in the Gaza Strip," said UNRWA's Commissioner-General Philippe Lazzarini and WHO's Director-General Tedros Adhanom Ghebreyesus.
The emergency room and wards "are overflowing, requiring doctors and medical workers to treat wounded and sick patients in the corridors, on the floor, and outdoors," they said. "Tens of thousands of displaced people have sought shelter in the hospital's parking lots and yards."
Comments