Human actions are causing Earth's natural life support systems to reach a breaking point, threatening 1 million plant and animal species with extinction in a challenge as colossal as the climate crisis, scientists reported on Monday.
Devastating human negligence has caused a dire nature emergency for plants and animals large and small, the 132-nation IPBES organization reported based on the work of 145 wildlife experts from 50 countries over the past three years, with inputs from another 310 contributing authors.
It is the worst time for nature in human history, the report said, with more than a half million species on land threatened by extinction due to "insufficient habitat for long-term survival" and marine life in similar shape.
Accelerating species losses undermine humanity's perch on the planet because all life depends on rich species diversity in healthy habitats to provide nourishment, pollination, clean water, air and land, said the Intergovernmental Science-Policy Platform on Biodiversity and Ecosystem Services, or IPBES.
"The overwhelming evidence of the IPBES Global Assessment, from a wide range of different fields of knowledge, presents an ominous picture," said Sir Robert Watson, a renowned professor and environmental scientist who oversaw the report as chair of IPBES until this past week.
"The health of ecosystems on which we and all other species depend is deteriorating more rapidly than ever," he said. "We are eroding the very foundations of our economies, livelihoods, food security, health and quality of life worldwide."
The new IPBES global synthesis of the state of nature, ecosystems and nature's contributions to people is the first such report since 2005. Meeting in Paris this week, the organization hoped to galvanize global agreement for emergency action similar to the 2015 Paris Agreement on the climate crisis.
IPBES, based in Bonn, Germany, is an independent, inter-governmental body set up in 2012 by 94 governments. It has since grown under the stewardship of four United Nations agencies: U.N. Environment, UNESCO, the Food and Agriculture Organization and the U.N. Development Program.
"Our ambition is to bring biodiversity up to the same level as climate change in government policy around the world, and I believe that we will meet this ambition. Together we will make biodiversity great again," said Anne Larigauderie, the executive secretary of IPBES.
Laurent Stefanini, France's ambassador to UNESCO, called it a "Paris moment" for wildlife — comparable to the importance of the Paris climate accord. The authors of the IPBES report said the damage to ecosystems undermined dozens of specific targets for reducing poverty and hunger and for improving health, water quality and other environmental standards within the U.N.'s 17 Sustainable Development Goals for 2030.
"Following the adoption of this historic report, no one will be able to claim that they did not know. We can no longer continue to destroy the diversity of life," UNESCO's Director-General Audrey Azoulay said in a statement.
"This is our responsibility towards future generations," she said. "This report reminds us of the urgent need to act for biodiversity, our global environmental heritage. We can and must all mobilize, urgently and together, to save our planet and thus humanity. Protecting biodiversity is as vital as fighting climate change."
Exhaustive findings
The report, totaling more than 1,000 pages with a 39-page summary, drew on the work of 15,000 scientific and government reports. It showed many of the hardest hit areas, such as small island nations susceptible to rising sea levels, were linked to the climate crisis.
The report found that about 85% of wetlands, three-quarters of Earth's land, and two-thirds of oceans have been dramatically degraded or lost.
The average abundance of native species in most major land-based habitats has fallen by at least 20%, mostly since 1900, the report said. More than 40% of amphibian species, almost 33% of corals and more than a third of all marine mammals are threatened.
"Biodiversity and nature's contributions to people are our common heritage and humanity's most important life supporting 'safety net'. But our safety net is stretched almost to breaking point," said Sandra Díaz, an Argentinian ecologist who co-chaired the report with German research biologist Josef Settele and Brazilian-American anthropologist Eduardo S. Brondízio.
Settele said ecosystems, species, wild populations, local varieties and breeds of domesticated plants and animals are shrinking, deteriorating or vanishing. "This loss," he said, "is a direct result of human activity and constitutes a direct threat to human well-being in all regions of the world."
An overwhelming majority of Europeans worry about the loss of wildlife and support stronger European Union action to protect nature, the European Commission said in a statement. Some 96% of the more than 27,000 E.U. citizens who provided their opinions said they believed in protecting nature to halt losses in plant and animal species and to fight global warming, the commission said, citing a Eurobarometer survey.
"Europeans care deeply about nature and biodiversity; they recognize climate change and biodiversity loss as two sides of the same coin and they expect the E.U. to act in order to safeguard nature," said Karmenu Vella, the E.U.'s commissioner for environment, maritime Affairs and fisheries.
Under France's leadership, the Group of Seven, or G-7, met in Metz, France to discuss the importance of wildlife while the IPBES report was being released. Afterwards, the G-7 ministers and their counterparts from Chile, the European Commission, Fiji, Gabon, Mexico, Niger and Norway released a new "Metz Charter" pledging to step up their efforts to conserve wildlife.
They vowed in a four-page statement to improve their "biodiversity strategies, policies, action plans and research programs" and to take on "new, ambitious and achievable commitments for swift action."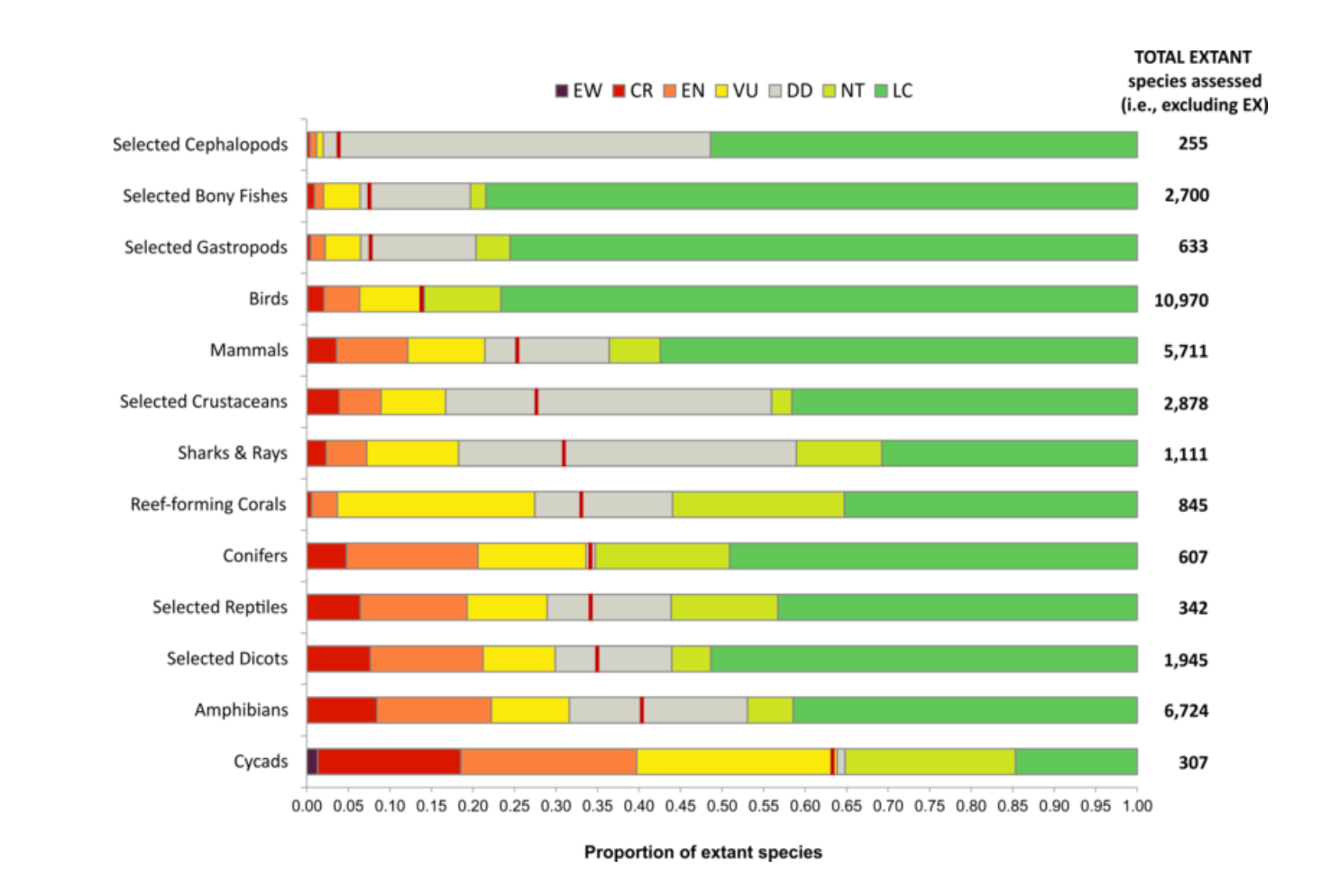 The proportion of extant (i.e., excluding Extinct) species in The IUCN Red List of Threatened Species. EW - Extinct in the Wild, CR - Critically Endangered, EN - Endangered, VU - Vulnerable, NT - Near Threatened, DD - Data Deficient, LC - Least Concern. (ARÊTE/IUCN)
A host of threats
Species are being lost through land converted to urban and industrial uses, overfishing of the world's oceans, land and water pollution, invasive species and the climate crisis, according to the report, which projects that 25 million kilometers of new roads globally will destroy natural habitats by 2050.
The report draws heavily on the work of the Swiss-based International Union for the Conservation of Nature, or IUCN, which keeps global lists of threatened animals and plants among Earth's some 8 million life species.
IUCN's latest findings in March said more than 27,000 of the almost 100,000 species it examined were threatened, endangered or extinct. Almost half of those were plants. Scientists and organizational leaders emphasized their intention was to spur people to action — not to depress people into giving up hope.
"The report also tells us that it is not too late to make a difference, but only if we start now at every level from local to global," said Watson.
"Through 'transformative change,' nature can still be conserved, restored and used sustainably — this is also key to meeting most other global goals," he said. "By transformative change, we mean a fundamental, system-wide reorganization across technological, economic and social factors, including paradigms, goals and values."
Comments