GENEVA (AN) — One year on, the pandemic has prompted one of the most remarkable scientific efforts in history — and brought into sharper focus many of the world's inequities.
Since the World Health Organization declared the COVID-19 outbreak a pandemic on March 11, 2020, the scientific community has rallied with the backing of governments, the United Nations and other international organizations and companies to seek a way out of a global health crisis that has killed 2.6 million people and infected 118 million, including 530 million in the United States alone.
Together they have spent billions of dollars to develop safe and effective vaccines that typically take years, if not decades, to develop and approve for public use. Already, about a dozen have been distributed among hundreds of millions of people since the virus was first detected in Wuhan, China in late 2019.
WHO Director-General Tedros Adhanom Ghebreyesus expressed hope in August of ending this "once-in-a-century health crisis" in less than two years if nations pull together in fighting it.
That would be less time than it took to stop the influenza pandemic, misnamed the Spanish flu, from Feb. 1918 to April 1920. It, too, was a respiratory virus that jumped from animals to people. And, as is the custom now, health officials promoted social distancing, hand washing and face masks to slow the spread.
But the benefits of 21st century science have not gone equally to rich and poor, despite the efforts of international organizations and leaders to ensure fair and equitable access.
Many of the wealthiest nations, such as the United States where the infection and death rates soared, are now starting to look ahead to economic recoveries in part because they locked up huge supplies of the initial doses. The picture is far different among poorer nations.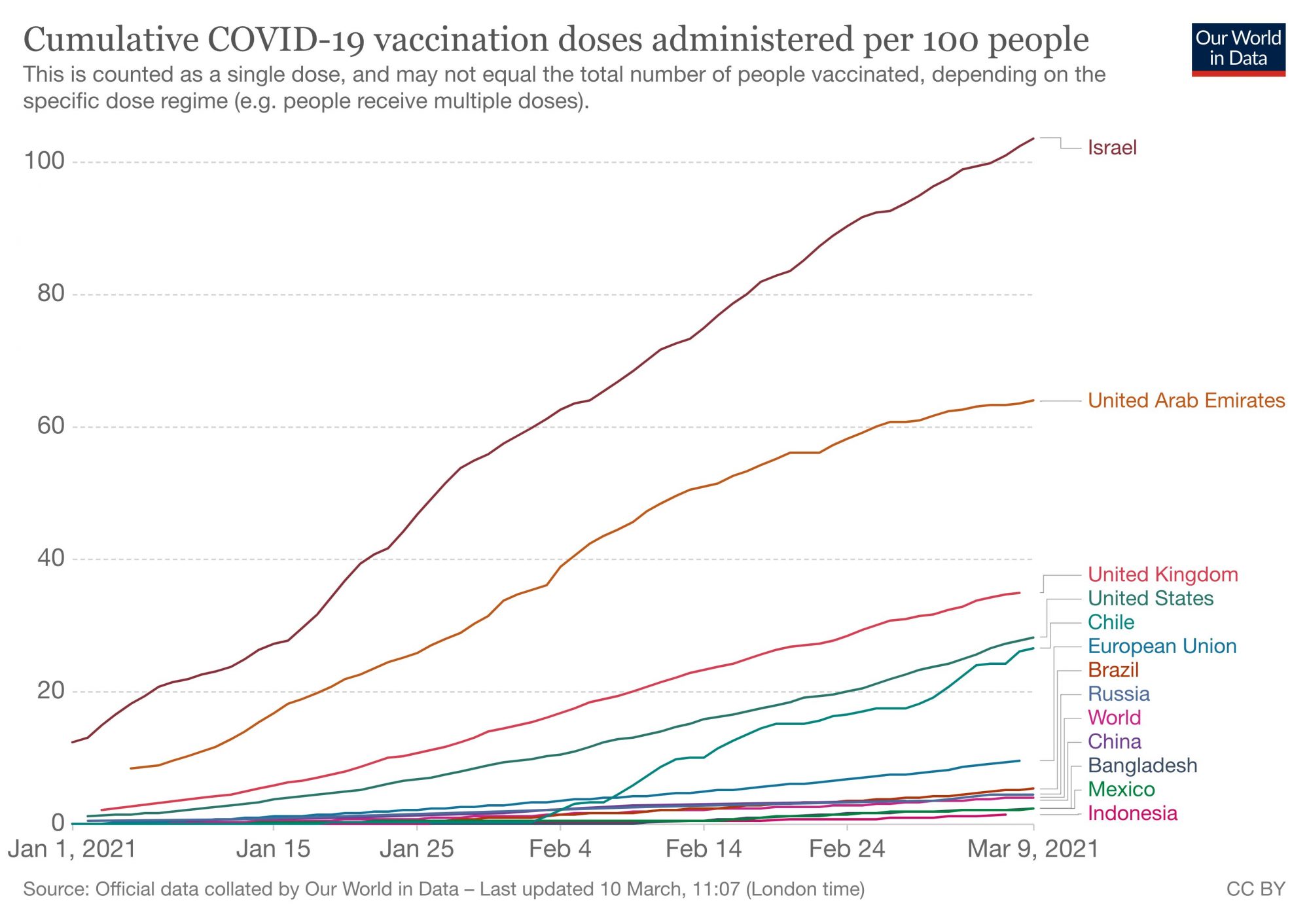 Beyond the tarmac
The COVAX Facility, led by Gavi, the Vaccine Alliance, WHO and the Coalition for Epidemic Preparedness Innovations, have worked with drugmakers to distribute at least 2 billion doses of COVID-19 vaccines globally by the end of this year.
In late February, its global rollout for low- and middle-income nations finally launched with the delivery of 600,000 doses of AstraZeneca-Oxford's shot to Ghana's capital Accra.
But these efforts will fail unless a "deadly gap" in global immunization policy and funding is quickly filled, the International Federation of Red Cross and Red Crescent Societies, or IFRC, warned.
And while most of the international focus has been on spreading vaccines among countries, IFRC said, too little preparation has gone into the logistics of making sure the vaccines reach isolated and remote communities.
"Efforts to procure and distribute vaccines between governments are clearly crucial and must be supported fully by donors. However, it is not enough just to focus on this side of the equation," IFRC President Francesco Rocca said.
"Initiatives like COVAX ensure that vaccines will reach the tarmacs of airports in the capital cities of participating countries," said Rocca, who formerly headed the Italian Red Cross. "They are inarguably important. However, they need to be complemented by initiatives designed to get those vaccines off the tarmac and out into the arms of all who need them."
Comments