BERN, Switzerland (AN) — Almost three decades since Switzerland's first nationwide equal rights protests, hundreds of thousands of women took to the streets on Friday to demand fairer pay, gender equality and an end to sexual harassment and violence.
It had been 28 years to the day since the Swiss last held such a protest. That previous strike, in 1991, was the biggest protest in Switzerland since 1918, when Swiss women joined millions of other European women at the end of World War I to demand the right to vote.
The Swiss Trade Union Federation, based in the Swiss capital Bern, called the June 14 strike "the largest political demonstration in Switzerland's recent history, bigger than the women's strike in 1991" that drew a half-million women.
"Throughout the day, several hundred thousand women took part in the actions, strikes and work stoppages of the women's strike. The rallies reached historic proportions in all major cities," the union said in a statement.
"Particularly noteworthy was the enormous number of young women. All this shows that equality for women in employment and in society must now go forward and move forward," it said, noting that in four cities alone — Zurich, Lausanne, Basel and Bern — more than 200,000 women turned out for the strike on Friday evening.
Swiss women did not get the vote until 1971, far later than in many European nations. Switzerland recognized equal rights for men and women under the Constitution only in 1981. In the 1990s, the country outlawed marital rape and passed a law on gender equality. It was not until 2005 that a new law provided Swiss working mothers with at least 14 weeks of paid maternity leave at 80% of their usual salary.
When the strike was held in 1991, there were no Swiss women representatives in government. By the 2015 federal elections, held every four years, women had won 30% of the 246 seats in Swiss parliament, more than double the 14% of seats they held in 1991. Both figures were higher than the global average of 24% in 2018 and of 12% in 1990, according to the global Inter-Parliamentary Union.
"I'm going on strike so that women in politics are finally as well represented as men," said Irène Kälin, a Swiss parliamentarian and member of the Green Party.
Women throughout major Swiss cities and towns draped themselves in purple bandanas, t-shirts and blouses and turned out bearing banners and flags as they marched and blocked traffic for the June 14 women's strike. The campaign's social media hashtags #frauenstreik and #grèveféministe trended in predominantly German- and French-speaking Switzerland.
Thousands crowded Bern's Bundesplatz, or Federal Square, in front of Swiss parliament, for rallies and speeches that expressed a common, deep-seated frustration and anger over the glacial pace of change. Swiss female lawmakers and some of the mostly female police force who were on hand also wore purple. Women spoke of the injustice of getting paid far less than men for doing the same jobs, and of a traditional male culture in which sexism, harassment and discrimination are still fairly commonplace.
Organizers and demonstrators noted that Switzerland is among the richest and most competitive economies in the world but lacks true gender parity in part owing to the prevalence of Swiss households still organized around traditional gender roles. Women on average earn 18% less than men in all of Switzerland, according to the Swiss Federal Statistical Office, and almost 20% less in just the private sector.
"I think the biggest reason is the equal pay," said Anita Krattinger, a middle school teacher and translator in Bern, about why so many women turned out for the day-long demonstrations.
"There was one in '91 and there wasn't much change after that, so I think it's a good reminder for the political and economic establishment that there are a lot of women who are aware of the disparity in a lot of things," she said. "Especially young people are coming with a much higher self-awareness and confidence than 20 years ago, when feminists were demonstrating and making demands."
Krattinger, who holds dual Swiss and U.S. citizenship, came to the rally at the Bundesplatz with her two Swiss-American daughters, Fiona, 18, and Maya, 14. They both said discrimination and stereotyping is a regular occurrence in Swiss schools where, for example, adults will typically ask only boys for help with physical tasks such as moving desks around.
"More casual sexism, I'd say," said Fiona, who plans to go to medical school in Switzerland but views the Swiss professional world as "very much still a boys' club, run by men" who make it "really hard for women to get into such a high level of power." Her younger sister plans a career as a chef and a flight attendant.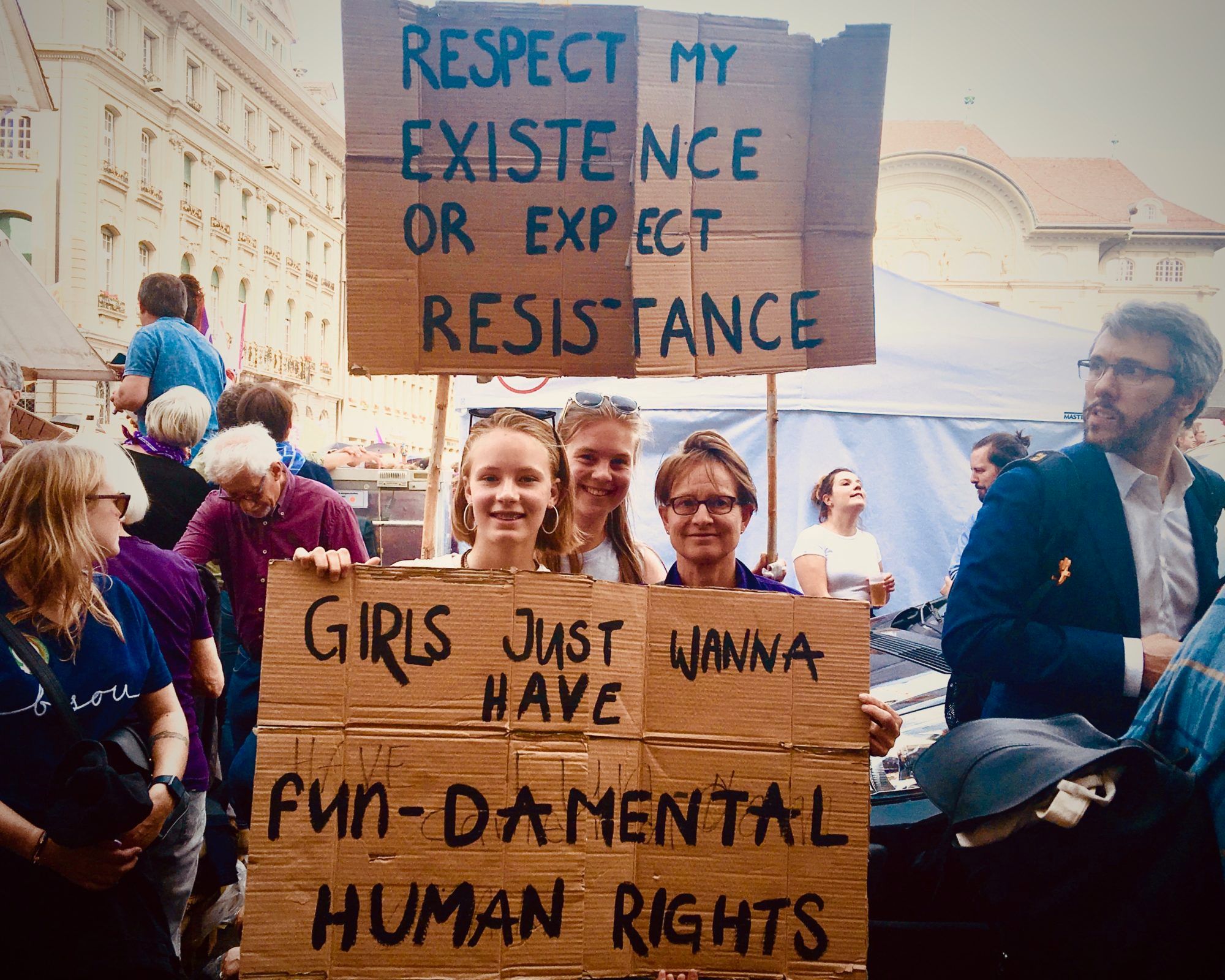 Anita Krattinger and daughters Maya, left, and Fiona, center, at Bern's Bundesplatz (AN/John Heilprin)
Future generations
The Swiss demonstration built on the International Women's Strike, a global movement across dozens of nations, that is typically held on March 8, celebrated as International Women's Day. That day became a national holiday in Russia in 1917, then was adopted by the United Nations in 1975.
Proponents of international organizations and trade unions in Geneva, such as the International Service for Human Rights, along with university staff and students, also demonstrated for more equality in the Swiss workplace. Some major businesses, church groups and farmers showed support. Organized suggested that Swiss women leave their jobs at 3:24 p.m., signifying the amount of hours they should be working each day on average because of the lesser pay they receive.
The campaign began at the stroke of midnight as hundreds gathered outside Lausanne Cathedral, which was lit up in purple, the color long used to symbolize the suffragette movement. And, for the first time, a night watch woman at that bell tower declared it was 12 at night — time for the demonstrations to begin.
Empowering women and girls through full equality in the workplace also is central to the U.N.'s 17 anti-poverty Sustainable Development Goals for 2030. The International Labor Organization has said it identified workplace harassment and violence as an important issue in 2015 — before the #MeToo movement emerged.
The U.N labor agency was meeting this month in a global assembly, where a new agreement on harassment and violence in the workplace was being considered. The agreement would universally define workplace harassment and guarantee workers' rights against violence.
Krattinger, a native of Bern who has lived and worked in Seattle, said many women in Switzerland are frustrated by how long it has taken to rectify the widespread gender discrimination. Part of the reason things have taken so long to change, she said, is the country's inexperience due to a lack of any major social upheaval on the scale of America's civil rights movement. About the only thing remotely comparable is Switzerland's debate over how to integrate the quarter of its 8.4 million population that is foreign born.
"All this didn't happen in Switzerland. So there's no background of big social changes other than gender equality," she said. "We didn't have apartheid [like in South Africa]. We didn't have slavery [like in the U.S.]. We didn't have big social issues to fight as a nation."
Comments