BRUSSELS (AN) — As a harbinger of an American-led international order, the North Atlantic Treaty Organization is caught in the crosshairs of U.S. President Donald Trump's impulsive policies seeking to tear down and fundamentally realign global politics and economics, experts said.
After calling NATO "obsolete" during his campaign for the White House, even suggesting America might not defend the alliance's members if they were attacked, Trump arrived at the start of a two-day NATO summit hammering away at traditional U.S. allies to pressure them into spending more on defense.
During his opening meeting with NATO's Secretary General Jens Stoltenberg, Trump's agenda included readiness, counterterrorism and "fair burden sharing" of military spending, NATO said in a statement.
Trump suggested NATO allies should spend as much as 4% of their GDP on defense, which would double the current target of 2% by 2024. He claimed Germany is compromised by its reliance on Russian energy due to a huge undersea pipeline project on the northeastern Baltic coast that would double the amount of gas that Russia would be able to directly deliver to German consumers.
The United States and some European Union members opposed the controversial Nord Stream 2 gas pipeline project on grounds it would strengthen Russian President Vladimir Putin's leverage in Europe. The Trump administration reportedly is considering pulling out U.S. forces from Germany.
Ignoring Trump's suggestion to raise spending to 4% of GDP, NATO leaders' formal 79-point declaration reaffirmed their "unwavering commitment" to their 2% pledge set in 2014.
"The decisions we have made today show that Europe and North America are working together," Stoltenberg said in a statement about a series of measures including a "readiness initiative" with 30 mechanized battalions, 30 air squadrons and 30 combat vessels ready for use within 30 days. "NATO is delivering and we are determined to keep our almost 1 billion citizens safe and secure."
NATO adopted a new command structure for its Atlantic operations at Norfolk, Virginia, and its support and logistics at Ulm, Germany. A new cyber operations center will be created at Mons, Belgium. A new training mission will be held in Iraq. And more support will be given to Jordan and Tunisia.
Stoltenberg, who served two stints as Norway's prime minister, told Trump all of the allies "agree that we have to do more, I agree with you that we have to make sure that our allies invest more. The good news is that allies have started to invest more already in defense." But he also pushed back against some of Trump's rhetoric, emphasizing that NATO members are working together despite their differences.
"After years of cutting in defense budgets they've started to add billions to the defense budgets. And last year was the biggest increase in defense spending across Europe and Canada in a generation," Stoltenberg said in his prepared remarks. "Let me also add that a strong NATO is good for Europe, but it's also good for the United States."
The 2% target
Ahead of the NATO summit, Trump sent letters calling out eight NATO members to raise their defense spending commitments. While traveling to Europe, Trump again pushed NATO members to fulfill their pledges to boost their military budgets to 2% of GDP by 2024.
"Many countries in NATO, which we are expected to defend, are not only short of their current commitment of 2% (which is low), but are also delinquent for many years in payments that have not been made," Trump tweeted. "Will they reimburse the U.S.?"
But he mischaracterized the 2% target, set at the summit in 2014, as direct payments towards a collective NATO budget — with other members freeloading off the United States — rather than the amount that each NATO-member nation has agreed to spend towards its own military defense.
NATO projected that 15 of its 29 members will meet the 2024 target, collectively adding what Stoltenberg estimated would be another US$266 billion for their national defense budgets in Europe and Canada.
Trump was expected to hold separate meetings with Putin and German Chancellor Angela Merkel during the NATO summit and to meet with Putin and Finnish President Sauli Niinisto in Helsinki, Finland, and with British Prime Minister Theresa May and Queen Elizabeth in the United Kingdom — where he also plans a weekend getaway at a Trump-owned Scottish golf course.
"But Germany is totally controlled by Russia, because they will be getting from 60-70% of their energy from Russia and a new pipeline," Trump charged in televised remarks. "And you tell me if that's appropriate, because I think it's not. And I think it's a very bad thing for NATO, and I don't think it should have happened, and I think we have to talk to Germany about it."
Trump said Germany pays just "a little bit over 1%, whereas the United States in actual numbers is paying 4.2% of a much larger GDP. So I think that's inappropriate also." He told NATO leaders that the United States is "protecting Germany, we're protecting France, we're protecting everybody and yet we're paying a lot of money to protect. Now, this has been going on for decades."
Merkel emphasized that Germany is beholden to no one, however, and recalled her childhood in communist East Germany, then a satellite country behind the former Soviet Union's Iron Curtain.
"I've experienced myself a part of Germany controlled by the Soviet Union, and I'm very happy today that we are united in freedom as the Federal Republic of Germany and can thus say that we can determine our own policies and make our own decisions, and that's very good," said Merkel.
Later, Trump praised the relationship between Americans and Germans. "You have tremendous success and I congratulate you," he told Merkel. "Tremendous success. And I believe that trade will increase and lots of other things will increase, but we'll see what happens over the next period of few months."
Migration and trade were among the items discussed between the two leaders, and Merkel reciprocated the praise by saying Germany and the United States made good partners.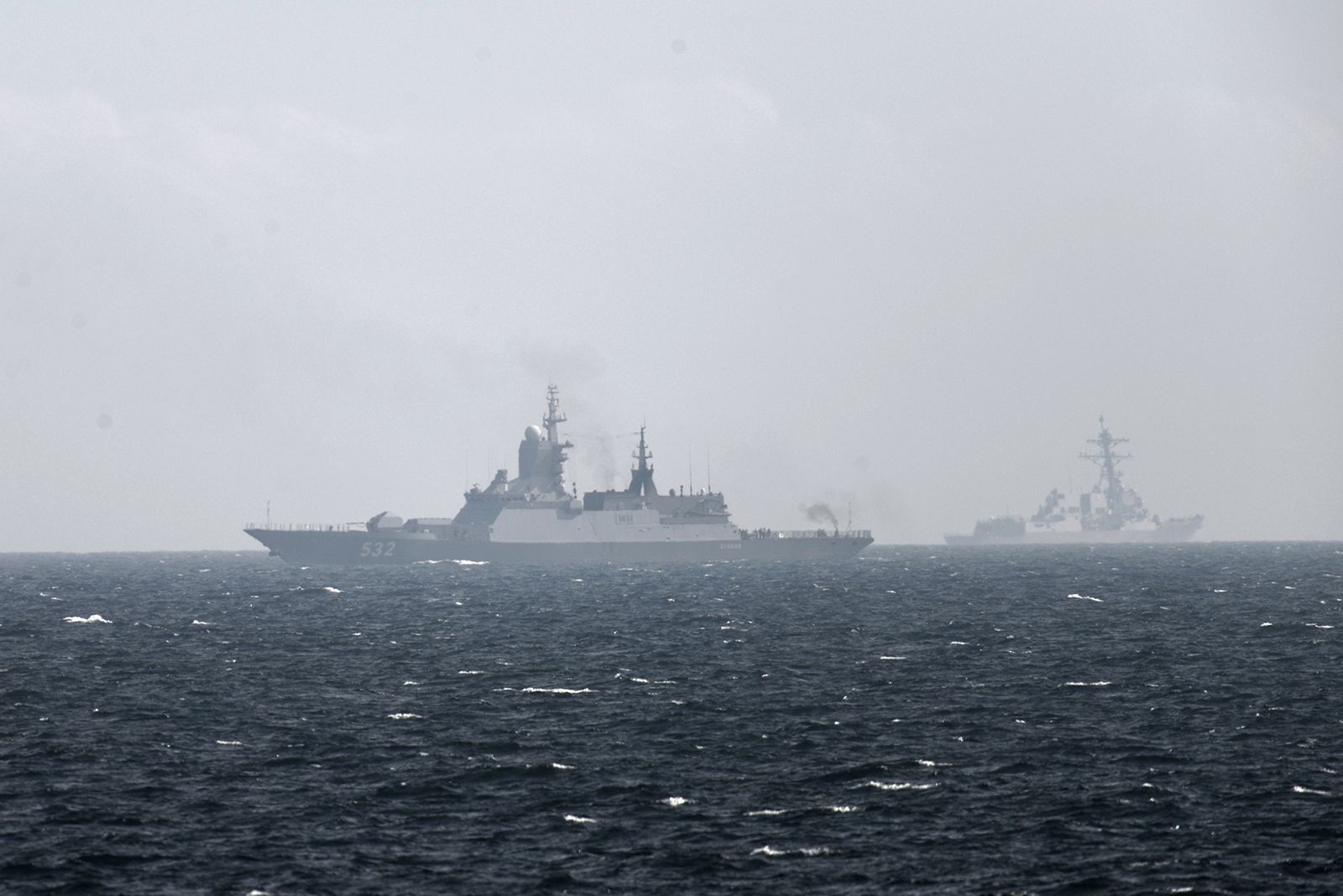 NATO ships taking part in the annual military exercise Baltic Operations, or BALTOPS, in the Baltic Sea (Arete/U.S. Navy)
Strong reactions
Back in Washington, Trump's opponents in the U.S. Congress called his statements an embarrassment. The Democrats' House Minority Leader Nancy Pelosi and Senate Minority Leader Chuck Schumer denounced Trump's "brazen insults and denigration of one of America's most steadfast allies, Germany."
Even one of Trump's Republican allies, Senate President pro tempore Orrin Hatch, also said he objected to Trump's approach. "Germans wouldn't agree with that," Hatch said. "They are a very strong people."
One of Trump's biggest supporters in Congress, Republican Senator Tom Cotton, said, however, the Nord Stream 2 project strikes at the heart of NATO unity. "The pipeline gets cheap Russian gas to Germany while bypassing smaller Eastern European nations, allowing Russia to pressure them while Germany is held harmless," he wrote. "No amount of preening in Berlin will cover this nakedly selfish policy."
Donald Tusk, president of the European Council and a former Polish prime minister, said Trump would do well to remember who his real friends are when he meets with Putin.
"Speaking on the eve of the NATO summit here in Brussels, I would like to address President Trump directly, who for a long time now has been criticizing Europe almost daily for, in his view, insufficient contributions to the common defense capabilities, and for living off the U.S.," Tusk said.
"Dear President Trump: America does not have, and will not have a better ally than Europe," he said in a speech. "Today, Europeans spend on defense many times more than Russia, and as much as China. And I think you can have no doubt, Mr. President, that this is an investment in common American and European defense and security. Which can't be said with confidence about Russian or Chinese spending."
David Frum, a Canadian-American political commentator and ex-speechwriter in former President George W. Bush's adminstration, said Trump has "dangerously misunderstood (or refused to understand) the security concern" over the gas pipelines between Russia and Germany.
"The issue is not that the pipelines render Germany dependent on Russian gas, as Trump stated. Russia is even more dependent on German money than the other way around," he wrote. "The problem with the pipelines is that they enable Russia to turn off gas to Baltic Republics, Poland, etc., without pressuring Germany — thereby severing alliance solidarity in a crisis."
Brian Klaas, an American political scientist and fellow at the London School of Economics and Political Science, described Trump's approach as an affront to international organizations and order.
"NATO, though it has had some failings, has been a foundational pillar of international security for the last seven decades," he wrote. "Largely thanks to it, the post-WWII era has arguably been the most peaceful and prosperous in world history. Unfortunately, Trump is ignorant of history."
International backstory
It was not the first time experts warned about a threat to some of the world's biggest and most important international organizations — and the order and achievements they represent.
Earlier this month, U2 frontman Bono told diplomats in New York, where Ireland launched a bid for a seat on the 15-nation U.N. Security Council, that the United Nations, European Union, NATO, and World Trade Organization, or WTO, are all "under attack," and must work together to keep going.
Trump announced he would pull the United States out of the Paris Agreement on climate change, the U.N. Human Rights Council, the U.N.-led Global Compact for Migration and the Joint Comprehensive Plan of Action among six world powers and Iran, known as the Iran nuclear deal.
Tensions between the United States and its Western allies erupted at a G-7 meeting in Canada last month, when Trump feuded with and insulted the host nation's leader. He waited until he was departing aboard Air Force One to disavow the G-7's final communiqué, and accused Canadian Prime Minister Justin Trudeau of being "dishonest and weak" and making "false statements."
In a July 2 article, Washington Post columnist Anne Anne Applebaum said Trump's behavior at the G-7 was "far worse behind the scenes" than publicly, and he is a threat to international organizations that "were the basis for American military power, as well as for American wealth and prosperity."
Comments