WASHINGTON (AN) — Risking a new arms race, U.S. President Donald Trump's administration announced it will withdraw the United States from a 1987 nuclear arms control treaty with Russia that led to the destruction of almost 2,700 missiles and their launchers.
Secretary of State Mike Pompeo said the United States will suspend its participation in the Intermediate Range Nuclear Forces Treaty, which bars the development of nuclear-capable cruise missiles, as of February 2, setting off a six-month withdrawal period.
He blamed the move on Russia. "For years, Russia has violated the terms of the Intermediate Range Nuclear Forces Treaty without remorse," Pompeo said. "When an agreement is so brazenly disregarded and our security is so threatened, we must respond."
Pompeo acknowledged there was a "risk of continued arms growth" — a new U.S.-Russia nuclear arms race — if the treaty was abandoned. The decision could also touch off an arms with China. The Trump administration accused Russia of violating the Cold War-era treaty since 2014, while asserting the United States has "fully adhered" to it for more than three decades.
"For far too long, Russia has violated the Intermediate-Range Nuclear Forces Treaty with impunity, covertly developing and fielding a prohibited missile system that poses a direct threat to our allies and troops abroad," the White House said in a statement.
After the U.S. announcement, Russian President Vladimir Putin met with his Security Council for "an in-depth discussion on strategic stability and international security in the context of the expected U.S. withdrawal from the INF Treaty, according to a Kremlin statement.
Putin's spokesman Dmitri Peskov, who did not attend the meeting, said the Trump administration's allegations against Russia were just a pretext for wanting to dump the treaty.
"On the whole, the reluctance of the Americans to listen to reason and to hold any kind of substantive talks with us shows that Washington decided to crush the treaty a long time ago," he said.With the breach in the treaty, the only thing that could stop the U.S. withdrawal would be if Russia "comes back into compliance by destroying all of its violating missiles, launchers, and associated equipment," the White House said.
"The United States has fully adhered to the INF Treaty for more than 30 years, but we will not remain constrained by its terms while Russia misrepresents its actions," it said. "We will move forward with developing our own military response options and will work with NATO and our other allies and partners to deny Russia any military advantage from its unlawful conduct."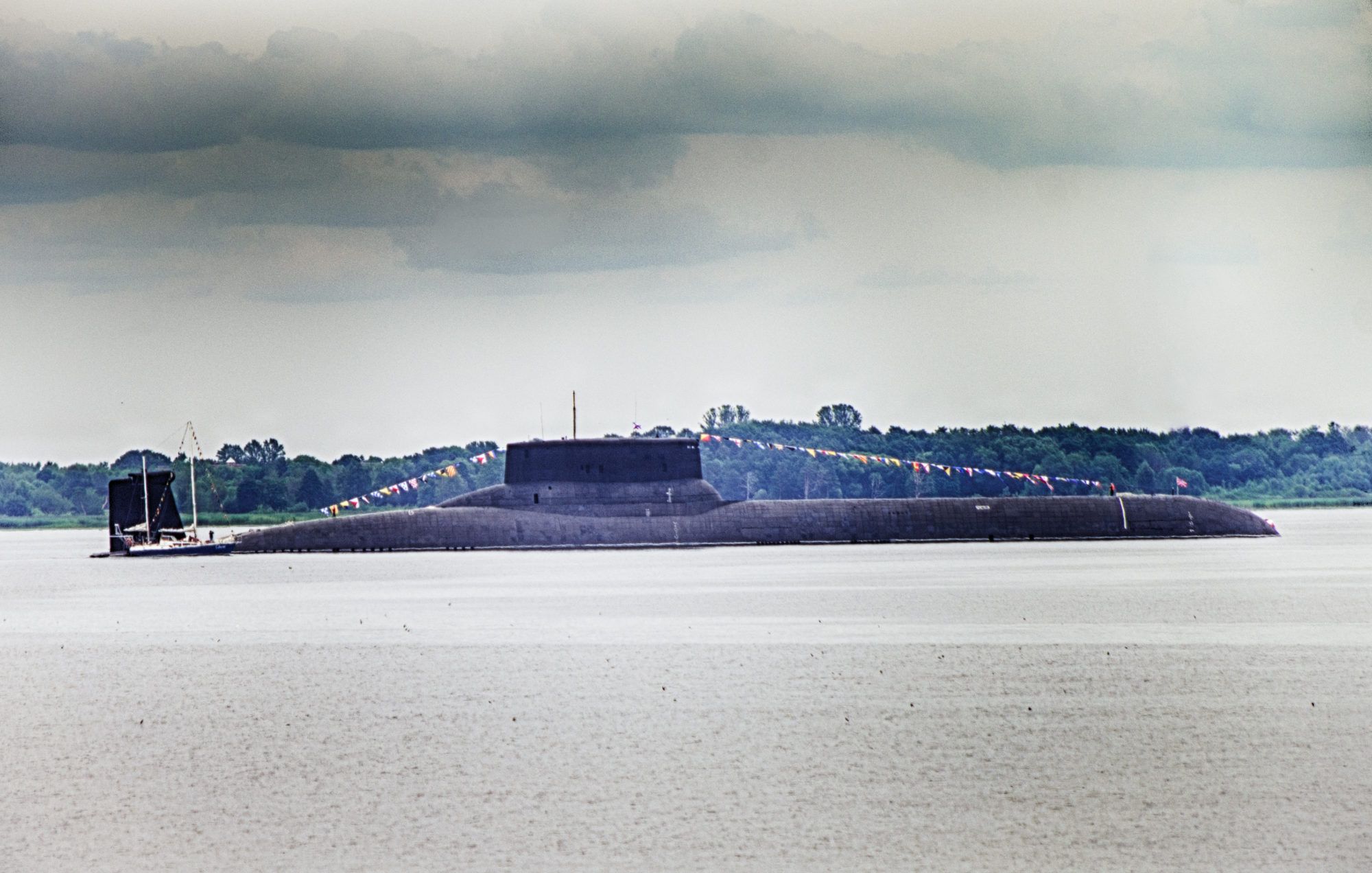 Russian Navy nuclear ballistic missile submarine Dmitriy Donskoi (ARÊTE/Andrey Korchagin)
Arms race fears
Senator Chris Murphy, Democrat of Connecticut, bemoaned that "the withdrawal of America from the world continues unabated," referring to a series of Trump administration decisions to cut ties with international organizations. But Democrats vowed to redirect, block or investigate Trump's policies now that they have majority control of the U.S. House of Representatives.
"Ending the INF Treaty is a gift to Russia — allows them to speed ahead with medium range nuclear weapons without the watchful eye of the U.S. We get no benefit and loads of additional risk," Murphy said.
U.S. Senator Edward Markey, Democrat of Massachusetts, said Trump's decision to withdraw from the treaty risked a new arms race. Long outspoken about the nuclear threat on the Senate Foreign Relations Committee, Markey introduced legislation to prevent any U.S. president from being able to launch a nuclear first strike without first getting a war declaration from Congress.
"President Trump and his war cabinet have yet again decided that America should go it alone, this time, by paving the way for a dangerous arms race, with costly new weapons. Withdrawing from the INF nuclear treaty will make the world less safe," Markey said.NATO allies, however, said they "fully support" the Trump administration's decision. That support is based on their determination in December that Russia "developed and fielded a missile system, the 9M729, which violates the INF Treaty, and poses significant risks to Euro-Atlantic security," according to a NATO statement.
Unless Russia carried out a "verifiable destruction of all of its 9M729 systems" within six months it "will bear sole responsibility for the end of the treaty," NATO said. "We urge Russia to use the remaining six months to return to full and verifiable compliance to preserve the INF Treaty.
The United States has for more than a decade accused Russia of violating the treaty by developing nuclear-capable cruise missiles to threaten or provoke the North Atlantic Treaty Organization, or NATO. But the United States also has researched new weapons to use if the Russians did not reverse course. Russia, in turn, claimed U.S. missile defenses violated the pact.
A Cold War-era arms treaty
In November, arms control experts called on Trump to keep the United States in the treaty.
One of the experts' letters to Trump, signed by a bipartisan group of 14 current and former U.S. political and military leaders, said it was important to "sustain meaningful, verifiable limits on the world's two largest nuclear arsenals in order to provide more predictability, transparency and stability in our nuclear relationship with Russia."
The experts' letter and others like it addressed to Trump acknowledged Russia violated the treaty, but urged Trump to remain in it anyway. They also urged the United States and Russia to extend the nuclear pact known as the New Strategic Arms Reduction Treaty, or New START, that took effect in 2011 and expires in 2021.
Former U.S. President Ronald Reagan and Soviet leader Mikhail Gorbachev signed the INF Treaty, which banned all U.S. and Soviet land-based ballistic and cruise missiles with ranges between 500 and 5,500 kilometers. It led to the destruction of almost 2,700 missiles and their launchers, and strengthened the U.S.-Soviet relationship as the Cold War was receding.
But in 2014, the Obama administration said Russia was violating the treaty by testing a prohibited ground-launched cruise missile in the intermediate range. The Trump administration repeated the charge in 2017, saying Russia was starting to deploy an intermediate range missile.
Trump warned that the United States would start developing more such cruise missiles unless Russia and China, which is not part of the treaty, agreed they would not develop the weapons.
The announcement dimmed hopes the United States and Russia might extend the New START treaty. It is a major reversal from the United Nations Security Council resolution unanimously approved at a 2009 meeting chaired by then-U.S. President Barack Obama. That resolution urged greater efforts towards disarmament and preventing the spread of nuclear weapons.
More than 120 countries last year approved the first-ever legally binding treaty to ban nuclear weapons. Survivors of atomic bombs dropped on Hiroshima and Nagasaki in August 1945 at the end of World War II hailed the Treaty on the Prohibition of Nuclear Weapons, which is not yet in effect. Nine countries known or believed to possess nuclear weapons — Britain, China, France, India, Israel, North Korea, Pakistan, Russia and the United States — withheld support.
Comments