A top human rights investigator for the United Nations cited evidence that Russia has adopted a government policy of torturing Ukrainians as its war grinds on.
Australian lawyer Alice Jill Edwards, who serves as the U.N.'s special rapporteur on torture, said Russia's war on Ukraine has become "synonymous with torture" as part of an apparent campaign against Ukrainian civilians and prisoners of war.
"The volume of credible allegations of torture and other inhumane acts that are being perpetrated against civilians and prisoners of war by Russian authorities appears to be unabating," Edwards said in Kyiv after a seven-day visit.
"These grievous acts appear neither random nor incidental," she said, "but rather orchestrated as part of a state policy to intimidate, to instil fear, to punish, or to extract information and confessions."
Kyiv has registered more than 103,000 war crimes proceedings that involve harrowing testimonies about Ukrainians being beaten or zapped with electricity in their ears and genitals, threatened with rape or death and mock executions at gunpoint, or having to undergo simulated drowning, stress positions, and ridicule and humiliation, according to Edwards.
Ukrainian civilians and soldiers that survived being held by Russians came back with stories of being crowded in basements and cells and being poorly fed, she said, and other incidents that constitute torture or other cruel, inhuman or degrading treatment barred by international human rights and humanitarian law.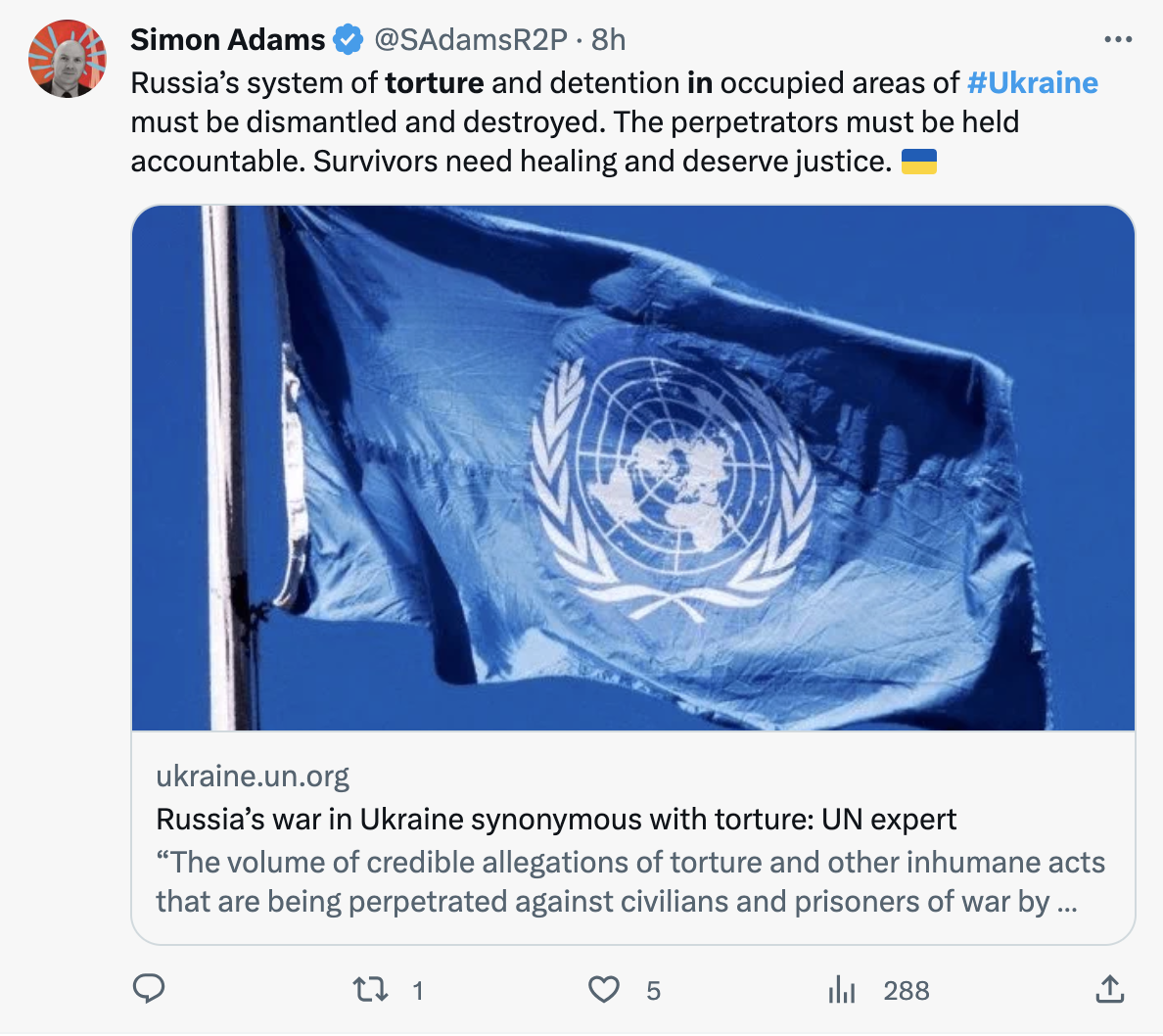 War crimes, possible crimes against humanity
Edwards said Ukrainian authorities' efforts to document war crimes in real time is "virtually unprecedented anywhere in the world," and the government is helping prosecutors by providing more mobile investigation units, forensic expertise and testing facilities, and better technology and evidence-gathering techniques.
On the flip side, she said, "sincere efforts have been made by the Ukrainian authorities to treat Russian prisoners of war respectfully. The barrack-style facilities I visited were hygienic and orderly. Prisoners were being well fed, were receiving medical attention for their battlefield injuries, were able to practice their religion and had paid work and recreational facilities."
A report on her visit is due to be given to the U.N. Human Rights Council in Geneva next March. Edwards said she tried unsuccessfully to contact Russian authorities at least seven times over the past year.
Last week, a separate U.N. commission of inquiry headed by Norwegian judge Erik Møse said after its tenth visit to Ukraine that it found a wide range of violations by Russian armed forces.
These included wilful killings, unlawful confinement, torture, rape and other sexual violence, unlawful transfers and deportations of protected persons and children.
"Many of these violations qualify as war crimes," it reported, "and some of them may, if confirmed by further evidence, amount to crimes against humanity, such as the use of torture and attacks on the civilian infrastructure."
Comments