GENEVA (AN) — Tiny plastic particles are "everywhere" in nature, including drinking water, posing a problem that urgently requires further study despite no proof yet of a threat to human health, the World Health Organization said on Thursday.
Oceans, landfills and public spaces are filling with degraded bits and pieces of discarded water bottles, toys, industrial parts and other sources of plastic pollution.
"Microplastics are ubiquitous in the environment and have been detected in marine water, wastewater, fresh water, food, air and drinking water, both bottled and tap water," the United Nations health agency said in a 124-page report that represents its first effort to examine the potential human health risks associated with exposure to microplastics in the environment.
WHO called for more assessment of the potential effects on environment and public health based on an analysis of current research into how they disperse in drinking water. It also urged the world to reduce plastic pollution for the benefit of nature and human health.
"We urgently need to know more about the health impact of microplastics because they are everywhere — including in our drinking water," said Dr. Maria Neira, a Spanish endocrinologist who directs WHO's public health department, which also focuses on environmental and social factors.
"Based on the limited information we have, microplastics in drinking water don't appear to pose a health risk at current levels," she said in a statement. "But we need to find out more. We also need to stop the rise in plastic pollution worldwide."
WHO said its analysis shows microplastics larger than 150 micrometers, which is about the width of a human hair, are not likely to be absorbed in the human body. It said even smaller particles, invisible the human eye, would be absorbed in "limited" quantities, though not much data about this exists.
That is why more data is needed, it said, into the sources and occurrence of microplastics in fresh water, and how to develop measurement standards and water treatment systems.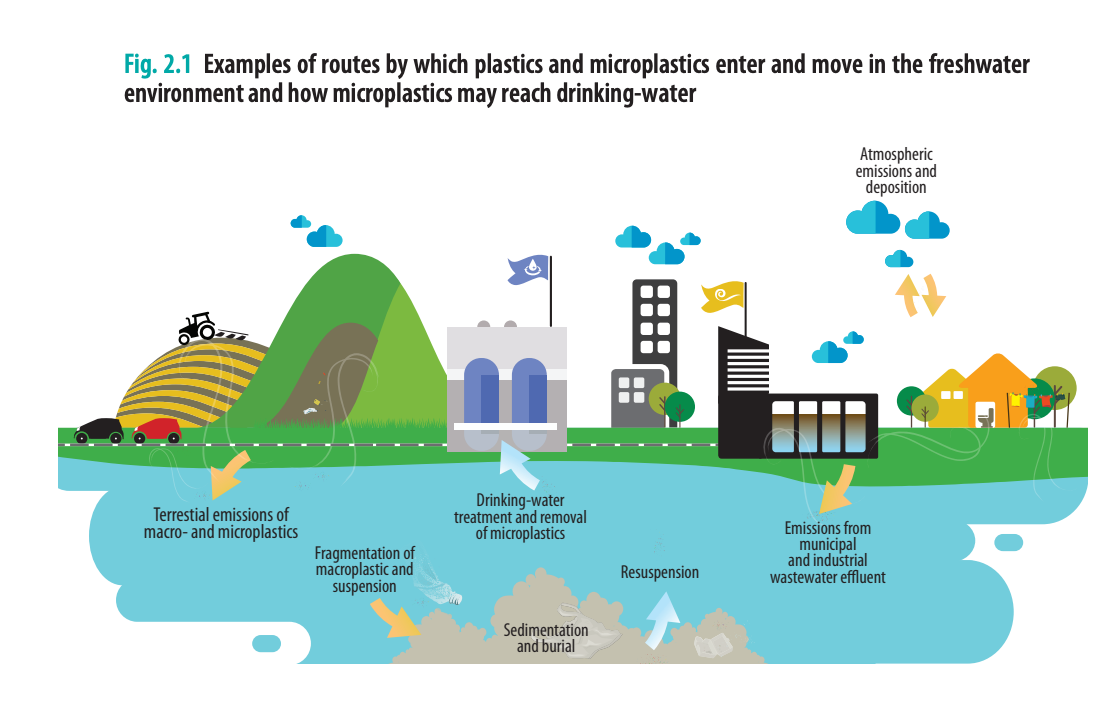 How microplastics can reach drinking water: WHO
WHO said it recommends that drinking water suppliers and regulators focus on removing microbial pathogens and chemicals with known risks to human health, because wastewater and drinking water treatment systems that treat fecal content and chemicals are also effective in removing microplastics.
It said wastewater treatment plants are capable of removing more than 90% of the microplastics from wastewater, and drinking water treatment systems can remove particles smaller than one micrometer, but much of the world's population lacks such treatment systems.
The analysis focuses on microplastics found in fresh water, drinking water, waste water and sewage, said Bruce Gordon, WHO's coordinator for water, sanitation, hygiene and health.
"So we're ingesting it, and then the question that everyone has asked now is what does this do to our health," he said. "A lot of the concerns have focused around three main areas of potential risk."
The three areas, he said, are inert particles diffusing in humans; the effects of chemical additives or contaminants in microplastics; and whether bacteria can colonize microplastics, causing sickness.
"Even at the smallest range that we've been able to detect in science, those — the vast majority should be passing through the human body," he said.
Comments