WASHINGTON (AN) — The World Bank and International Monetary Fund opened their fall meetings on Monday to survey a global development landscape beset by a slowing world economy, U.S.-China trade war and urgent climate threats spotlighted by the plight of small island nations.
Ahead of the meetings in Washington, which run through next Sunday, the heads of the two international organizations, each with 189 member nations, set the stage with speeches on major challenges the world faces. The meetings include a plenary session, regional briefings, press conferences, and talks among the World Bank-IMF development committee and IMF international monetary and financial committee.
The World Bank and IMF are so-called "Bretton Woods" institutions, because they were set up to rebuild postwar Europe and promote international cooperation at a U.S.-led meeting of 43 nations at Bretton Woods, New Hampshire in July 1944. Since that time, and especially in the 21st century, their missions have shifted to focus more on development and poverty.
The World Bank's new president, David Malpass, expressed concerns about the global lending institution's ability to end extreme poverty and build shared prosperity as global growth slows.
"Extended weakness in Europe's economy and in developing-country investment is weighing heavily on the outlook for the rapidly-growing populations in several developing countries," he said in a speech at McGill University in Montréal last week.
"Global growth is slowing," Malpass said, noting a World Bank forecast in June that the global economy in 2019 would grow at 2.6%, the slowest pace in three years. "We now expect growth to be even weaker than that, hurt by Brexit, Europe's recession and trade uncertainty. Moreover, in much of the developing world, investment growth is too sluggish for future incomes to rise in a meaningful way."
A former senior economic adviser to U.S. President Donald Trump during his 2016 presidential campaign, Malpass began his five-year term in April overseeing the World Bank. He most recently served in the Trump administration as undersecretary for international affairs at the Treasury Department.
Malpass said that even with the global economy in a fragile position, he still believed that "strong policy frameworks and robust institutions would allow almost all developing countries to deliver broad-based growth that reduces poverty and allows shared prosperity."
Bulgarian economist Kristalina Georgieva, who took over as IMF's managing director for a five-year term at the start of this month, said that slower growth is expected in almost 90% of the world this year.
"The global economy is now in a synchronized slowdown," she said in a speech last week. "This widespread deceleration means that growth this year will fall to its lowest rate since the beginning of the decade."
Georgieva noted the United States and Germany each have unemployment rates at historic lows.
"Yet across advanced economies, including in the U.S., Japan, and especially the euro area, there is a softening of economic activity," she said. "In some of the largest emerging market economies, such as India and Brazil, the slowdown is even more pronounced this year. In China, growth is gradually coming down from the rapid pace it saw for many years."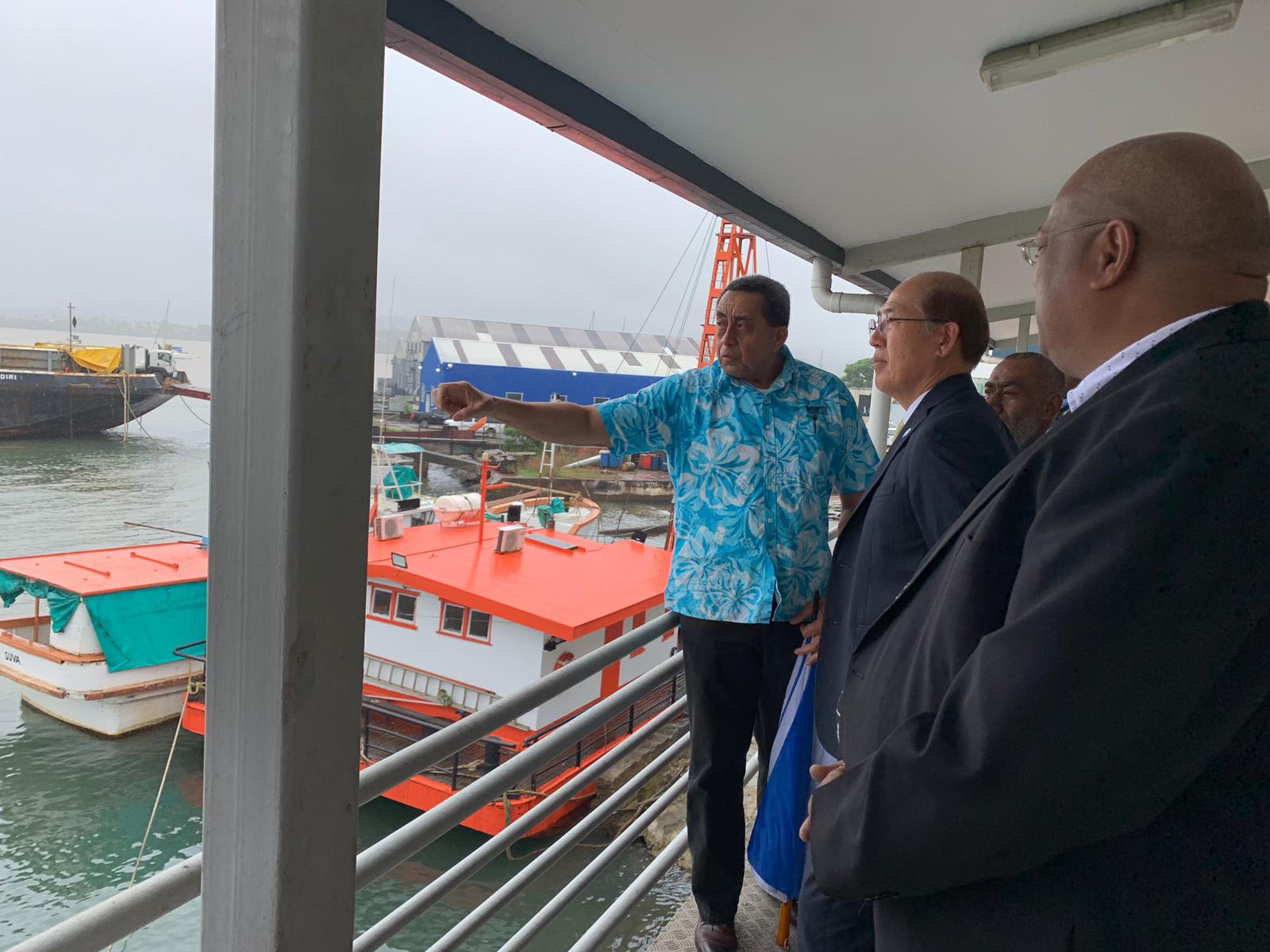 Fiji hosts a July visit by Kitack Lim, the International Maritime Organization's secretary general (ARÊTE/IMO)
Island nations in focus
The precarious outlook, as Georgieva put it, presents challenges for countries already facing difficulties — particularly small island nations and emerging economies struggling to cope with global warming, trade wars and geopolitical tensions.
Fiji's attorney general and minister for economy and climate, Aiyaz Sayed-Khaiyum, said he plans to highlight those difficulties as he presides over the international organizations' annual meetings at their headquarters in Washington.
"Some of them face issues direct as a result of climate change," Sayed-Khaiyum, whose broad portfolio of duties means that he essentially runs the government on a day-to-day basis, told Fiji's FBC News. "In terms of their ability to access finance, to do the rebuilding — what price they will be able to access that finance — these are some of the very pertinent issues."
In July, Fiji also hosted a visit by Kitack Lim, the International Maritime Organization's secretary general, that focused on issues such as climate change, port security and work training.
Earlier this month, the World Bank reported a broad-based decline in export growth and manufacturing activity in developing East Asian and Pacific nations is expected to slow their economies' growth from 6.3% in 2018 down to 5.8% in 2019, then to 5.7% in 2020 and to 5.6% in 2021.
"As growth slows, so does the rate of poverty reduction," said Victoria Kwakwa, World Bank vice president for East Asia and the Pacific.
"We now estimate that almost a quarter of the population of developing East Asia and the Pacific lives below the upper-middle-income poverty line of US$5.50 a day," she said. "This includes nearly 7 million more people than we projected in April, when regional growth was looking more robust."
Comments