WASHINGTON (AN) — Foreign meddling in conflicts, U.S.-China trade tensions and global warming topped the concerns of leading international organizations at the end of 2018.
"These are anxious times for many and our world is undergoing a stress test," U.N. Secretary-General António Guterres said in an end-of-year message.
Looking ahead to next year, Brussels-based International Crisis Group said the world has been thrown into turmoil as an era of uncontested primacy by the United States fades.
"More leaders are tempted more often to test limits, jostle for power and seek to bolster their influence – or diminish that of their rivals – by meddling in foreign conflicts," said ICG's president and CEO Robert Malley in an end-of-year statement.
His organization said the world faces huge security threats from the humanitarian crisis in Yemen, where millions are starving, Afghanistan's deadly fighting and the Washington-Beijing trade war sparked by U.S. President Donald Trump's "America First" policies.
Along with those three concerns, ICG's top 10 hotspots included Saudi Arabia, the U.S., Israel and Iran; Syria; Nigeria; South Sudan; Cameroon; Ukraine; and Venezuela.
Malley described the world's instruments of "collective action," chiefly the 15-nation U.N. Security Council, as paralyzed, due to a habitual lack of agreement among the five permanent veto-wielding members: Britain, China, France, Russia and the United States.
"Multilateralism and its constraints are under siege, challenged by more transactional, zero-sum politics," Malley warned, adding that the world's instruments of "collective accountability," including the International Criminal Court, are ignored and disparaged.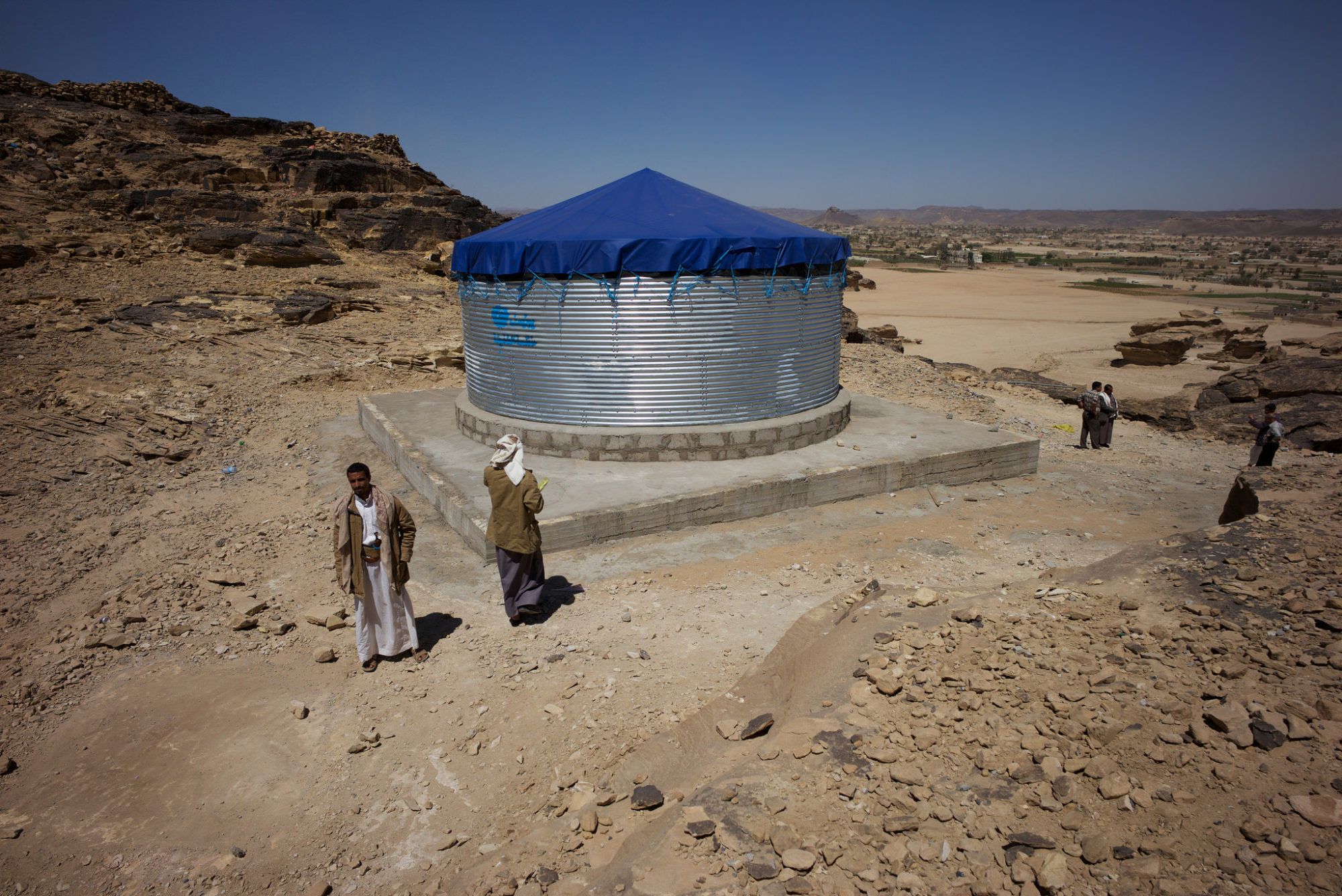 Emergency water tank in Yemen provided by OXFAM and installed by UNICEF, after an airstrike destroyed a reservoir (ARÊTE/Julien Harneis)
Still 'reasons for hope'
Guterres said human-caused global warming is "running faster than we are" and the many geopolitical divisions in the world "are deepening, making conflicts more difficult to resolve. And record numbers of people are moving in search of safety and protection."
In addition, he said, inequality is growing, many people question a world in which a handful of people hold the same wealth as half of humanity, and intolerance is on the rise while trust is on the decline.
"But there are also reasons for hope," he said, citing talks in Yemen that have created a chance for peace, an agreement between Ethiopia and Eritrea that has eased long-running tensions and revitalized chances for peace in South Sudan.
Two U.N.-brokered global agreements on migration and refugees were approved in December.
Guterres noted that a U.N.-led climate summit at Poland in December brought almost 200 nations together to approve the work program for nations to report cuts in carbon emissions and to pay for measures under the 2015 Paris Agreement on climate change.
"Now we need to increase ambition to beat this existential threat," Guterres said.
Comments