In honor of D-Day 75 years ago, French President Emmanuel Macron on Thursday summoned the world to perpetuate the Allied nations' hard-won "heritage of peace" by sustaining transatlantic alliances and international organizations such as the United Nations, NATO and European Union.
Macron turned the global spotlight of the Normandy ceremonies to the unfathomable sacrifices and international cooperation that made possible the post-World War II era of prosperity and multilateralism, just as Queen Elizabeth II did in the presence of U.S. President Donald Trump earlier in the week.
They and other European leaders, including German Chancellor Angela Merkel and British Prime Minister Theresa May, have been trying to assuage Trump's skepticism of the alliances that kept global peace since the mid-20th century.
Macron, while hosting Trump and other world leaders and aging veterans in a commemoration of the June 6, 1944 D-Day landings on French beaches, recalled the courage and generosity of young soldiers who fought and died storming ashore to defeat Nazi Germany and secure Europe's universal rights and freedom.
Almost 160,000 Allied troops, including 83,000 from Britain and Canada and 73,000 from the United States, landed on northern France's beaches or parachuted behind German lines. More than 2 million troops from a dozen countries fought in Operation Overlord to recover German-occupied Western Europe.
"We owe you, all those who fought, the thousands of civilians who lost their lives, and who I have not forgotten — we owe more than medals and words. What we owe you is to show ourselves worthy of the heritage of peace that you have left us," said Macron.
"We shall never cease to to perpetuate the alliance of free peoples," he vowed. "That is what the victorious sides did immediately after the Germans and the Japanese surrendered, when they created the United Nations. That is what the United States did, when it created the North Atlantic Treaty Organization. That is what, a few years later, the leaders of Europe did in bringing about the European Union."
'An epic battle'
In the American cemetery of Colleville-sur-Mer, by the graves of more than 9,380 American service members killed in World War II, Macron observed the world owes an enormous debt to the United States.
America is "never greater" than when it fights for others' freedom, or for the bedrock principles of its founding fathers, he said, but the world also owes an immeasurable debt to all the nations that cooperated with the Allies and took "this wild gamble to free Europe from the Nazis' hold" by landing in Normandy.
"Being worthy of the promise of Normandy means never forgetting that free peoples, when they join forces, can surmount any adversity," said Macron. "France wishes to continue to support this promise of Normandy, understand its purpose. This is what we owe to our homeland, what we owe to countries that share the same values, what we owe to democracy and liberty."
Trump honored the patriotism and sacrifice of the troops who stormed the beaches on D-Day to liberate Europe from Nazi Germany by recounting heroics of soldiers and telling surviving veterans "our debt to you is everlasting."
He called the historic D-Day invasion "an epic battle and the ferocious eternal struggle between good and evil." But as a self-described nationalist, his salute to American bravery also was at odds with the spirit of international cooperation that made possible the unity of the fighting forces that landed at Normandy.
Trump offered praise nonetheless to all of the allies, including the British, Canadians, French and Poles who took part in the D-Day landings.
"They came from the farms of a vast heartland, the streets of glowing cities and the forges of mighty industrial towns. Before the war, many had never ventured beyond their own community. Now, they had come to offer their lives halfway across the world," Trump said. "We thank you from the bottom of our hearts."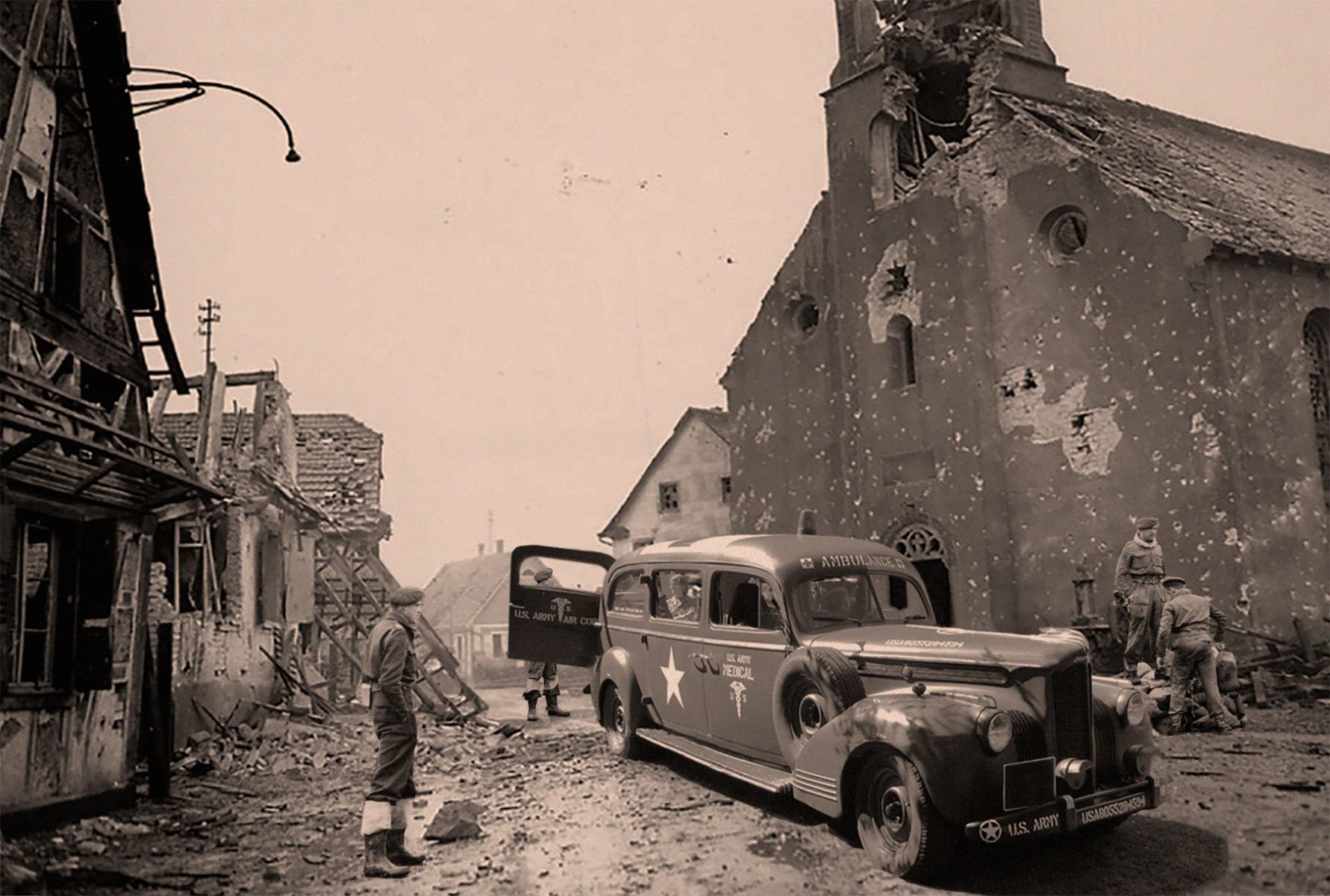 A U.S. Army ambulance at Normandy, France in 1944 (AN/Public Domain)
Dangers of 'unrestrained nationalism'
Earlier in the week, Queen Elizabeth II used her toast at a royal state dinner welcoming the Americans in Buckingham Palace to remind Trump of the importance of multilateral institutions that Britain and the United States helped to create in the wake of two world wars, with the aim of preventing a third one. The queen also hosted a D-Day commemoration in Portsmouth, England, where the invasion was launched.
Trump has repeatedly sought to undercut multilateral institutions such as the U.N., NATO and E.U., withdrawing American support and funding from numerous organizations and treaties critical to efforts on everything from nonproliferation to global warming to human rights.
Last November, Macron raised similar themes while playing host to a weekend of commemorations for the World War I centenary of Armistice Day, marking the 1918 Armistice between the German-led Central Powers and the Allies — Belgium, Britain, France, Italy, Russia, Serbia and the United States.
He spotlighted the unrestrained nationalism and immense tragedy of a four-year global war, but noted it also laid the groundwork for the post-World War II era of relative concordance among nations increasingly pursuing interests through international organizations, security pacts, trading and political treaties.
"Patriotism is the exact opposite of nationalism. Nationalism is a betrayal of patriotism," he said then, in a similarly pointed rebuke of Trump's 'America First' agenda, including the U.S. president's repudiation of international organizations and treaties and imposition of stiff trade tariffs on both China and U.S. allies.
Amid a surge of nationalist populism in the U.S. and Europe, Macron warned "old demons are rising again: New ideologies are manipulating religions, and history is threatening to repeat its tragedies. Let us vow once more as nations to ensure peace is the utmost priority, above all else, because we know what it cost."
Comments