GENEVA (AN) — Opening its new session, the world's foremost body for encouraging human rights got a dismal message: U.N. leaders saw a rise in hatred and retreat in progress globally."The human rights agenda is losing ground in many parts of the globe — but I am not losing hope," U.N. Secretary-General António Guterres cautioned the U.N. Human Rights Council.
A case in point was China's treatment of more than 1 million ethnic Uyghurs in the remote, western Xinjiang Province.
Britain and Turkey, which has ties to the Uyghurs' language, culture and religion, raised concerns about the Chinese government's massive campaign against its Muslim minority group. Activists and United Nations experts said the Uyghurs were forcibly detained and indoctrinated.
Turkey's Foreign Minister Mevlüt Çavuşoğlu called China's actions "a great cause of shame for humanity." He said his nation acknowledged China has a right to fight terrorists, but not in the name of a crackdown on citizens' rights to choose religious and cultural identities.
Britain's Lord Ahmad of Wimbledon said on behalf of his government that it was "deeply concerned about the persecution" of Muslim Uyghurs.
In August, China's Foreign Ministry spokesman Lu Kang blamed allegations that Uyghurs were sequestered in the equivalent of concentration camps on a smear campaign of "anti-China forces" and foreign media taking political aim at China's standing. The allegations aired before the Geneva-based U.N. Committee on the Elimination of Racial Discrimination, or CERD.
The Human Rights Council's session this month began with Guterres and U.N. human rights chief Michelle Bachelet warning of troubling trends yet powerful movements for human rights and social justice. With each broken norm, Guterres said, pillars of humanity were weakened.
"We are also seeing a groundswell of xenophobia, racism and intolerance – including rising anti-Semitism and anti-Muslim hatred," he told the 47-nation council. "Hate speech is a menace to democratic values, social stability and peace. Indeed, hate is moving into the mainstream — in liberal democracies and authoritarian states alike."
Bachelet, who became Chile's first female president and served two terms from 2006 to 2010 and 2014 to 2018, warned that "in some countries, important human rights advances are being dismantled — for example, on the rights of women, of minorities and of indigenous peoples."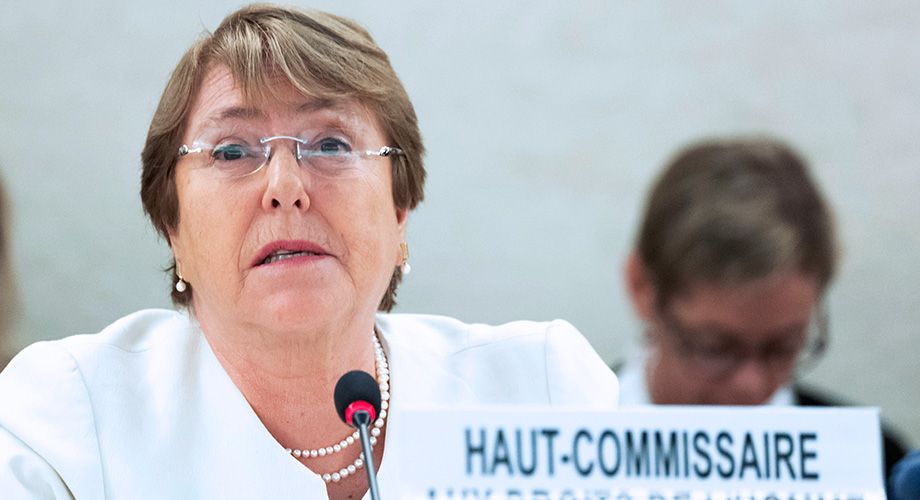 U.N. human rights chief Michelle Bachelet opens the Human Rights Council's monthlong session in Geneva (Arete/United Nations)
Rights and climate
Bachelet emphasized the intersection of human rights and rising global temperatures, saying some nations "drag their feet on issues such as climate change, where action today can preserve the future for the children of our countries. This harms us all."
But she expressed hope in the Fridays for Future movement taking off around the world among youth who feel betrayed by adult inaction on climate change.
"Like many of you, in recent weeks I have watched children marching for sound climate policies and other measures," Bachelet said, referring to thousands of students inspired to protest since Swedish student Greta Thunberg's speech at the U.N. climate summit in Poland in December.
"As a parent, a grandparent, and quite simply as a human being, they inspire in me a fierce determination to continue our struggle to uphold their rights," she said. "We cannot give in to defeatism and watch passively as the structures, which maintain peace and security, and sound development, crumble."
U.N. Secretary-General António Guterres opens the Human Rights Council's monthlong session in Geneva (Arete/United Nations)
A world of troubles
Guterres said the world can "dramatically reduce human suffering and pave the way for a much needed justice for victims" if the cease-fire holds in Yemen — where blocked humanitarian aid jeopardizes 12 million people who need emergency food — and peace takes hold in Central African Republic and Sudan.
"Of course, the primary responsibility to uphold and champion human rights rests with member states — and I am encouraged by those who are leading the way, especially in these challenging times," he said.
But Guterres said he was "deeply alarmed by the shrinking civic space in every region of the globe — and every corner of the internet. Activists and journalists are being targeted by surveillance, misinformation campaigns and threats of violence that too often result in actual violence."
More than 1,000 human rights defenders and journalists were killed in the last three years, he said, and four environmental activists were killed every week of last year. In response, Guterres said he created a U.N. team led by Adama Dieng, a special adviser for genocide prevention, that will "scale up our response to hate speech" and put in place new strategies and action plans.
Democracy in the balance
As a direct democracy and host nation for the U.N.'s European headquarters, Switzerland warned against complacency when it comes to ensuring basic freedoms.
Swiss Foreign Minister Ignazio Cassis invoked the work of fallen journalists Jamal Khashoggi of Saudi Arabia and Ján Kuciak of Slovakia, who he said had not shied from going against the powers that be and "were murdered in 2018 because of this courage."
They were among dozens of journalists killed and hundreds detained in prison or taken hostage last year — more than during any other year on record. He noted in his speech before the council that he saw two dangerous tendencies: turning a blind eye to rights violations and talking about human rights "in an increasingly generic and abstract way" that is dehumanizing.
Comments