International organizations and European governments pledged to broaden access to vaccines among poorer nations on Thursday at the third annual Paris Peace Forum, a bullhorn for multilateralism made virtual due to the coronavirus pandemic this year.
The European Commission and France each promised an additional €100 million (US$118 million), while the Bill & Melinda Gates Foundation said it would contribute another US$70 million and Spain vowed to add €50 million towards the Access to Covid-19 Tools (ACT) Accelerator, a global collaboration among 10 international organizations to raise US$35 billion more for coronavirus tests, medicines and vaccines worldwide.
"COVID-19 anywhere is COVID-19 everywhere. That is why we have to ensure that everyone gets equal access to tests, drugs and vaccines when they are available — no matter where you live in the world," Melinda Gates said in a statement. "Our pledge today, alongside the generous commitments made by France, the European Commission and Spain, means we are getting closer to having the resources needed to help the world fight this virus. But we still have a long way to go."
Only US$3 billion has been raised so far for the total US$38 billion that is being sought — including US$15 billion that is needed immediately for emergency efforts to fight the virus. The ACT-Accelerator includes the COVAX Facility — an ambitious effort to accelerate COVID-19 vaccines and to guarantee all nations will have fair and equitable access to them — that is co-led by the World Health Organization; Gavi, the Vaccine Alliance; and the Coalition for Epidemic Preparedness Innovations.
China, Russia and the United States have not joined the effort. And, along with the shortage of money, the effort will require a sophisticated distribution system of cargo planes and refrigerants to store and ship the vaccines. The complexity of the super-cold storage requirements for the vaccines that are under development pose a challenge even for well-funded hospitals, not just more rural areas and poorer nations.
"As global public goods, COVID-19 vaccines, therapeutics and diagnostics must be available on the basis of equitable and affordable access for all, especially for health workers, the elderly and other at-risk groups," WHO Director-General Tedros Adhanom Ghebreyesus told the forum.
"This is not just a moral imperative and a public health imperative, it's also an economic imperative. In our interconnected world, if people in low- and middle-income countries miss out on vaccines, the virus will continue to spread and the economic recovery globally will be delayed," he said in his speech. "Equitable access is in the national interest of each and every country. Vaccine nationalism will prolong the pandemic, not shorten it."
That was a reference to the list of wealthy nations that are hedging their bets by placing orders with pharmaceutical companies to ensure they will jump to the front of the line when safe and effective vaccines are finally available. Because of the growing list of orders put in for vaccines when they become available, the likelihood is small that poorer nations will receive any significant amount of shots next year.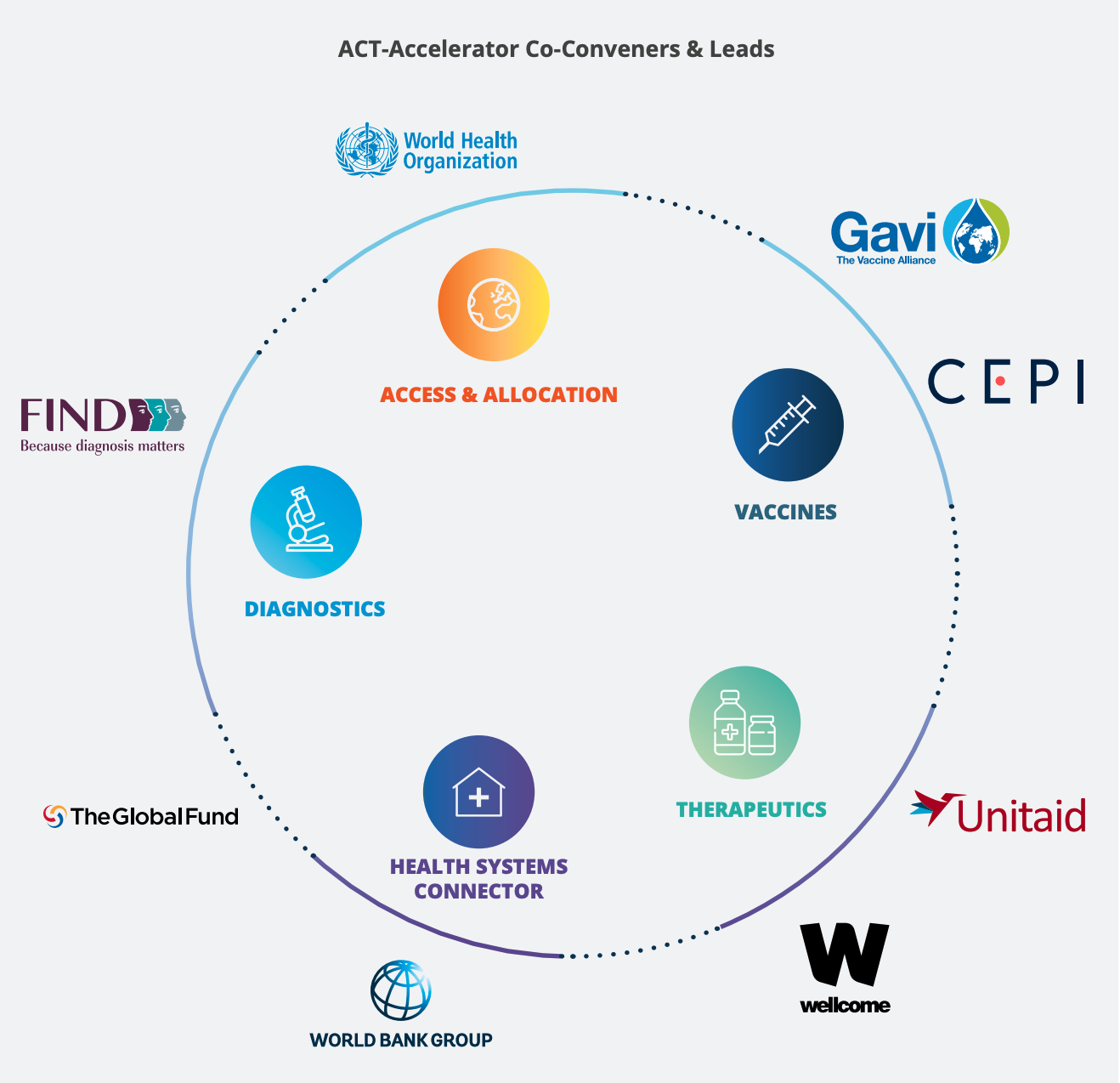 (AN/WHO)
'A common approach'
Even before COVID-19 was declared a pandemic in March, world leaders at last year's Paris Peace Forum pushed for greater international cooperation to fight climate change and the planet's other pressing challenges by confronting the headwinds of anti-globalist ideologies.
Organizers of this year's international forum in Paris, scheduled for three days this week, were hoping to raise more than €425 million (US$500 million) in additional funding to the pledges for global efforts to spread COVID-19 vaccines. Efforts to develop vaccines are going at record speeds in hopes of ending the pandemic as soon as possible, though none are yet in the advanced testing phase for safety and effectiveness.
Earlier in the week, Pfizer and its German partner BioNTech surprised the world with the news that its vaccine may be 90% effective based on early test results. They plan to seek emergency-use approval from the U.S. Food and Drug Administration later this month. Other drug makers like Moderna and AstraZeneca are pushing to bring candidate vaccines to regulators for broader use before the end of the year.
The European Union also has been preparing to boost its manufacturing capacity so that drug makers would be able to meet both the continental and global demands for COVID-19 vaccines, European Commission President Ursula von der Leyen told the forum.
"If we have a vaccine, we should have a common approach to give a fair share to everyone, so that the most vulnerable groups, the frontline workers and the health care workers, for example, are the ones who get the vaccine first," she said in a statement.
"But, what we are doing is investing now in these companies so that their production capabilities are increased," said von der Leyen. "Then, if they are successful with the vaccine, the member states have access to buy their fair share of vaccine doses. The good part is, as we invest in increasing the production capabilities of the pharmaceutical industry, the production is not only for the European Union, but also for the rest of the world."
Comments