U.N. officials unveiled a sweeping plan on Monday to avert what scientists fear is shaping up to be Earth's sixth mass extinction, proposing a global wildlife treaty on the scale of the 2015 Paris Agreement on climate change.
The United Nations Convention on Biological Diversity's "zero draft text" for the treaty is an ambitious plan to preserve the world's imperiled plant and animal species through a "theory of change" approach — setting long-term goals and working backwards to identify what must be done.
"Biodiversity, and the benefits it provides, is fundamental to human well-being and a healthy planet," the text says. "Despite ongoing efforts, biodiversity is deteriorating worldwide and this decline is projected to continue or worsen under business-as-usual scenarios."
The 14-page initial draft text is a 20-point plan for every government to collectively protect a third of the world's oceans and land by 2030 to reverse the dramatic losses in biodiversity that threaten the planet and humanity. Only about 7% of oceans and 15% of land are protected now.
"This will allow diverse stakeholders to articulate challenges, work together towards common goals, use the same language when sharing information on the status of implementation, and ensure that collective actions are aligned towards achieving the greatest possible impact," said CBD's statement.
Indigenous peoples and local communities must have more of a say over biodiversity, according to the draft plan. Plastic pollution and excess nutrient waste should be halved, it says, with tougher measures taken by 2030 to avoid human-introduced invasive species and to regulate the multi-billion dollar trade in wildlife species. It also calls for sustainably conserved biodiversity by 2050.
Negotiations on the initial draft for CBD's proposed new wildlife treaty began last summer in Nairobi. Government officials, experts and activists from around the world gathered there and opened talks to hammer out the basis for a global treaty to safeguard life on Earth, in all its forms. They hope to adopt the final draft in October of this year at a key U.N. summit in Kunming, China.
CBD, overseen by a Montréal-based secretariat, was the first global agreement to cover all aspects of biological diversity — conservation along with fair and sustainable use of its benefits and genetic resources. It was signed at the 1992 Earth Summit in Rio de Janeiro, and entered into force in 1993. It now encompasses 196 nations, including all 193 U.N. member nations except the United States.
Americans championed the idea for CBD in the 1980s, but after the Rio summit then-U.S. President George H.W. Bush faced a tough re-election bid and declined to sign the new treaty. His successor, Bill Clinton, did sign it, but it was never approved by the U.S. Senate, where dozens of proposed international treaties have languished because they would, in effect, trump national laws.
The proposed biodiversity treaty would become the world's framework to attempt to halt the human actions that scientists say are threatening 1 million of the world's 8 million plant and animal species with extinction by causing Earth's natural life support systems to reach a crucial breaking point.
Devastating human negligence has caused a dire nature emergency for plants and animals large and small, the 132-nation IPBES organization reported last May based on the work of 145 wildlife experts from 50 countries over the past three years, with inputs from 310 contributing authors.
Accelerating species losses undermine humanity because all life needs rich species diversity in healthy habitats for nourishment, pollination, clean water, air and land, said the Intergovernmental Science-Policy Platform on Biodiversity and Ecosystem Services, or IPBES. The main threats, it said, are climate change, pollution, vanishing habitats and exploitation of natural resources.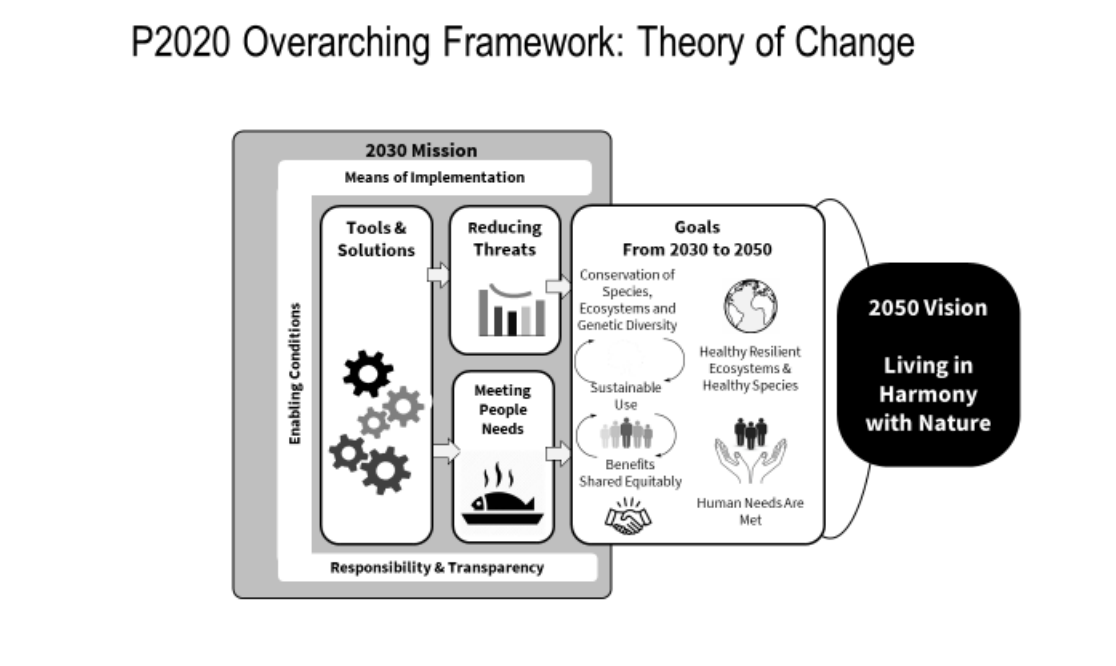 (ARÊTE/U.N. Convention on Biological Diversity)
'Encouraging first step'
The authors of the IPBES report said that the damage to Earth's ecosystems has undermined dozens of specific targets for reducing poverty and hunger and for improving health, water quality and other environmental standards within the U.N.'s 17 Sustainable Development Goals for 2030.
IPBES said this is the worst time for nature in human history: more than a half million land-based species are threatened by extinction due to "insufficient habitat for long-term survival," and marine life is in similarly bad shape.
As a result, proponents of CBD's draft plan liken it to the landmark Paris climate deal, which took effect on November 4, 2016, committing the world to "holding the increase in the global average temperature to well below 2 degrees Celsius above pre-industrial levels and pursuing efforts to limit the temperature increase to 1.5 degrees C. above pre-industrial levels."
The world has warmed by about 1 degree C. above pre-industrial levels, so the choice is really between another 1 degree C. or, preferably, a half-degree C. more warming. Humans have altered 66% of Earth's marine ecosystems and 75% of its landscapes since pre-industrial times.
Scientists say the Earth underwent five previous mass extinctions. The first was 443 million years ago in an ice age; the second was 360 million years ago due to climate change; and the third was 250 million years ago from huge volcanic eruptions. The fourth was 200 million years ago due to volcanoes; the fifth was 65 million years ago, when a giant asteroid hit amid volcanic eruptions.
Environmental and climate advocates welcomed CBD's draft text as a sign that nations increasingly recognize the dire condition of the planet, and the urgent need to improve it.
"Today's draft shows that countries are listening and that they recognize the increasingly important role that protecting land and water must play in confronting climate change, preventing wildlife extinctions, and supporting people and local communities," Brian O'Donnell, director of the Wyss Campaign for Nature, said in a statement.
"This is a very encouraging first step," he said. "Much work remains to be done in the coming months to ensure that the rights of indigenous people are advanced, and bold conservation and finance targets are included in the final agreement."
But environmental group NRDC said the U.N.'s draft framework does not go far enough. Though it proposes conserving 30% of ocean and land, it only proposes to put 10% under strict protections, the group said.
"These differences matter. Many countries 'conserve' areas, while still allowing logging, mining, hunting, fishing, etc.," NRDC's Zak Smith wrote in a blog. "That kind of conservation is insufficient. We need to strongly protect 30% of nature, severely limiting the kinds of activities allowed depending on the habitat. In some areas that may mean almost no human activities, in others it may allow for some minimal use."
Comments