GENEVA (AN) — World Health Organization experts and officials expressed grave concern about Congo's most recent surge in its Ebola outbreak but agreed it does not constitute an international public health emergency.
After an emergency meeting, WHO's Director General Tedros Adhanom Ghebreyesus told a news conference that he accepted an expert panel's recommendation to skip an emergency declaration.
Declaring Ebola in Congo a global health emergency would have helped to fast-track more international research and action. Political instability, conflicts, dense populations and public mistrust of Ebola services have marred the response until now. Medical clinics run by Médecins Sans Frontières, or MSF, were attacked in February, forcing the international organization to suspend work in two areas of Congo.
But experts at the panel's meeting instead suggested that the outbreak could be managed by making some improvements in cross-border sharing of data and alerts, better engaging communities and raising public awareness about Ebola, Tedros said in a statement from Geneva headquarters.
"In the past we never saw an Ebola outbreak in a complicated situation like now," he said.
Though an emergency declaration is legally binding, perhaps its greatest use is as a political tool for WHO to use to rally nations' attention and resources to stop a disease from spreading further. WHO's expert panel previously declared public health emergencies with the 2014 Ebola outbreak in Sierra Leone, Liberia and Guinea; the Zika virus in the Americas; and an international attempt to eradicate polio.
The Ebola outbreak in Congo, announced last August, has occurred close to the borders of Rwanda and Uganda, and South Sudan is not much further away. It has become the second-deadliest such outbreak ever, behind only the West African outbreak from 2014 to 2016 that killed more than 11,300 people.
WHO was roundly criticized for waiting to declare that the 2014 Ebola outbreak constituted an international emergency until after almost 1,000 people had died and it had crossed borders.
The panel is comprised of international experts who offer technical advice to the director-general about public health emergencies. It acts under authority of WHO's International Health Regulations, or IHR, a binding legal agreement among 196 nations that took effect in 2007.
The regulations define a public health emergency of international concern — called a PHEIC, pronounced like "fake" — as "an extraordinary event which is determined to constitute a public health risk to other States through the international spread of disease and to potentially require a coordinated international response."
Robert Steffen, a University of Zurich epidemiologist and emeritus professor who co-chairs the panel, said it unanimously agreed there was no need to declare an emergency, but the outbreak should not be downplayed.
"While there is no added benefit to declaring a PHEIC at this stage, there was concern about current levels of transmission requiring close attention to the evolving situation," the panel said in a statement. "The committee advised the WHO director general to continue to monitor the situation closely and reconvene the emergency committee as needed."
Their last discussion about the issue was in October.
Highest figures yet
As if to underscore the gravity of the situation, WHO officials released their latest figures for the epidemic showing there were up to 1,206 confirmed and probable cases and 764 deaths — 20 more cases and 13 more deaths than were reported only a day earlier — as the meeting was just getting underway.
Among the cases where a patient's age and sex were reported, at least 675, or 57%, were female, and 341, or 29%, were children younger than 18 years old. The number of health care workers affected stood at 87, or 7% of all the cases, including 31 deaths. Some 354 patients treated for Ebola were discharged.
"Progress on the ground this week focused primarily on intensifying infection prevention and control activities in and around outbreak hotspot areas," WHO officials said.
During the past week, there were 18 new Ebola cases in a single day — the highest single-day figure in the now eight month-long outbreak — and 10 deaths on that day, including eight among people that did not seek treatment, according to the International Federation of Red Cross and Red Crescent Societies, or IFRC.
"This is a very distressing development," Emanuele Capobianco, IFRC's director of health and care, said in a statement. "The bottom line is that Ebola is now spreading faster, and many people are no longer seeking care. It is clear that some vulnerable communities do not trust Ebola responders."
Community engagement is critical to success, said the Geneva-based IFRC, which had 700 Red Cross volunteers working in Ebola-affected communities. The volunteers have reached 1 million people with locally adapted information, IFRC said, and have collected feedback from more than one-tenth of them in return.
But the epidemic is still not under control, and a fifth of the cases were recorded in just the past two weeks. Last August, Congo's health ministry declared a new outbreak of Ebola in the nation's North Kivu Province.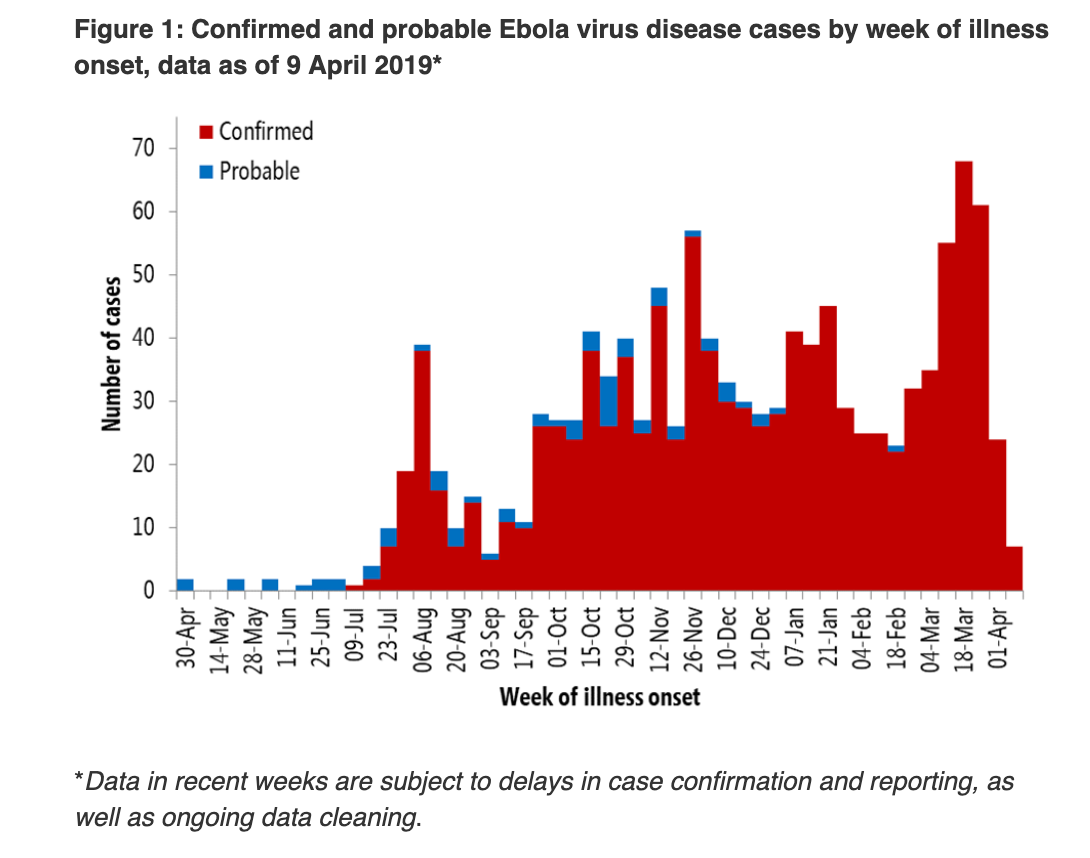 (ARÊTE/World Health Organization)
Wary of negative consequences
Among the recurring problems cited by WHO officials in Congo were the "limited knowledge of standard precautions, lack of triage and isolation capacity, insufficient supplies (e.g., of personal protective equipment), inappropriate waste management, and lack of capacity for decontaminating medical equipment."
WHO said the continued increase in cases during the past week reflected "the complex reality of conducting an effective outbreak response in a geographically difficult area with a highly fluid population, intermittent attacks by armed groups, and limited healthcare infrastructure."
In February, an international group of public health experts called on WHO to convene the emergency panel due to a sharp increase of Ebola cases in the Congo.
The group of experts wrote in the scientific journal Lancet that such a call would help galvanize "high-level political, financial, and technical support" and potentially help prevent Ebola from spreading to nearby, fragile countries such as South Sudan.
They also warned that an emergency declaration could be detrimental for the region if there were a ban on travel or trade in Congo.
At WHO's emergency panel discussion on Ebola last October and again this month, health experts said it was important not to impose any international travel or trade restrictions but neighboring countries must become better prepared.
Comments