GENEVA (AN) — For only a second time in a half-century, the leading international organization for migration will not be led by an American.
It is the most prominent sign yet of a global backlash against U.S. President Donald Trump's policies on migration, economy and trade.
In an apparent repudiation of Trump's virulent "America First" brand of anti-immigrant populism, the international organization known as U.N. Migration, or IOM, chose as its next director-general António Manuel de Carvalho Ferreira Vitorino, a former European Union commissioner for justice and home affairs.
Vitorino edged out Ken Isaacs, the Trump administration's candidate to lead the IOM, which is based in Geneva. International observers saw it as a strong rebuff to the United Nations-affiliated agency's longstanding tradition of U.S. leadership.
Isaacs' public comments have been widely seen as anti-Muslim, adding insult to injury over the Trump administration's travel bans and separation of migrant families.
Vitorino won by acclamation over Costa Rica's Laura Thompson, an IOM deputy director-general aiming to become the first woman to run the organization, after Isaacs lost in an initial round.
A Portuguese lawyer and socialist, Vitorino is an ally of U.N. Secretary-General Antonio Guterres, a former Portuguese prime minister from 1995 to 1992 who began his political career as a socialist.
Controversial comments
Isaacs, who is a vice president of the evangelical Christian humanitarian group Samaritan's Purse, had tried hard to put the controversy to rest, but could not.
The Trump administration nominated him in February and soon afterwards he stirred up anger over his tweets about Muslims, climate change and other hot-button topics.
On Twitter, he said Islam was not an inherently peaceful religion and that Austria and Switzerland should consider building a wall in the Alps "to control their borders from refugees." He also had called climate change a "hoax."
He deleted the tweets and made his Twitter account private after getting a warning from U.S. State Department officials. The White House and U.S. ambassador to the U.N. Nikki Haley, who hosted a diplomatic reception for Isaacs, invested political capital in the IOM election.
Only once before has the organization — which was founded in 1951 to resettle refugees from Europe in the wake of World War II — not been run by an American.
Before the IOM, the International Refugee Organization, or IRO, helped the postwar flood of refugees. The IRO, founded in 1946, joined the U.N. system in 1948 but shuttered operations in 1952 when it was replaced by the Office of the U.N. High Commissioner for Refugees.
The IOM signed a cooperation agreement with the United Nations in 1996. The U.N. General Assembly voted to accept the IOM as a UN-related organization in 2016.
Now commonly referred to as the U.N. migration organization, IOM has 165 member nations and eight observer nations. It employs some 10,000 staffers among more than 150 countries.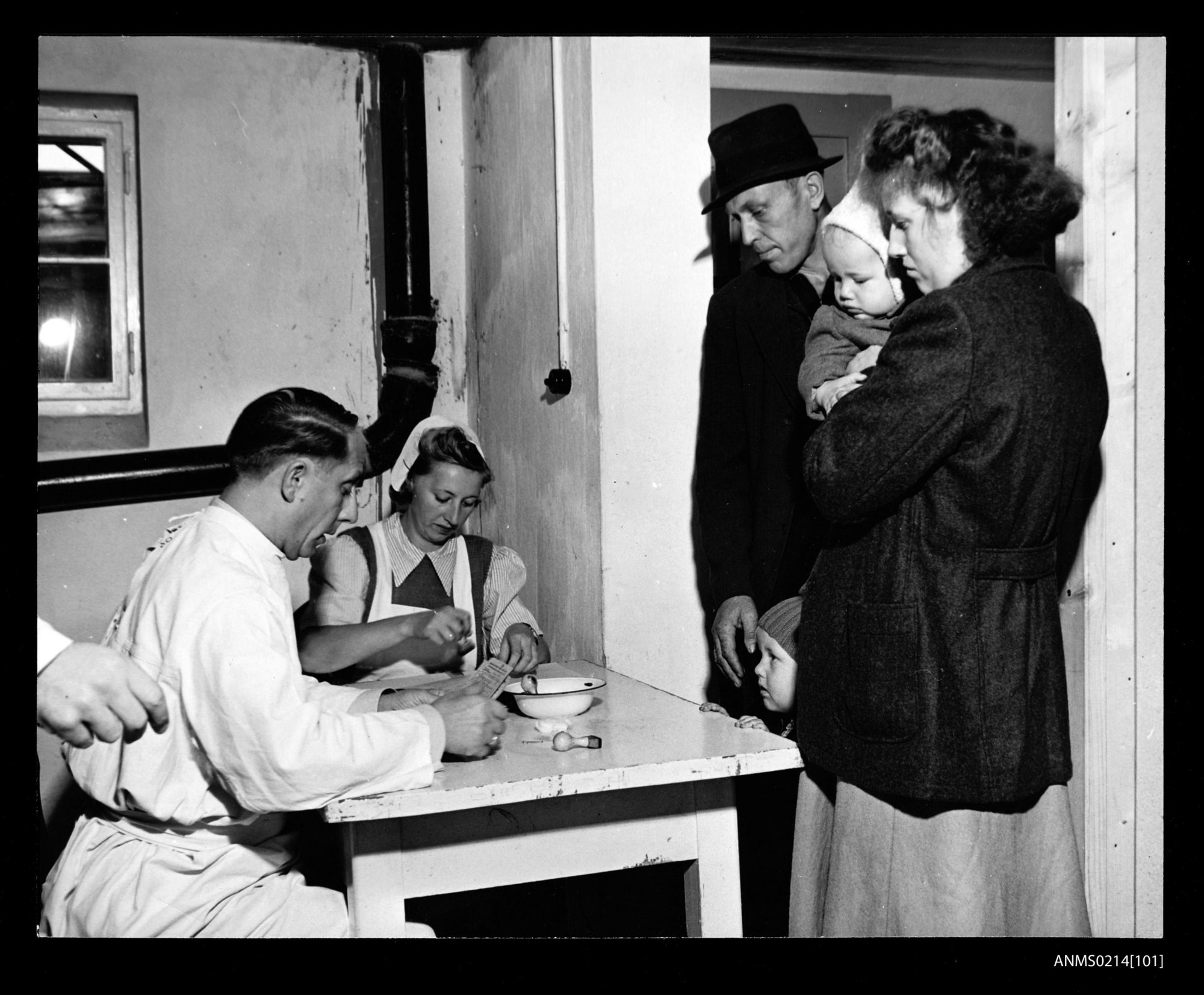 A family in Lesum, Germany takes medical exam en route to Australia in 1951 (AN/International Refugee Organization/Australian National Maritime Museum)
Vote reflects U.S. retreat from organizations
As an institution created at the end of World War II to prevent more world wars, the United Nations reflects a power structure somewhat frozen in time from that era.
Britain, China, France, Russia and the United States are the five permanent, vet0-wielding members of its most powerful body, the 15-nation U.N. Security Council. Through an informal arrangement, those countries divvy up leadership posts for the most prominent U.N. agencies.
The French have long headed peacekeeping, for example, while the British ran humanitarian affairs and Americans presided over the political department and IOM. The list goes on.
In that context, the vote at IOM was widely viewed as a strong backlash against the Trump administration's "America First" policies, including its trade tariffs and aversion to international organizations such as the Geneva-based U.N. Human Rights Council.
"In its 66-year history IOM has had only one non-American as director general, Bastiaan Haveman (Netherlands) from 1961 to '69," wrote Joel Charny, executive director of Norwegian Refugee Council USA. "But (an) anti-Muslim climate change denier was (a) bridge too far even for U.N. members normally inclined to bow to U.S. wishes."
Vitorino will take over in October, succeeding William Lacy Swing, who has run the organization since his election in 2008. "Superbly qualified, Mr. Vitorino will take the agency to new heights," Swing wrote in offering his congratulations.
Last December, the Trump administration ended its participation in the U.N.'s Global Compact for Migration, a non-binding declaration that is slated to be taken up at an international migration conference held by the U.N. General Assembly next December.
The declaration pledges nations to protect migrants and help them integrate. It also crafts guidelines for taking care of the most vulnerable ones. But the Trump administration said in a statement that the agreement contained "numerous provisions that are inconsistent with U.S. immigration and refugee policies and the Trump administration's immigration principles."
The IOM vote reflected "the U.S.'s retreat from the U.N." under Trump, wrote Suzanne DiMaggio, a director and senior fellow at the New America non-partisan think-tank in Washington. "The head of the U.N.'s migration agency has been an 'American seat' since 1951 and the Trump administration has failed to place an American at the helm."
Keith Harper, the Obama administration's U.S. ambassador to the Human Rights Council from 2014 to 2017, wrote that the election was "yet another sign that U.S. power, authority and prestige has been so dramatically diminished."
The United States has been the single largest donor to IOM, contributing more than 30% of the US$1 billion majority portion of its annual budget that comes from voluntary contributions. But the idea of installing Isaacs in the IOM's top job ran head-on into the controversy over his nomination.
"Part of being qualified is not demonstrating grotesque bias — something Isaacs utterly failed at given his statements on Islam and Muslims, which will be many of the people he would have been asked to aid," said Harper.
"But more than anything I see this as a reaction to diminishment of U.S. prestige," he said. "We are no longer seen as leaders. Or looked to as an example. Trump's inhumane treatment of migrants, antagonism of our allies, coddling of dictators, abandonment of rule of law — others noticed."
Comments