GENEVA (AN) — The idea that everyone should have affordable, quality health services is backed by international organizations including the global pharmaceutical industry's trade group.
Universal health coverage, or UHC, could sustain health care systems particularly in low to middle income nations, according to a broad range of health care experts and industry officials. Some 50 million people worldwide deal with what the World Health Organization calls "catastrophic spending" on health costs due to user fees and other direct payments.
About a third of all global health spending is out-of-pocket payments. More than 80 nations lack enough health professionals for people to get needed treatments. Only 76 countries, with 62% of the world's population, have some form of UHC, the World Bank reported in 2017. Of those, 44 are wealthy nations; 23 are low to middle income; and nine are poor.
Just 22 nations had "comparatively high rates of service coverage and financial protection, which is the aim of UHC," the report said, noting out-of-pocket costs for health care often cause financial hardship.
As a result, all 193 of the United Nations' member nations support establishing UHC worldwide as part of the U.N.'s 17 Sustainable Development Goals for 2030 aimed at ending poverty and building resilience.
The U.N.'s third goal, titled "Good health and well-being," says that the spread of UHC — based on principles of equity, access and quality — will be "integral' to its achievement, and to ending poverty and reducing inequalities.
The hard part will be helping all nations put UHC in place.
That's where the International Federation of Pharmaceutical Manufacturers & Associations, or IFPMA, and its members come in. The global trade federation has joined a chorus of international voices trying to persuade more governments, particularly leaders and finance ministries, that health spending is best viewed as a critical investment rather than a cost.
"The notion of universal health coverage, I think, is an important tool to make progress on bringing quality health care to many more people in the world," IFPMA's Director General Thomas Cueni, who formerly headed the trade association of pharmaceutical research companies in Switzerland, said in an interview with Arete News.
"It's not just about the financing. It is about looking at systems strengthening, capacity building," he said. "For me, the engagement in UHC is a critical element of advancing on reaching all people, not just with essential, off-patent medicines, but also with innovative medicines."
The U.N. General Assembly called for a high-level session to be held on UHC at its next annual gathering at New York in September for presidents, monarchs, prime ministers and other government officials. It designated December 12 as the U.N.'s International UHC Day.
It also asked WHO's director-general to help prepare the session, where leaders are expected to issue a political declaration that can help turn nations' commitments into concrete actions.
WHO's executive board discussed how to do this at a meeting in Geneva this week. The U.N. health agency's executive director, Tedros Adhanom Ghebreyesus, who was formerly Ethiopia's top diplomat and health minister, led the creation of a 5-year strategic plan with "triple billion" targets, including the aim of enrolling 1 billion more people in UHC.
Along with the financing, more political will is needed to promote the benefits of health spending and infrastructure, experts said. The Paris-based Organization for Economic Cooperation and Development, or OECD, said that a 10% increase in health spending per person could bring a gain of 3.5 months of life expectancy among its 36 member nations.
Towards that end, the Geneva-based IFPMA has been leading an initiative called "Access Accelerated" that includes 23 biopharmaceutical companies, the World Bank, governments, cities and cancer-fighting coalitions. Their initiative is intended to reduce premature or early deaths from non-communicable diseases, or NCDs, in low and middle income countries.
The General Assembly held a high-level session last year on NCDs — mainly cancer, cardiovascular disease, chronic respiratory diseases, and diabetes — that are the most common causes of death and disability worldwide. Low and middle income countries and the poorest and most vulnerable populations are the ones that are the hardest hit, according to the NCD Alliance, a Geneva-based network of 2,000 organizations in 170 nations.
Health as an economic building block
Big pharma's medical breakthroughs and approvals for new medicines and vaccines often are overshadowed by criticism of high drug prices, conflicts of interest and institutional corruption.
The first oversight hearing in the newly Democrat-led U.S. House of Representatives this year focused on the pharmaceutical industry and the high price of prescription drugs — not on the many differences that Democrats have with U.S. President Donald Trump's policies. The hearing reflected health care's status as a top issue in the 2018 U.S. midterm elections, when voters shifted the House's balance of power away from Trump's Republican base.
"Medications are awesome tools for physicians and patients, but their costs have gotten out of control, putting them beyond the reach of many people," Dr. Aaron Kesselheim, an associate professor at Harvard Medical School, testified at the hearing. "The underlying reason for high drug prices is that the government gives patents and other market exclusivities to brand name drug manufacturers as a spur to innovation."
The Affordable Care Act, known as Obamacare, brought the United States closer to UHC. But the nation remains one of the only advanced industrialized democracies without it. That is partly due to its high per capita health care costs — US$10,224 in 2017, or 28% higher than Switzerland, the next highest per capita spender, according to an analysis by the Peterson Center on Healthcare and Kaiser Family Foundation, which based it on OECD data.
Japan, however, offers a good example of how innovation in the form of new or improved drugs, vaccines and diagnostics is "indispensable to the realization of UHC, and as such it is no coincidence that Japan has also long been the No. 3 global leader in drug development," argued Dr. Kiyoshi Kurokawa, a professor emeritus who chairs the Tokyo-based Health and Global Policy Institute and advises the Cabinet of Japan.
"For Japan, the UHC movement officially began in the 1960s, changing the game for domestic human and economic health, and providing a pioneering case study for success," he wrote in a commentary in The Japan Times. "Building on this foundation, Japan has consistently pushed to give UHC a prominent place in the global health agenda, particularly over the past five years."
Kurokawa noted that Japan has the highest life expectancy of any country and is the third-largest economy in the world.
"As the people of Japan have experienced firsthand, UHC produces high returns on investment, especially for vulnerable communities, including women, children, adolescents and older people," he wrote. "Healthy people can go to school and work, have more opportunities to thrive, and drive economic growth and social cohesion. Health is the foundation of a nation's prosperity."
Rwanda is another good example of how UHC can work, according to IFPMA's Cueni. The East African nation where genocide occurred 25 years ago now has a community-based health insurance program that expanded to cover about three-quarters of the population within a decade. Its funds help subsidize care for citizens and clinics, with health payments based on a tiered premium system according to one's ability to pay.
But each nation must come up with its own working model for UHC since "one-size-fits-all doesn't work," said Cueni. "UHC provides the basis for more sustainable funding," he said. "Because right now, in many countries of the world, people are struggling to make a living, nourish their families, and have to pay for medical care out of pocket. And if they're struck by a serious medical emergency, they're broke."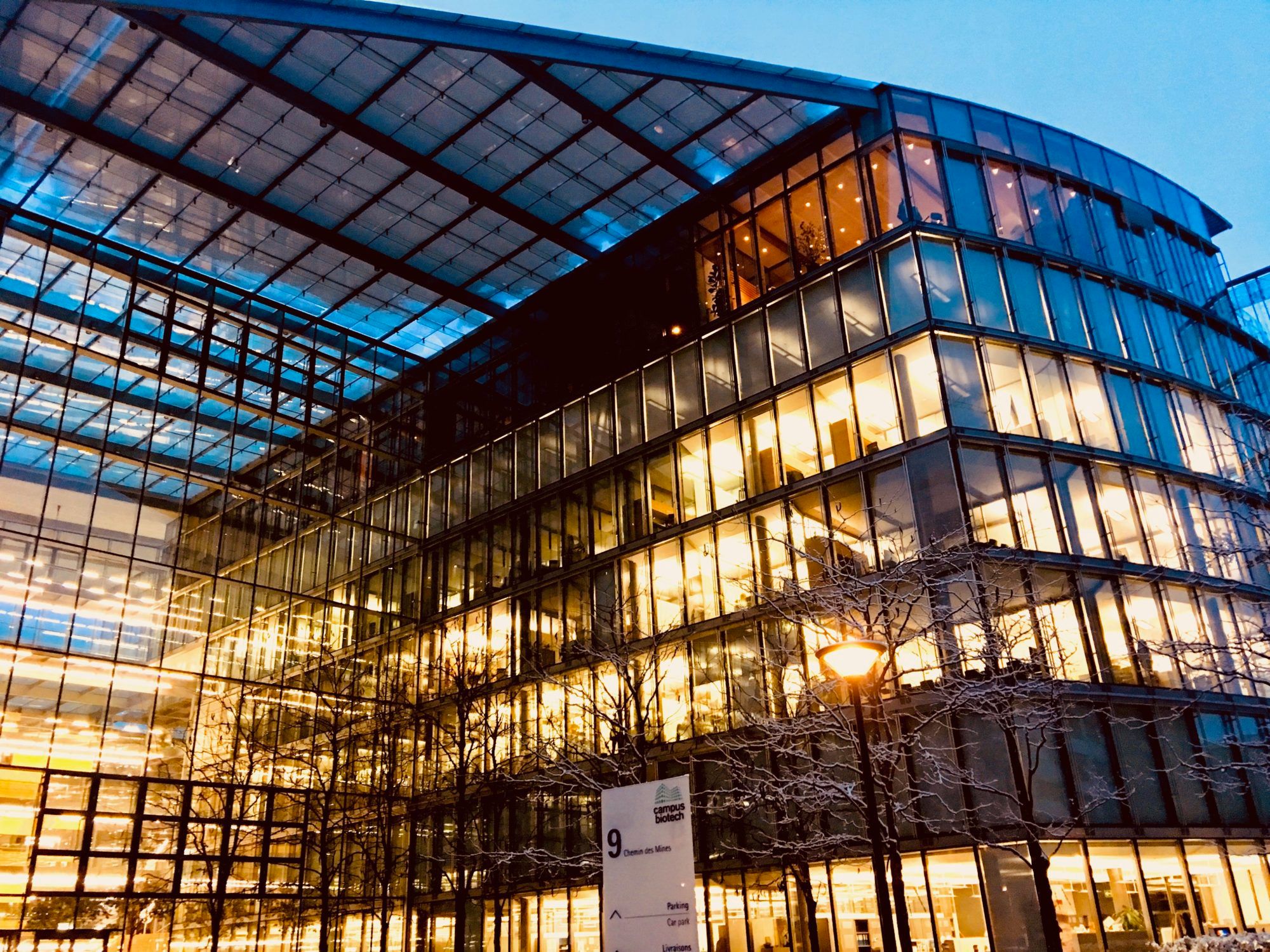 Campus Biotech in Geneva, where IFPMA has its offices (AN/John Heilprin)
Big pharma's business model
Half the world's population lacks full coverage of essential health services, and 100 million people live in extreme poverty — getting by on less than US$2 a day — due to health care costs. About 12%, or 800 million people, spend at least 10% of household income on health care, WHO figures show.
WHO data also shows wide inequalities. In many developed nations, more than 80% of citizens enjoy essential health services. In some African nations, less than 30% have such access. From a political standpoint, the question emerges as to whether UHC works best among wealthy Western nations or those with authoritarian tendencies.
The answer is not clear. "Generalizations on how best to engineer UHC are really dangerous, and there are various approaches to funding and organizing health care, be it a tax-based system like in the U.K. or an insurance-based like in Germany, but I personally believe in the advantages and benefits of choice and market-based systems," said Cueni, a former Swiss journalist and career diplomat with master's degrees in economics and politics.
His native Switzerland only got UHC in the 1990s. He believes out-of-pocket costs paid by half the world's population means they will never get the care they need without UHC. And, aware the pharmaceutical industry must do more to get innovative medicines to patients in poorly-resourced nations, he said he sees UHC as a win-win for patients and companies.
Classic models of international aid for HIV/AIDS and immunizations likely will not work for the challenge of NCDs. That is why many believe UHC is needed. To create a new "health economy," Cueni argued, domestic health financing must precede "donor-driven models of the past," and sustainable business models must come before corporate social responsibility.
"Putting the spotlight on high prices of innovative medicines is too easy when there are multiple systemic barriers — lack of sustainable funding, inefficient supply systems with huge mark-ups, lack of skilled health care workers," Cueni said.
"Fixing the systemic hurdles will not do away with discussions about affordability," he said, "but it provides a framework where companies' willingness to move on differential prices for innovative medicines is likely to increase."
Comments