GENEVA (AN) — At least 5.2 million people around the world were newly uprooted within their own country by conflicts and violence during the first half of 2018 — including 1.4 million Ethiopians due to new ethnic clashes in the south and violence along a border region.
Ethiopia's troubles topped the list, surpassing even the latest internal displacement in Syria and Congo, based on figures from the Geneva-based Internal Displacement Monitoring Center, or IDMC, which uses its mid-year assessment as an indicator of global affairs.
Separately, the U.N.'s Independent International Commission of Inquiry on Syria reported an unparalleled number of people were internally displaced in the first half of the year. It said it documented three more chemical weapons attacks this year by government forces that would constitute war crimes.
Ethiopia's new conflict in the Gedeo and West Guji zones in the south of the country earlier this year triggered more than 1 million new displacements, according to IDMC. Internal border disputes between the Somali and Oromia regions in eastern Ethiopia are unabated since they flared up toward the end of 2017.
IDMC's director Alexandra Bilak said conflict and violence in low-income countries is becoming more protracted and causing ever-high numbers of people to flee their homes. And in disaster-prone regions, or in areas experiencing the effects of climate change, vulnerable communities are "increasingly at risk and disproportionately impacted by internal displacement," she said in a statement.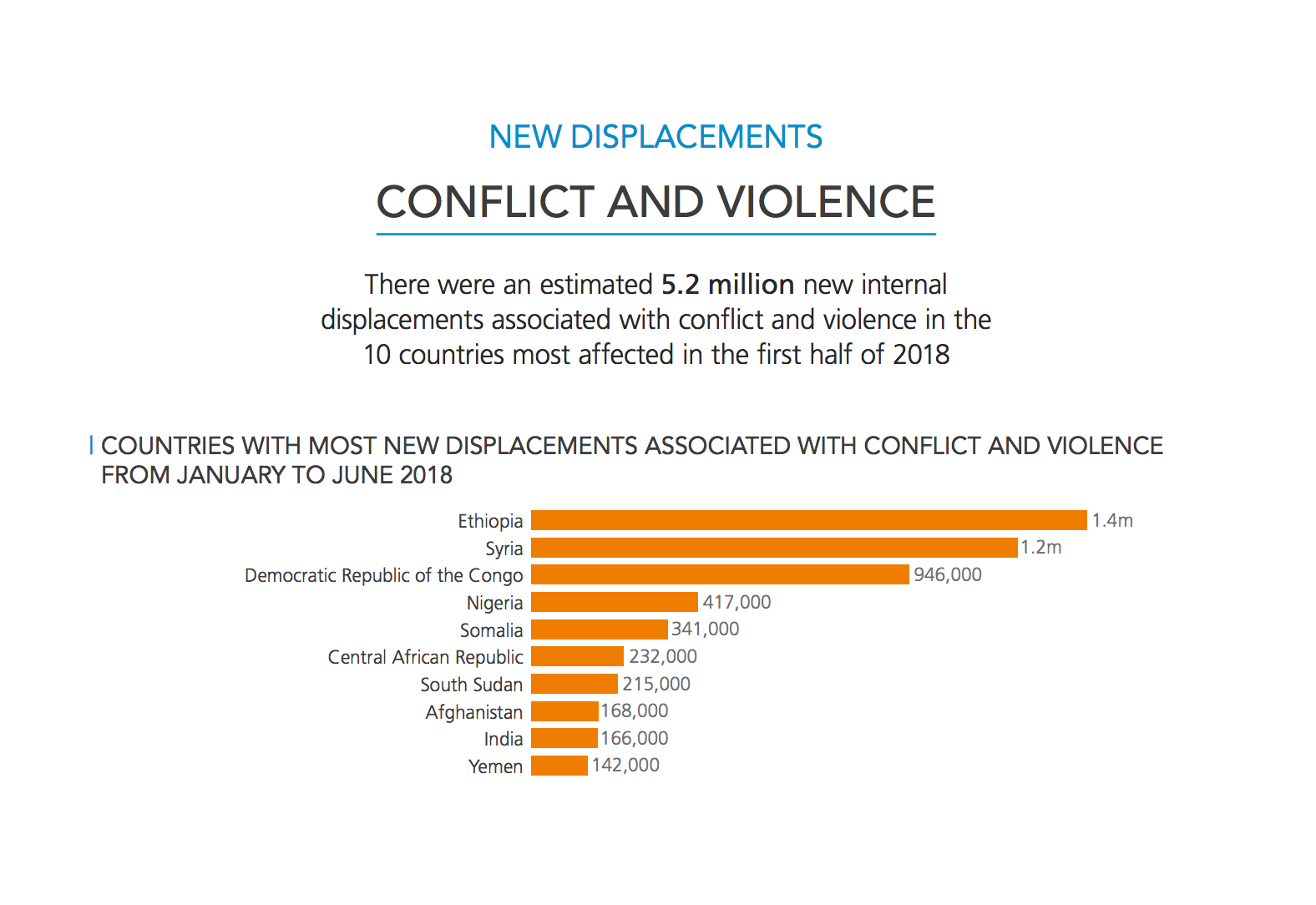 New displacements in first half of 2018 (International Displacement Monitoring Center)
Looking for safety
The situation in Ethiopia needs much more attention, humanitarian aid organizations said. "It beggars belief that 1.4 million people fleeing violence isn't making global headlines. The world is turning a blind eye to Ethiopia," said Nigel Tricks, regional director of the Norwegian Refugee Council.
Some of the families, Tricks said, have fled from fighting and are living in dire conditions, but there is too little international aid being channelled to help them for lack of contributions.
"People tell us they are keen to return home, but they fled with nothing and need to know they can access support to rebuild their lives," he said in a statement. "It's important that any returns are voluntary and sustainable. Families must also be confident of the safety of areas before moving back."
Relentless fighting from nearby Yemen's fourth year of conflict deepened into the world's worst humanitarian crisis, IDMC reported, with at least 140,000 new displacements recorded between January and June.
It said displacement was mostly concentrated in parts of western Yemen controlled by Ansar Allah, part of the al-Houthi movement, where a series of Saudi-led airstrikes hit densely populated areas, including the cities of Taizz and Hodeidah.
Somalia and South Sudan also were among the 10 worst-affected countries for new displacement linked to conflict and violence, while more than 1 million people were displaced by flooding in Kenya, Somalia, Ethiopia and Uganda, and by drought in Somalia.
Unrest and disasters
Some 3.3 million additional displacements in 110 countries and territories were associated with disasters, the most significant among them the monsoon flooding in India in May and June that affected over 370,000 people.
Unprecedented flooding continued in July and August, which IDMC said it did not include in its mid-year reporting period. But government reports indicated more than 1.4 million were displaced to relief camps in Kerala alone.
In the Horn of Africa, Ethiopia, Kenya and Somalia had nearly 1 million new displacements due to unprecedented flooding in April and May after an extended drought in the region exacerbated by the Indian El Niño weather phenomenon.
Tropical cyclone Gita wreaked havoc in the Pacific in February, triggering 10,000 new displacements in American Samoa, New Zealand, Samoa and Tonga, IDMC reported, noting the huge impacts such disasters can have on small island nations relative to their population size.
"Failure to address the issue of internal displacement will have enormous implications, not just for the individuals, families and communities affected, but also for these countries' longer-term stability," Bilak said.
"In addition to improving humanitarian responses to these crises," she said, "more investment must be made at the national and international level to reduce poverty and inequality, build peace and address the effects of climate change."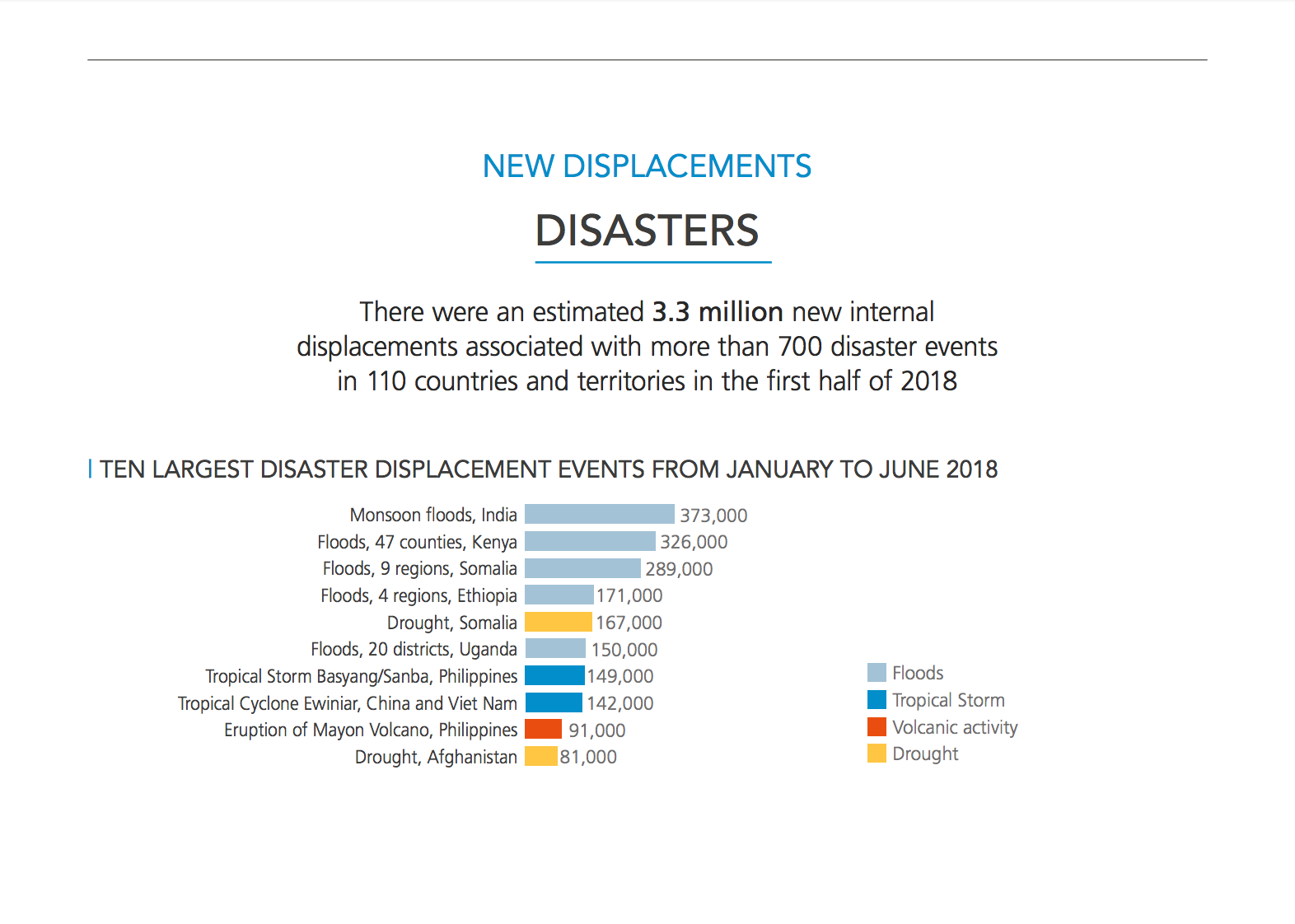 New displacements from disasters in first half of 2018 (International Displacement Monitoring Center)
Devastating conditions in Syria
The U.N.'s commission of inquiry on Syria reported that during the first half of the year an unparalleled number of people were internally displaced, at a rate not seen before in the seven-year conflict.
It warned that a possible government offensive on the northwestern province of Idlib — in preparation for an offensive on Syria's last major rebel stronghold — would generate a "catastrophic" humanitarian crisis.
"In under six months, as pro-government forces moved to recapture large swathes of territory from armed groups and terrorist organizations, over 1 million Syrian men, women, and children were displaced with most now living in dire conditions," the commission said in a report highlighting six key battles in Aleppo, northern Homs, Damascus, Rif Damascus, Dara'a, and Idlib governorates.
"All the other disasters would be minor events compared to what can happen in Idlib," said Paulo Pinheiro, the U.N. commission's chairman, echoing international appeals to end the violence. The United Nations has identified 10,000 fighters as terrorists believed to be living in Idlib among the region's 2.9 million civilians, Pinheiro said, making it imperative all sides take strong measures to protect civilians.
U.N. Secretary-General António Guterres urged all parties to the seven-year rebellion-turned-civil war to avoid escalating it into "a humanitarian nightmare unlike any seen in the blood-soaked Syrian conflict."
He said the terrorist groups in Idlib cannot be tolerated, but fighting in the name of counterterrorism — the government's rationale — does not absolve warring parties of their core obligations under international law.
The commission reported three more alleged chemical weapons attacks this year by government forces that would constitute war crimes and involve firing chlorine, which is a banned chemical weapon, on a rebel-held Damascus suburb and on Idlib province.
That brings the total number of chemical attacks reported by the commission to 39 in Syria since 2013. All but six are attributed to the Syrian government and witnesses "consistently recalled the distinctive smell of chlorine at the affected sites and on victims' clothing," the report said.
Another commission member, Hanny Megally of Egypt, said they had identified "rockets that were manufactured in Iran, that have been adapted in Syria and have been adapted in a way that they could be used, it seems, to then be filled up with chlorine and used in some of these chlorine attacks."
Earlier this year, Syrian government forces, backed by Russia and Iran, captured broad areas from insurgents including suburbs of Damascus known as eastern Ghouta and southern regions on the fronts with Jordan and Israeli-occupied Golan Heights.
"Most battles were marked by war crimes including launching indiscriminate attacks, deliberately attacking protected objects, using prohibited weapons, pillaging and/or forced displacement, including by armed groups," the report said.
"In other instances," it said, "parties to the conflict failed to take all feasible precautions to protect civilians, as required by international humanitarian law."
The third commission member, American diplomat Karen AbuZayd, said tens of thousands of Syrians were forcibly displaced despite participation in so-called 'evacuation agreements,' and those who negotiate and carry out the agreements have a responsibility to provide food, water, and adequate living conditions.
"They have all neglected that responsibility," she said.
Comments