Propelled by an environmental U.N. chief and support from nearly all G-20 nations, a global climate summit launched in a Polish coal mining city with public health stakes that could not be higher.
Almost 200 nations gathered for climate talks to work out a new rulebook for what nations must do to meet the 2015 Paris Agreement's goal of preventing too much global warming.
Against that backdrop,  international health experts reported in the medical journal The Lancet that the slow pace of reducing greenhouse gas emissions puts lives and health care systems at risk worldwide.
Air pollution concentrations tied to greenhouse gases worsened in almost 70% of the world's cities from 2010 to 2016, the report found. In 2015, more than 2.9 million premature deaths resulted from pollution with fine particulate matter smaller than 2.5 millionths of a meter, known as PM2.5.
Some 153 billion work hours were lost in 2017 due to extreme heat, it said, and the number of vulnerable people that suffered heat waves rose by 157 million between 2000 and 2017, helping spread dengue fever, malaria and other infectious diseases.
Separately, the World Health Organization was preparing to report that exposure to air pollution each year causes 7 million deaths and US$5 trillion in losses worldwide. Health impacts of air pollution in the 15 nations responsible for the most greenhouse gases was estimated to cost over 4% of their GDP.
U.N. Secretary-General António Guterres opened the United Nations' annual climate talks by calling the rise in global average temperatures "the most important issue" facing humankind.
"We are in deep trouble with climate change," he began. "Climate change is running faster than we are, and we must catch up sooner rather than later before it is too late."
Nothing less than "a complete transformation of our global energy economy" plus a sweeping overhaul of forest and land management will be needed for the planet to avert "irreversible and catastrophic climate disruption," he told the climate summit, which runs through December 14 and involves more than 26,000 participants from governments, international organizations and businesses.
Nations must cut their industrial carbon emissions 45 per cent from 2010 levels by 2030, he said, then reduce emissions to a net zero output by 2050 to achieve the Paris goals. "This is the challenge on which this generation's leaders will be judged," said Guterres.
Climate negotiators and coal smokestacks
Reaching global agreement among delegates will be difficult, said Poland's environment minister, Michal Kurtyka. He was presiding over the talks at Silesia's main city, Katowice, in a venue that was transformed into a museum and culture center out of a closed mine.
Delegates to the climate summit were being hosted in an urban environment that the government wanted to portray as a model of transformation from coal to greener energy sources.
Poland still gets 80% of its energy from coal, however, and summit participants were being warmed by heat from traditional coal-fired power plants. Poland's President Andrzej Duda acknowledged at a news conference that his nation will  reduce coal use, but never entirely eliminate it.
Ahead of the talks, Greenpeace activists scaled a 180-meter smokestack in Belchatow, Poland, where the largest lignite power plant in Europe operates, hoping to draw attention to the harmful effects of coal-burning on global climate change. Generations of Poles in the region are proud miners.
Hollywood heavyweight and former California governor Arnold Schwarzenegger paid a visit to the summit to let participants know that the United States is "still in" the Paris accord no matter what U.S. President Donald Trump says, because elected leaders outside of Washington are taking climate action.
Trump announced in 2017 that he would withdraw the United States from the agreement. But one of its provisions bars any nation that signed it from giving a one-year notice of departure until at least November 4, 2019. This means none of the signatories, including the United States, can exit until November 4, 2020 — exactly one day after the next U.S. presidential election.
The Trump administration denies the science of human-caused climate change and wants to increase coal-burning in the United States, the second-biggest greenhouse gas emitter behind China. Defying the federal government, numerous U.S. cities and states have been filling the vacuum of climate leadership.
Less action than talk since 1992
British naturalist and TV personality Sir David Attenborough told the Katowice summit that climate change is "our greatest threat in thousands of years" and, if there is not enough action, it could bring the collapse of civilizations and extinction of much of the natural world.
The Paris accord committed the world to "holding the increase in the global average temperature to well below 2 degrees Celsius above pre-industrial levels and pursuing efforts to limit the temperature increase to 1.5 degrees Celsius above pre-industrial levels." Now, nations must agree on how to do that.
Nations have been working together on the global challenge posed by climate change since the creation of a United Nations treaty platform for planning how to adapt to and mitigate the planet's human-made warming at the Rio de Janeiro Earth Summit in 1992.
"We are here to enable the world to act together on climate change, to reach together the goals of the convention," Kurtyka told a webcast news conference, referring to the U.N. Framework Convention on Climate Change, or UNFCCC, the treaty platform for the talks in Poland that was created more than a quarter-century ago.
"The Paris conference in 2015 marked such a milestone with an unprecedented push and commitment to a truly global approach to solving the problem of climate change," he said. "But three years later, it's time to imbue this frame with life and content. We agreed we all have to act, but the questions as to how to do it remain on the table."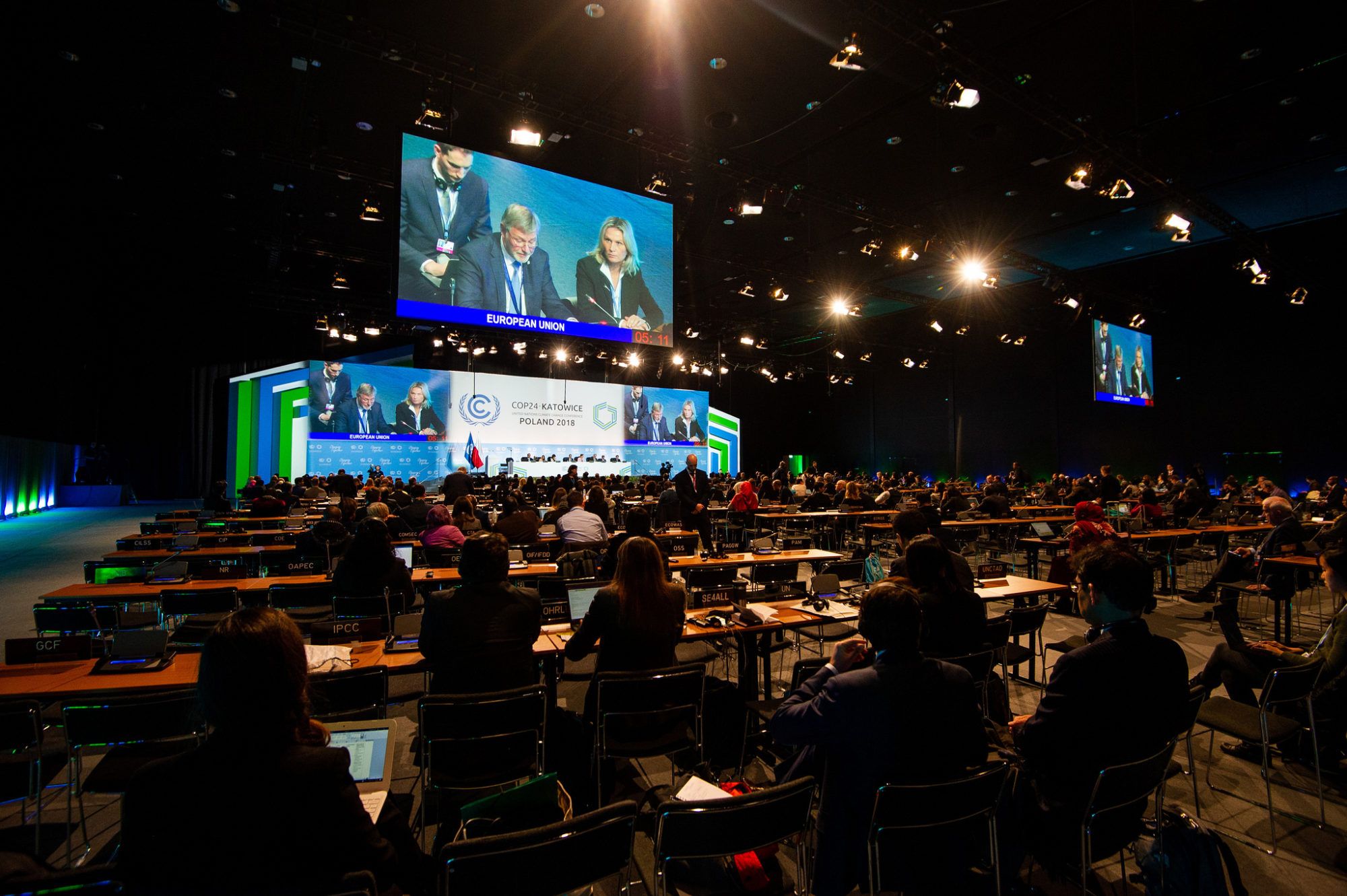 Climate talks get underway in Poland (Arete/©cop24.gov.pl)
Already halfway to 2 degrees C. warmer
Government leaders, ministers and other delegates have been asked to decide how nations can fairly distribute responsibility for shifting from fossil fuel-based economies to more sustainable energy sources that lower heat-trapping greenhouse gas emissions. Pressure was being exerted from Poland on other major coal-burning nations such as Australia, China, India, Germany and the United States.
The stakes are high. International negotiators in 2010 adopted a goal of limiting warming to 2 degrees Celsius above pre-industrial times. That changed at Paris in 2015.
Last month, the U.N.'s Nobel Prize-winning panel on climate change said the world's responses to global warming will mean life or death for much of life on the planet as soon as 2040. The Intergovernmental Panel on Climate Change, or IPCC, reported that nothing can protect the world against all of the most dangerous projections for global warming.
Since the world has already warmed 1 degree Celsius since pre-industrial levels, the Paris Agreement's goals mean the difference between letting the world by another half-degree or full degree Celsius more.
Among IPCC's key findings were that a half-degree Celsius less warming would cause fewer deaths and illnesses, result in 0.1 meters less sea rise and halve the number of people who lack fresh water. It said there would be substantially fewer heatwaves and droughts, and the world's coral reefs might survive.
To accomplish that, the report said, the world must all but eliminate coal use for electricity within little more than two decades. Carbon taxes, even as high as US$27,000 a ton by 2100, will probably be needed.
A boost from the "G-19"
In the final communiqué from the Group of 20 summit in Buenos Aires, Argentina, held just days before the climate talks, every nation but the United States reaffirmed its commitment to the Paris climate accord. Trump repeated his intention to the withdraw the United States from the 2015 treaty.
The G-20 statement, with the caveat from the Trump administration, took note of the IPCC's report warning of the dire public health and ecological consequences of climate inaction. It affirmed support for the climate meeting in Poland and for galvanizing nations to make good on their Paris pledges.
Patricia Espinosa, executive director of U.N. Climate Change, which is the secretariat for the UNFCCC, said nations must reach agreement in Poland on a Paris "rulebook" to ease climate impacts worldwide.
"This is a very, very important conference," she told reporters. "It takes place also in a scenario where we have clear signals about the urgency with which we need to address the issues of climate change, the effects that are happening, are affecting communities around the world, casualties, destruction in so many places, suffering, a lot of suffering derived from the consequences of climate change."
Comments