GENEVA (AN) — Among international organizations, the United Nations' new human rights chief and its seven-decades-old children's agency were the Twitterverse's undisputed champions.
Michelle Bachelet (@mbachelet), Chile's former president who took over the Office of the United Nations High Commissioner for Human Rights, or OHCHR, at the start of September, earnd an average 6,000 retweets and likes per post, the global PR firm Burson Cohn & Wolfe said in its Twiplomacy study (@Twiplomacy) on the intersection of diplomacy and social media.
That was triple the next-most effective organizations and their leaders in the rankings, according to the study, which originally focused on Twitter but expanded to include Facebook, Instagram and other social media platforms. It is the brainchild of Matthias Lüfkens (@luefkens ), managing director at BCW in Geneva and former head of digital media at the World Economic Forum, or WEF.
The U.N. children's agency UNICEF (@UNICEF), its chief Henrietta Fore (@unicefchief), U.N. Secretary-General António Guterres (@antonioguterres) and Luis Almagro (@Almagro_OEA2015), head of the Organization of American States, each got an average 2,000 retweets and likes, the study found.
Next came Akinwumi Adesina (@akin_adesina), head of the African Development Bank, with an average 1,000 retweets. The three U.N. accounts for Guterres, news and the spokesperson's office (@UN_News_Centre and @UN_Spokesperson) collectively drew an average 889 retweets and likes.
The art of the message
Why does it matter? For international organizations, as with business and politics today, social media has become indispensable. Some international organizations used paid promotion to get noticed — and to get their message across.
"Winston Churchill reportedly once described diplomacy as 'the art of telling people to go to hell in such a way that they ask for directions.' One could extrapolate that digital diplomacy is conveying this in 280 characters or less," international lawyer Arsen Ostrovsky (@Ostrov_A) wrote on Twiplomacy's blog.
"However, diplomacy is certainly much more than that," he said, "albeit there is no denying that Churchill, with his superior intellect and razor-sharp wit, would have mastered the art of Twitter as well."
As a news-oriented platform, Twitter recently played a role in the elections of leaders for the World Health Organization, or WHO, and the United Nations Educational, Scientific and Cultural Organization, or UNESCO. Some international organizations such as Greenpeace International and WEF have been actively tweeting for more than a decade.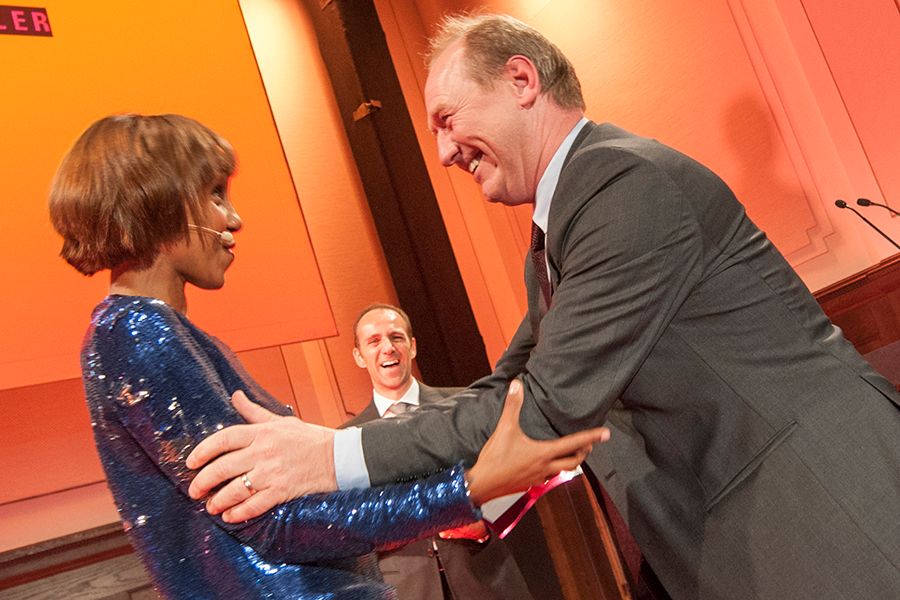 Twiplomacy creator and "social media architect" Matthias Lüfkens getting an award for his study (AN/Burson-Marsteller)
The U.N. Twitter family
After the United Nations, WWF International (@WWF), or the World Wide Fund for Nature, got an average 672 retweets and likes and Jens Stoltenberg (@jensstoltenberg), head of the North Atlantic Treaty Organization,, or NATO, and a former prime minister of Norway, drew 560.
Rounding out the top 10 was WHO's Director-General Tedros Adhanom Ghebreyesus (@DrTedros) with 556.
In terms of Twitter followers, the United Nations had the most, with 10 million. The next-most followed were UNICEF, with 7 million; WHO, 4 million; and WWF, Human Rights Watch, or HRW, WEF and UNESCO, each with 3 million.
Then came the World Bank Group; European Organization for Nuclear Research, or CERN; International Committee of the Red Cross, or ICRC; Office of the United Nations High Commissioner for Refugees, or UNHCR, and OHCHR, each with 2 million followers.
The most-liked on Facebook were: UNICEF, with 7 million; WEF, 6 million; United Nations, 4 million; WHO, UNHCR and WWF, 3 million each; and Greenpeace, HRW and World Bank Group, 2 million each.
Comments