GENEVA (AN) — The first international organization dates to a European treaty more than two centuries ago to oversee ship tolls, towpaths and trade disputes on the Rhine River.
The fledging river administration created by the Treaty of 15 October 1804 between the French Empire and Holy Roman Empire of the German Nation evolved into the Central Commission for the Navigation of the Rhine.
Over more than two centuries, international organizations and treaties have proliferated. Together they provide a framework legal status for much of the world's cooperation and development among nations, businesses, philanthropic organizations and other entities.
The 1814 Treaty of Paris established freedom of commercial navigation as a basic principle for managing the major international rivers of Europe. The 1815 Congress of Vienna created the Rhine commission, bringing welcome stability to an international trade route after a quarter-century of war in Europe.
Initially, the commission engineered and managed the river to ensure the passage of coal, chemicals and other goods. Considerations about pollution, freshwater resources and hydroelectric power would come later.
The need to maintain a freely navigable and clean waterway was not limited to the Rhine. More international entities sprouted up in Europe, notably on the Elbe River, in the Treaty of Versailles, and on the Douro River, in the Albufeira Convention.
Private citizens with international concerns saw a similar need. In 1839, Thomas Clarkson, Thomas Fowell Buxton and other abolitionists formed a society that became Anti-Slavery International, now the world's oldest international organization for human rights.
In 1863, Swiss philanthropist Henry Dunant gathered allies in Geneva to galvanize help for those who were wounded on battlefields and to organize the care they would need for recovery.
Their efforts launched the International Committee of the Red Cross. With the Geneva Conventions of 1949 and their additional protocols, the Red Cross has a mandate that is at the core of international humanitarian law and provides the most important rules limiting the barbarity of war.
By 1907, hundreds of international organizations existed. Most were based in Brussels. Two Belgian lawyers and bibliographers, Henri La Fontaine and Paul Otlet, formed the Union of International Associations, or UIA, a coordinating body to keep track of them all.
As peace activists, La Fontaine and Otlet helped build the intellectual foundation for the League of Nations and the International Institute of Intellectual Cooperation, a forerunner to the United Nations Educational, Scientific and Cultural Organization, or UNESCO.
Otlet created the Universal Decimal Classification system to organize human knowledge. Their pioneering work in documentation, later known as information science, encouraged more international organizations to work for peaceful, global governance. In 1913, La Fontaine won a Nobel Peace Prize.
"Throughout the pre-1914 period, Belgium was the main host country of the international movement," says the UIA, which researches, documents and supports other organizations.
With the creation of the League of Nations in 1920 and its eventual demise, followed by the United Nations in 1945, the world turned to international organizations, treaties and trade accords to avert more war. Another purpose of global governance — based on international law — arose, too.
"The failure, politically, of the mission of collective security of the League of Nations must nevertheless not make one overlook its success in what was from the beginning to be a secondary aspect of its objectives: international technical cooperation," according to U.N. historical records.
The two earliest international organizations that became U.N. agencies in the late 1940s were the International Telecommunication Union, or ITU, in Geneva, and the Universal Postal Union, or UPU, in Bern.
The 1865 International Telegraph Convention in Paris created the ITU. In 1992, the ITU Constitution and Convention became its governing treaty. The 1874 Treaty of Bern, resulting from a Swiss-hosted international conference to regulate mail delivery among nations, created the UPU.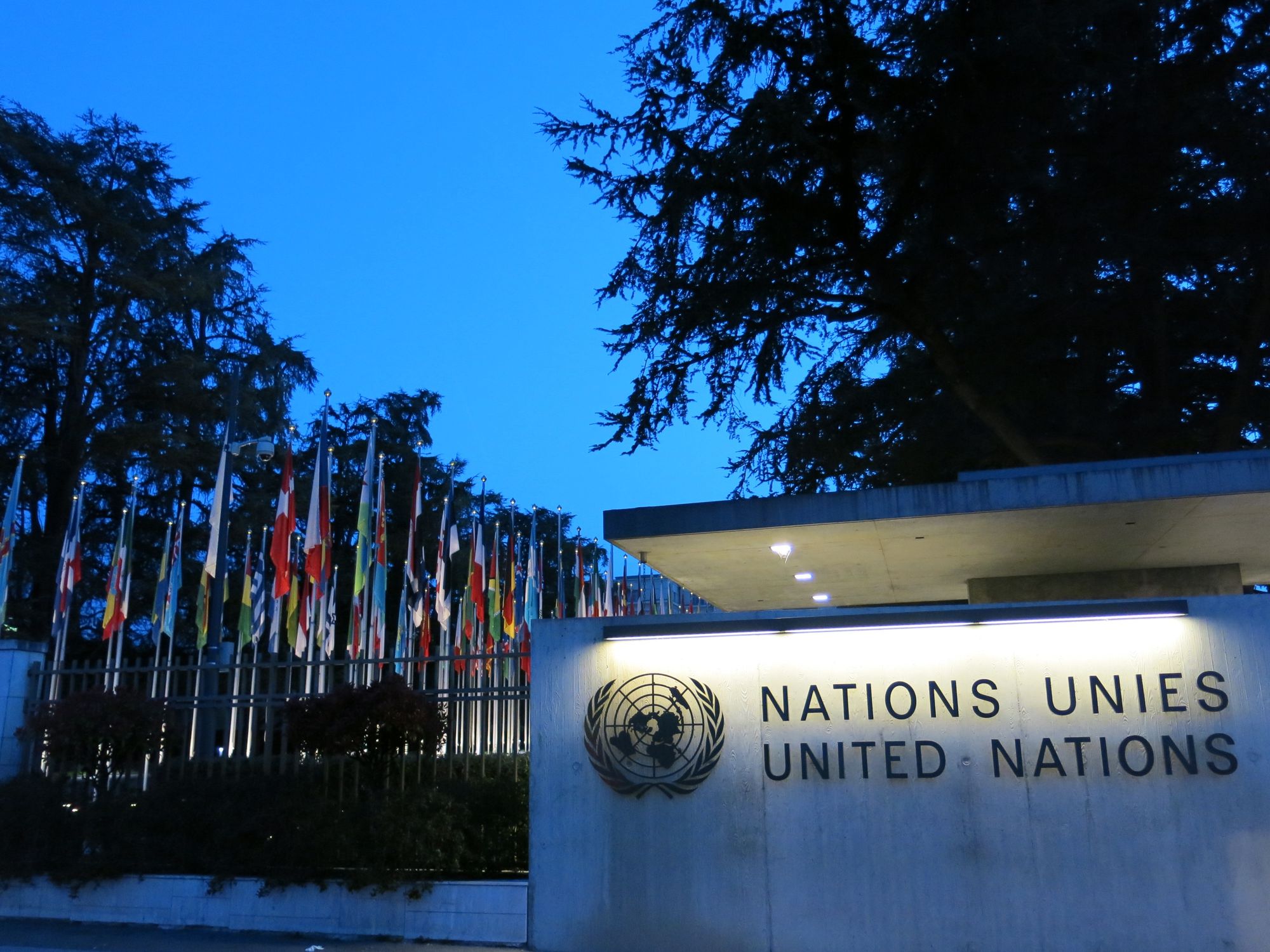 75,000+ organizations
In the 20th century, international organizations proliferated. Their ranks swelled from 213 in 1909 up to 62,468 in 2009, according to UIA figures that include tens of thousands of inactive ones.
Today, the UIA has compiled data on 42,000 active and 33,000 dormant international organizations from 300 nations and territories — and the hundreds of thousands of meetings they've held since the mid-19th century. About 1,200 new organizations are added each year.
Singapore, Brussels, Vienna, Paris and Tokyo top the list of cities with the most meetings in the past decade. Among countries, Singapore, the United States, Belgium and France had the most.
As the COVID-pandemic began in 2020 the number of meetings was "drastically reduced from the trend of 12,000 and higher per year due to the impact of the pandemic on association life, travel, and public gatherings," the UIA says.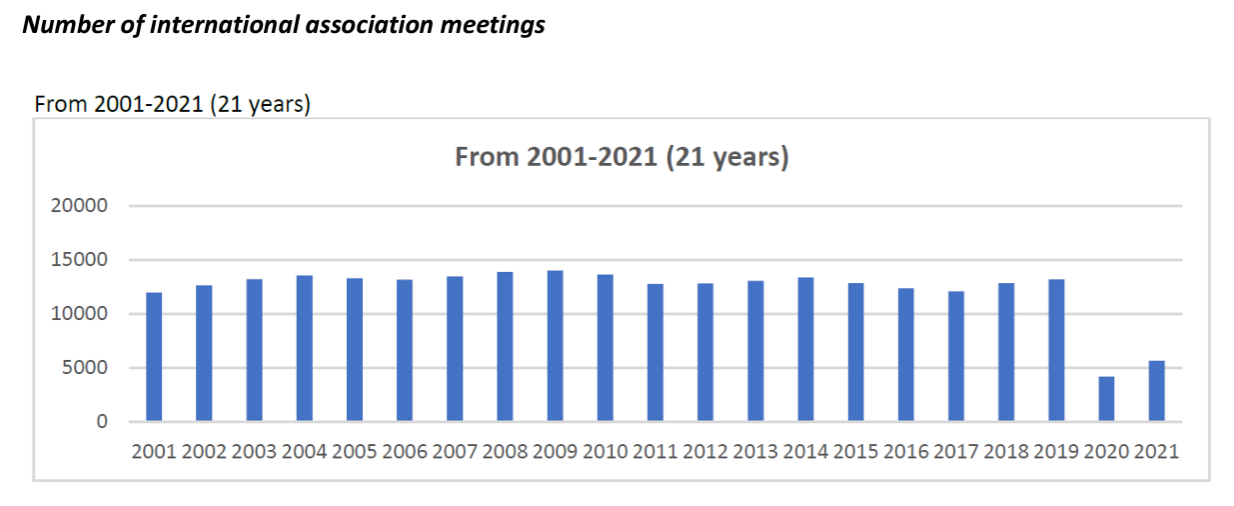 There are two main types of organizations: international governmental (intergovernmental, or IGOs for short, and non-governmental, or NGOs. The UIA lists 275 IGOs and just over 9,000 NGOs that it classifies as conventional international organizations.
It only takes a few nations for an organization to be considered international in scope. But it takes many more for an organization to be thought of as truly global. In this category, just 37 of the IGOs and 540 NGOs make the cut. Together these represent 6% of what the UIA considers to be conventional bodies.
For the purposes of data collection, the UIA says, it characterizes those that are global as universal membership organizations — those with members in at least 60 nations or in at least 30 nations that are "well-balanced" geographically in terms of continents.
Nations and businesses rely on international organizations and their meetings to decide and carry out common policies. Their activities and expertise form what could be loosely described as efforts towards global governance. Those efforts, at their best, can build peace and sustainable development. They can also sometimes raise issues of security, accountability and legitimacy.
"International organizations play a growing role as standard setting bodies in supporting regulatory cooperation," says the Organization for Economic Cooperation and Development, which includes 35 mostly wealthy, industrialized nations.
Politically and legally they represent collaborative efforts by nations and other entities to take on problems, challenges and tasks — and the freedom to join and act together. Esther Brimmer, a former U.S. assistant secretary of state for advancing American interests through international organizations, said collaborating with them is a key part of diplomacy.
"International organizations are places to find common solutions to common problems," Brimmer told Johns Hopkins University's Paul H. Nitze School of Advanced International Studies in 2010.
"International organizations allow us and allow the international community to set global standards and to provide support to states to meet those standards," she said. "And international organizations enable us to rally support and response to pressing crises."
This story was last updated with additional details on March 24, 2023.
Comments