GENEVA (AN) — Despite agreeing to create a buffer zone in Syria's Idlib region, Russia and Turkey will allow air raids and ground offensives to continue in areas heavily populated with trapped civilians, the head of a U.N.-led humanitarian task force said.
Jen Egeland, the U.N.'s humanitarian aid adviser for Syria, said the two nations plan to permit fighting to continue in the name of a "war on terror" against fighters that have been living near civilians in Idlib region.
Russia, a powerful ally of Syria's government, and Turkey, as a main backer of the Syrian opposition, reached agreement on a new demilitarized zone in Idlib region. Egeland, however, pointed out that since the two nations did not call off the "war of terror," air raids against specific groups will continue in civilian areas.
That's a major concern for humanitarian officials like Egeland, who is the head of the Norwegian Refugee Council and a special adviser to the U.N.'s special envoy for Syria Staffan de Mistura.
"There will also be fighting between armed groups, armed actors and the so-called terrorists, the so-called radicals. There is and will be many civilians in these areas, so our concern is still there," Egeland told a press conference in Geneva broadcast on U.N. Web TV. "We could still see too many civilians, totally innocent and removed from this political conflict, paying a very high price for continued violence."
But Egeland said after a meeting of the U.N.'s 23-nation humanitarian task force for Syria he was "relieved that the agreement came" because it bought more time for diplomats, politicians and others to do their jobs.
President Vladimir Putin and Turkish President Recep Tayyip Erdogan announced they will create a 15-20 kilometers (9-12 miles) buffer zone in Idlib region by mid-October. Many details have not yet been released. Egeland said he still does now know what the plans are to protect the million of civilians that are still living there. Sustained fighting could lead to more potentially catastrophic violence along Turkey's southern border.
The challenge is how to protect 3 million Syrians — including 1 million children — plus 12,000 humanitarian aid workers that depend on crossing over borders and, potentially, war fronts. There are 700 sites in Syria that are supposed to be off-limits to fighting, because they are schools, hospitals, humanitarian aid offices and other places for displaced people to gather and shelter. A third of them — 240 — are in the Idlib region.
The massive humanitarian operation there requires trucks to cross the border with Turkey. Food, medicine and other emergency items arrive every day in what diplomats describe as a lifeline that must be safeguarded.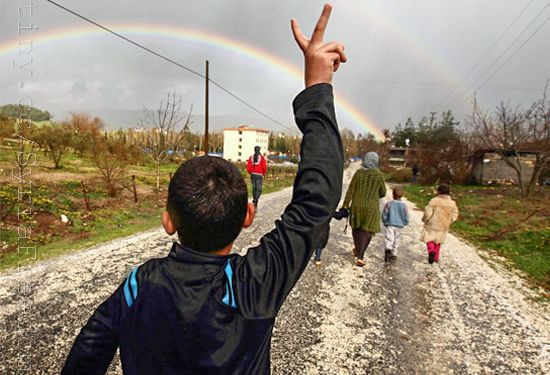 A 13-year-old boy who fled Syria flashes a victory sign by a refugee camp near Turkey's Syrian border (AN/Freedom House)
The rules of warfare
The demilitarized buffer zone proposed for Syria is the latest example of a centuries-old tool for cooperation and peace that laid the groundwork for international treaties and organizations on collective security.
Russian and Turkish troops will start patrolling there by mid-October, Putin said after meeting in Sochi with Erdogan. It will be created in the last major stronghold of anti-government Syrian rebels. That would delay an offensive by Syria, Russia and Iran that could lead to a major humanitarian crisis on Turkey's border.
Turkey says it hoped to prevent another assault — and major catastrophe — in Syria, and it appealed to Russia and Iran to find a diplomatic solution. It also reinforced troops around Idlib to prevent a ground assault.
Russia considers Idlib, home to an estimated 60,000 rebel fighters, as a center of terrorism that the Syrian government has the right to recapture. Putin has said Idlib's "radical militants" — al-Qaida-linked jihadists and others among thousands of U.N.-listed terrorists — will have to withdraw from the demilitarized zone.
Despite the plans for a buffer zone, Egeland said some militants were preparing to fight to the end. One area of particular concern is southeastern Rukban, where 50,000 civilians live in camps near Jordan's border.
Squaring a circle
At the meeting in Geneva, Russia and Turkey were invited to explain details of the deal that are still in the works, said Egeland, who headed the U.N.'s Office for the Coordination of Humanitarian Affairs from 2003 to 2006 at the start of the war in Iraq.
"The outcome here was the least-bad of realistic solutions," he told reporters. "No one's asking for any impunity for terrorists here. We're asking for protection of civilians."
Both sides, he said, expressed optimism they can avoid another major confrontation.
"So our message is really: To those planning air raids and those planning offenses on the ground, maximum precautions must be taken so that civilians are spared," said Egeland. "It is a war crime to blend into civilian population, to locate next to civilians, whether that be schools or hospitals or any other places."
Meantime, diplomats have been making some progress trying to reconcile how to crack down on U.N. Security Council-listed terrorist groups but also protect the 3 million civilians, including 1 million children, who are living in close proximity, De Mistura told the U.N. Security Council this week.
The problem is akin to "the squaring of a very difficult circle," he said.
De Mistura said he consulted with Iran, Russia and Turkey and listened to all sides in Syria, but "there is urgency to moving ahead — we cannot afford to keep consulting" without making peace on the ground.
"There is no military solution — in Idlib or anywhere else," he said. "We need an inclusive political process and the U.N. is here to facilitate that process."
Comments