Israel must stop killing civilians in Gaza as it retaliates for the heinous attacks and hostage-taking by Hamas militants, the U.N. human rights chief said.
Volker Türk, head of the U.N.'s Office of the High Commissioner for Human Rights, said on Friday that U.N. officials are monitoring the high numbers of fatalities across Gaza.
More than 12,250 people have been killed – including at least 4,300 children – and 32,300 others injured in the fighting, according to the U.N. Office for the Coordination of Humanitarian Affairs. Those include the deaths of 101 staff for UNRWA, the U.N. relief agency for Palestinian refugees. Türk pointed to Israeli strikes on residential areas in Jabalia, Gaza City, Al Bureij, Al Nuseirat, Al Meghazi, and Khan Yunis.
"After four weeks of bombardment and shelling by Israeli forces in Gaza, the indiscriminate effects of such weapons in a densely populated area is clear," he said. "Israel must immediately end the use of such methods and means of warfare, and the attacks must be investigated."
Türk spoke to reporters in Amman, Jordan, a day after Israel agreed to daily four-hour humanitarian pauses in northern Gaza to distribute aid and evacuate civilians. The pauses are to be declared three hours ahead of time. Israel said it also would assure a secure north-south highway for evacuations a few hours a day.
"How any such halt in the fighting and how it would work for humanitarian purposes would need to be coordinated with the United Nations, especially on the issue of timings and location," U.N. spokesperson Stéphane Dujarric said. "And obviously, in order for this to be done safely for humanitarian purposes, it would have to be agreed with all parties to the conflict to be truly effective.
UNRWA's Commissioner-General Philippe Lazzarini said he was "devastated" by the killing of more than 100 colleagues in one month. "Parents, teachers, nurses, doctors, support staff," he said. "UNRWA is mourning, Palestinians mourning, Israelis mourning. Ending this tragedy needs a humanitarian cease-fire now."
At a humanitarian conference in Paris, French President Emmanuel Macron rejected Israel's plans to force civilians into safe zones in southern Gaza because no political deal exists to ensure their safety. The conference sought a cease-fire and support for the U.N.'s appeal for US$1.2 billion to help Gaza's civilians.
At least 821 aid trucks have been allowed to enter Gaza from Egypt through the Rafah crossing since deliveries resumed on Oct. 21, according to U.N. officials. That compares to an average of 500 trucks a day that were entering before the war.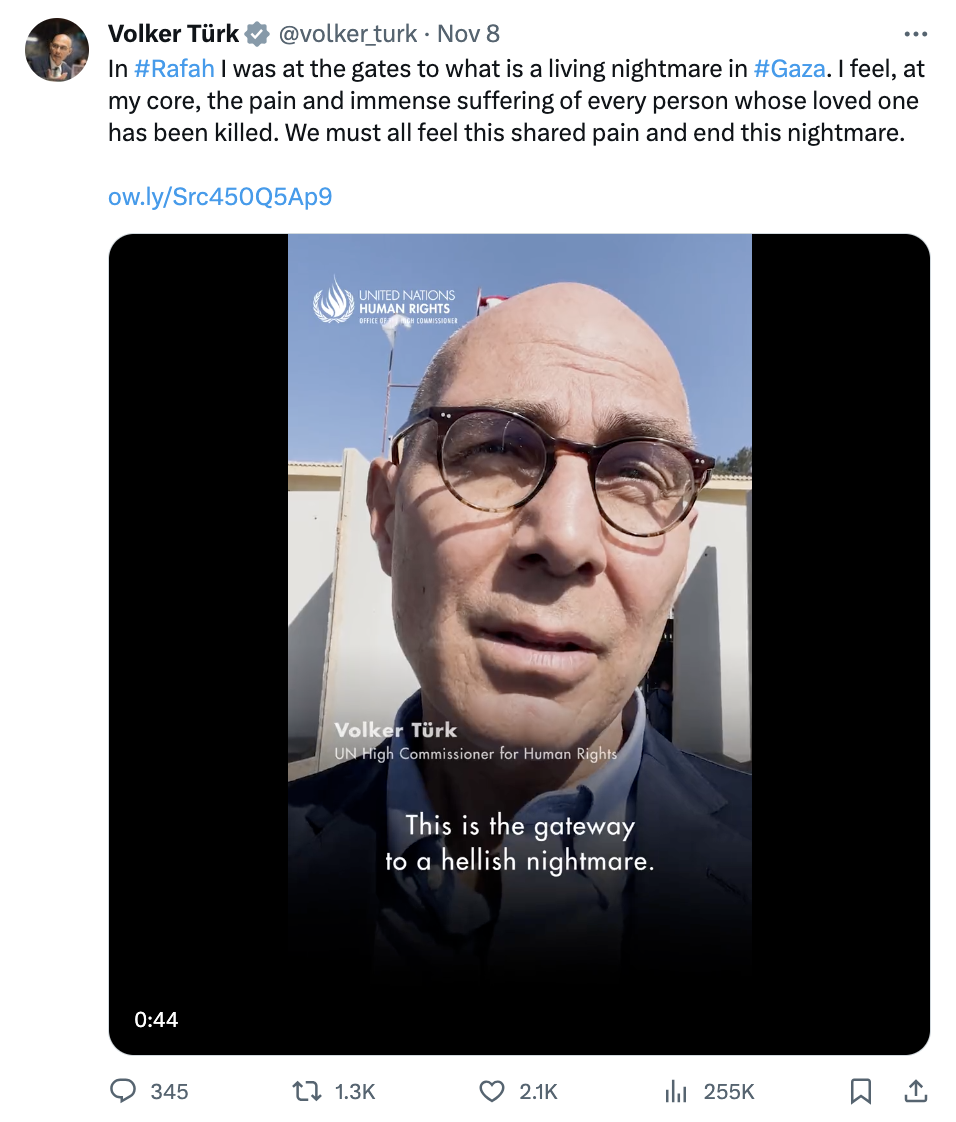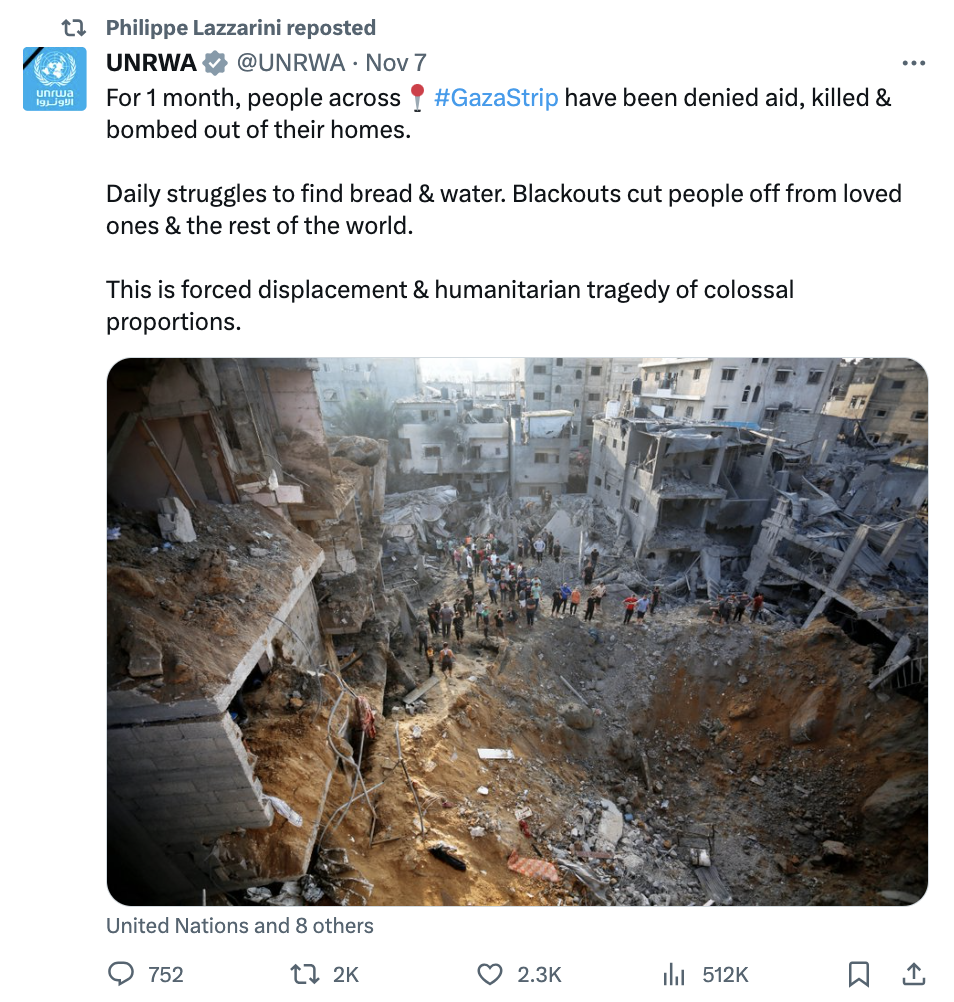 Scarce water, pervasive fear
Türk was wrapping up a five-day trip to the Middle East, where he visited Egypt's El Arish Hospital in Rafah, near the border crossing, and saw children that had been seriously injured in Gaza.
Intense fighting also was reported around at least five hospitals in the vicinity of Gaza City, where Israeli forces were battling Hamas with tanks, explosions and artillery. As many as 26,000 children have been injured in Gaza and lack medical care or must be operated on without anaesthesia. Bombardments struck a yard at Al Shifa Hospital in Gaza City where thousands of displaced Palestinians sheltered.
"The extensive Israeli bombardment of Gaza, including the use of high impact explosive weapons in densely populated areas, razing tens of thousands of buildings to the ground, is clearly having a devastating humanitarian and human rights impact," he said. "Water is scarce, and fear is pervasive."
In a briefing to an emergency session of the U.N. Security Council on Friday, World Health Organization Director-General Tedros Adhanom Ghebreyesus said it was "impossible to describe" the situation on the ground.
"Hospital corridors crammed with the injured, the sick, the dying; morgues overflowing; surgery without anaesthesia; tens of thousands of displaced people sheltering at hospitals; families crammed into overcrowded schools, desperate for food and water," he said. "On average, a child is killed every 10 minutes in Gaza, 1.5 million people have been displaced and are looking for shelter anywhere they can find it. But nowhere and no-one is safe."
Separately, a U.N. asssessment of the war's first month found a collapsed Palestinian economy with a 4% drop in GDP in the West Bank and Gaza that has sent 400,000 people into poverty. If the war continues for another month, it projected, the Palestinians' pre-war US$20.4 billion GDP will drop another 8.4%. A third month would cause a 12% drop and force 660,000 people into poverty.
The U.N. human rights chief said the "atrocious attacks by Hamas against Israel" on Oct. 7 that killed 1,200 Israelis and started the war "should outrage each and every one of us" and demands justice, accountability and remedy for the victims.
The 240 hostages taken by Hamas "need to be brought back home and indiscriminate firing of rockets into Israel needs to cease," he said.
Israel's foreign ministry downwardly revised the official death toll from the Hamas attack in southern Israel from a previous government estimate of 1,400.
But Israel's furious response is taking an unimaginably high toll on Gaza's Palestinian civilians who have lived under Hamas' rule for the past 16 years.
"Considering the predictable high level of civilian casualty and the wide scale of destruction of civilian objects, we have very serious concerns that these amount to disproportionate attacks in breach of international humanitarian law," said Türk.
"It is clear," he said, "that enduring peace and security cannot be delivered by the exercise of fury and pain against people who have no responsibility for the crimes that were committed."
Comments