GENEVA (AN) — Just 15% of the Paris climate treaty's 195 signing countries are setting up a National Framework for Climate Services to provide accurate information needed to fulfill the 2015 accord, according to a new U.N. report to the 18th Meteorological World Congress that opened on Monday.
Only 30 countries including Britain, China and Germany appear to have taken steps towards fully compliant systems. More than half of the World Meteorological Organization's 187 member nations lack a national drought policy, the report indicated based on survey responses.
Some 60% established an early warning system for multiple hazards while 85% created a flood management plan, the survey found as part of a performance report sent to delegates of the World Meteorological Organization's 192-nation Congress, which is held once every four years.
The National Framework for Climate Services initiative provides a risk management tool that incorporates science-based climate information and prediction into decision- and policy-making, and is considered an important tool for countries to comply with their obligations under the 2015 Paris Agreement.
The WMO's Congress formed an Intergovernmental Board on Climate Services in 2012 that helps nations provide better climate information for individuals and organizations to make "climate smart decisions."
The Global Framework for Climate Services, or GFCS, reports to the board and Congress. It says climate services include databases with data on temperature, rainfall, wind, soil moisture and ocean conditions, plus maps, risk and vulnerability analyses, assessments, and long-term projections and scenarios.
They also touch on socio-economic variables and non-meteorological data such as agricultural production, health trends, human settlement in high-risk areas, and road and infrastructure maps for delivering goods.
"Climate information and services are crucial for decision-makers at all levels working on integrated medium and long-term planning," the GFCS said. "NFCS contributes to the implementation of the Paris Agreement that calls for science-based research and systematic observations."
In December, summit leaders at the U.N.-brokered talks in Katowice, Poland adopted a complex and lengthy rulebook for accomplishing the Paris deal's goal of preventing average global temperatures from rising more than 2 degrees Celsius above pre-industrial levels, or 1.5 degrees C. if possible.
The Paris Agreement requires each nation to prepare, communicate and maintain successive nationally determined contributions that it intends to achieve. The NFCS supports countries in meeting this requirement by ensuring delivery of multi-sectoral climate information and services to policy-makers.
Debunking climate skeptics
Swiss Interior Minister Alain Berset opened the Congress by acknowledging "times are tough" for scientists battling the "seeds of doubt" spread by right-wing, populist-led political resistance to well-established climate science.
Last fall, the Nobel Prize-winning United Nations' Intergovernmental Panel on Climate Change, or IPCC, concluded in a major report that even the most optimistic scenarios for lowering global greenhouse gases in line with the Paris accord will have serious repercussions for the planet and future generations. The IPCC was created by WMO and U.N. Environment in 1988.
"Reason will win out in the end," Berset told the Congress, which runs from June 3 to 14. "For sustainable development, the international community is dependent on reliable information on the state of the climate and its changes. WMO will continue to play a decisive role here in the future. "
WMO's main functions are observing weather and atmosphere, exchanging weather information, weather forecasts and weather warnings, hydrology, and research and knowledge transfer.
But climate impacts were set to dominate the Congress, which was told that the increasing signs and impacts of climate change demand a much more focused and integrated international response.
"Changes in the climate system have been accelerating over the last few decades. The number of extreme weather, water and climate events is rising," WMO President David Grimes told the opening ceremony.
"The size of the challenges we are facing related to these hazards cannot be overstated," said Grimes, assistant deputy minister and head of Environment and Climate Change Canada's Meteorological Service. "Socio-economic impacts are numerous and diverse, from food insecurity, public health, population displacement, and many others. Millions of people are affected every year and trends are only increasing."
The Congress also heard from WMO's two newest members, Andorra and Nauru, about the climate importance of meteorological services. Nauru had been relying on local traditional knowledge for weather forecasts, but it recently created a national meteorological service for its 10,000 inhabitants.
"Today's new global threat is climate change and it is changing everything," said Roy Harris, permanent secretary of Nauru's National Emergency Service Ministry. "Even the toughest skin of an islander is getting sunburnt."
Sea-level rise was much on the minds of some of the Congress' member nations.
"My wish is that my country will finally become weather-ready, climate-smart and water-wise," said James Gomez, Gambia's minister of fisheries and water resources, who noted that it would only take a 1-meter rise in sea level to wipe out 10% of his nation's land.
"Climate change does not affect everyone and every part of the planet equally," he said. "Disadvantaged and vulnerable populations, indigenous peoples, and local communities dependent on agricultural or coastal livelihoods are at a disproportionately higher risk of adverse consequences of global warming."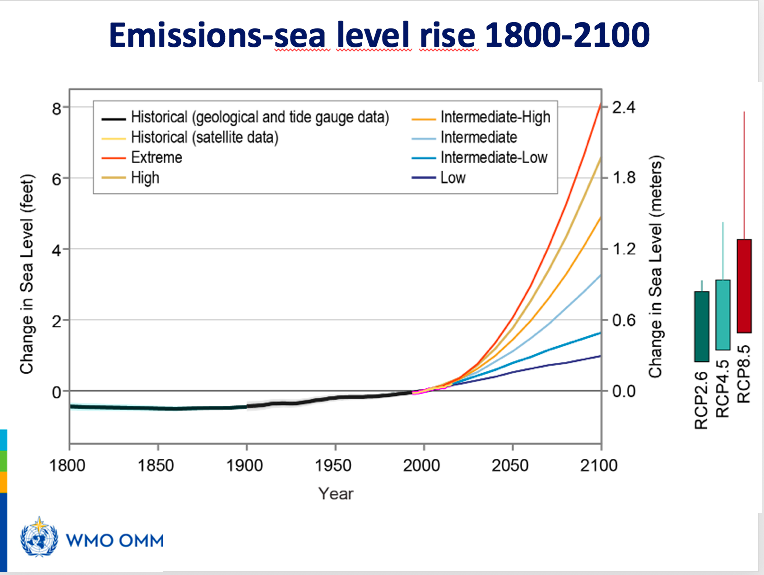 Comments