GENEVA (AN) — The global coronavirus outbreak likely caused a US$50 billion decline in worldwide manufacturing exports from China in February alone, the United Nations Conference on Trade and Development reported on Wednesday.
UNCTAD estimated the huge drop based on China's official Purchasing Managers' Index, which showed the lowest amount of factory activity since 2004 — worse even than during the 2008 global financial crisis. The huge fall implied a 2% reduction in exports on an annual basis.
The World Health Organization, which is coordinating the global response to the COVID-19 outbreak, says its latest figures show there have been 93,000 confirmed cases globally — including 80,000 in China, where it was first detected — and nearly 3,200 deaths.
With many nations reliant on Chinese suppliers, the slowdown in their production has global repercussions. "In addition to grave threats to human life, the coronavirus outbreak carries serious risks for the global economy," UNCTAD's secretary-general, Mukhisa Kituyi, said.
"Any slowdown in manufacturing in one part of the world," he said in a statement, "will have a ripple effect in economic activity across the globe because of regional and global value chains."
The biggest hits are to the European Union, costing its economy some US$15.6 billion; the United States, US$5.8 billion; Japan, US$5.2 billion; South Korea, US$3.8 billion; Taiwan, US$2.6 billion; and Vietnam, US$2.3 billion, according to UNCTAD. By industry sector, it said, the most affected businesses deal in precision instruments, machinery, cars and communications equipment.
"If the virus continues to spread and gets out of control, and we see closures not only in China but also in India and the United States and everywhere else in the world, then it would be a big problem," said UNCTAD economist Alessandro Nicita. "Ultimately, the economic impact of this virus depends on the measures that countries apply to contain the virus."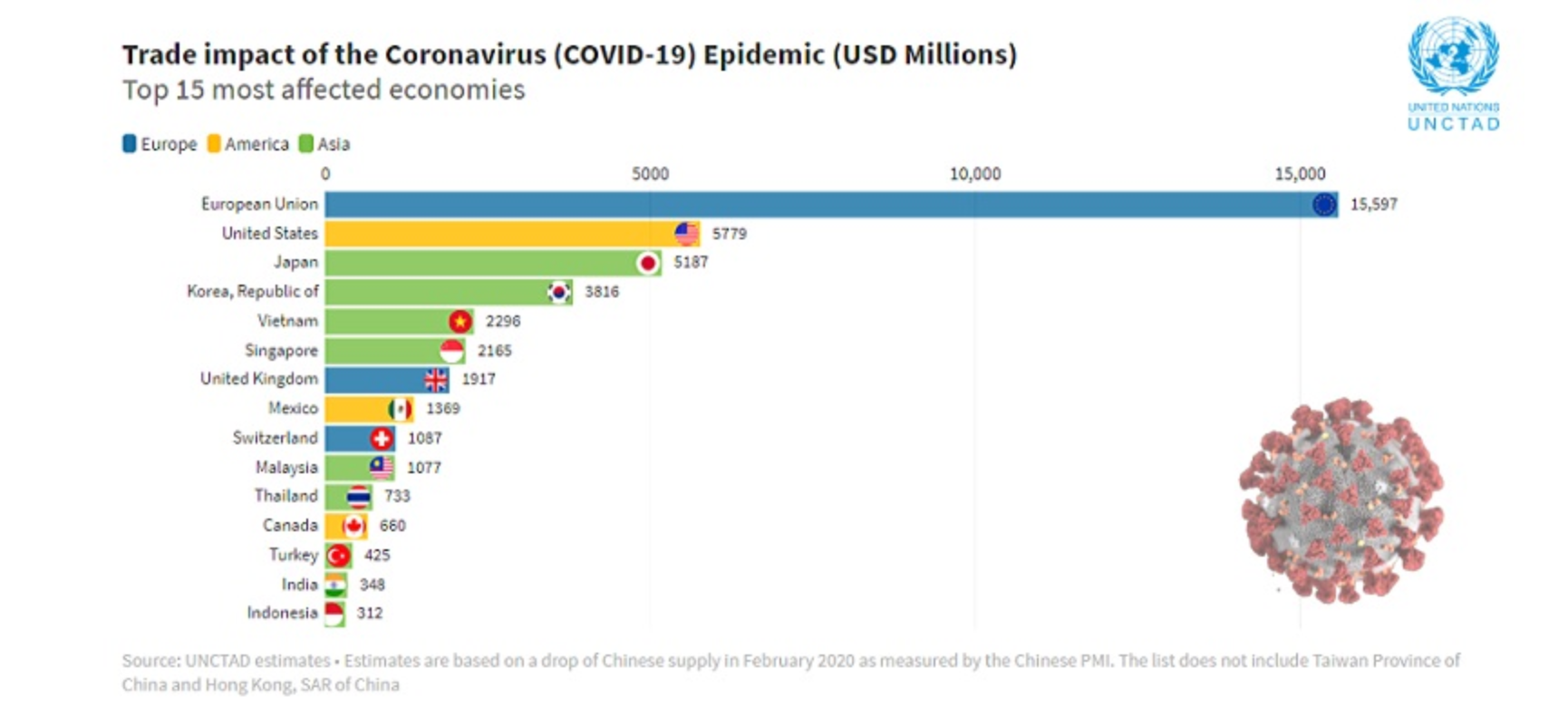 IMF and World Bank promise billions
In response, the International Monetary Fund announced US$50 billion in aid and the World Bank pledged US$12 billion to help nations deal with the health and economic impacts of the COVID-19 outbreak.
IMF Managing Director Kristalina Georgieva and World Bank President David Malpass told a press conference the help would go to low-income and emerging market nations that ask for help.
"We all recognize that the situation with the spread of the coronavirus is very serious and could well get worse. This affects us all," Georgieva said. "It is a global problem calling for a global response."
She said experience suggests about one-third of the economic losses from the virus outbreak will be direct costs due to loss of life, workplace closures and quarantines, while the other two-thirds will be indirect costs due to a loss in consumer confidence and tightening of financial markets.
"Under any scenario, global growth in 2020 will drop below last year's level," said Georgieva. "How far it will fall, and for how long, is difficult to predict, and would depend on the epidemic, but also on the timeliness and effectiveness of our actions."
Malpass said the aid from the World Bank, including US$8 billion in new money and US$4 billion taken from other programs, will help developing countries beef up their health systems so that they can better detect the virus and get needed medical equipment.
"The point is to move fast," he said. "Speed is needed to save lives."
Comments