WASHINGTON (AN) — A peace treaty and nuclear disarmament on the Korean Peninsula would expand one of North Korea's most important conduits to the world besides China: its sizable but little-known involvement with international organizations.
That would be a key outcome if the summit in Singapore between the North Korean leader, Kim Jong Un, and U.S. President Donald Trump leads towards denuclearization, peace and a withdrawal of the international sanctions weighing on North Korea's moribund economy.
Though it is a tightly controlled and secretive nation, North Korea belongs to at least 50 U.N.-affiliated agencies and other organizations and has embassies in 47 nations, according to data from the U.S.-based East-West Center and National Committee on North Korea.
"People don't know how extensively they've actually plugged themselves in to the larger system even though they keep — most of them — a pretty low profile," Bradley Babson, a policy expert and consultant to the World Bank and United Nations, said in an interview with Arete News.
Trump's renewed plan to "really start a process" with the North Koreans could involve more than a one-day landmark summit with Kim on June 12 in Singapore. "I never said it goes in one meeting," he told reporters in televised remarks at the White House. "I think it's going to be a process but the relationships are building and that's a very positive thing."
After Trump cancelled plans for a summit on May 24, U.N. Secretary-General António Guterres said he was "deeply concerned" and urged the United States and North Korea to "find a path to a peaceful and verifiable denuclearization of the Korean peninsula."
Eight days later — after meetings between U.S. and North Korean officials in which one of Kim's closest aides, Kim Yong Chol, became the highest-level official from North Korea to visit the United States in 18 years — Trump announced the summit was back on as planned.
Such erratic and highly visible diplomacy is unusual for North Korea, but the outreach behind it is not new.
Reaching out behind the scenes
North Korea has quietly sought help from international organizations to deal with food shortages, forest degradation and other environmental problems over the years. Its trade and diplomatic missions to United Nations offices in Geneva, New York and Paris provide official and confidential channels.
As a regional player, the U.N.'s Economic and Social Commission for Asia and the Pacific can "connect with North Korea on a number of levels and they do it pretty much out of the radar of what everyone else is watching," said Babson, who has studied North Korea's economy and its place in the world.
North Korea and the United Nations signed a 5-year strategic framework agreement in 2016 that covers their operations, policy and information-sharing. The aim of the agreement is "to support and reinforce national efforts to improve the well-being of the people, especially the most vulnerable."
International organizations that work in North Korea mainly provide development or humanitarian aid. The ones involved in development tend to stay under the radar; those offering humanitarian aid operate only slightly more publicly due to the political optics. Babson described it as the new norm.
"There's a little bit of life, not a huge amount of life, in humanitarian and coordinated U.N. effort that covers what they consider critical humanitarian needs despite all the sanctions and everything else going on," said Babson. "They have to work as quietly as they can because of the political environment they're working in."
In April, the U.N.'s Office for the Coordination of Humanitarian Affairs publicly appealed for US$111 million in "life-saving aid" to reach 6 million North Koreans coping with hunger, malnutrition, inadequate health care, unclean water, poor sanitation and natural disasters.
More quietly, the Food and Agriculture Organization worked to protect North Korea's forests and to fend off an invasive pest from its pine trees. Chun Sik Jangea, head of North Korea's delegation to an FAO regional conference in April, said the organization over the past two years worked on boosting the nation's agricultural production and "nutrition and living standards of the rural population."
North Korea hopes to increase "cooperation with FAO and its member states in the region and make a positive contribution to the efforts for sustainable agricultural development and eradication of poverty and hunger," he said in a videotaped presentation.
Shrinking assistance
The U.N. Development Program, or UNDP, helped North Korea's water management and push for sustainable livelihoods. U.N. Environment, or UNEP, and the U.N. Educational, Scientific and Cultural Organization, or UNESCO, took on other ecological issues.
Still other organizations — UNICEF, U.N. Population Fund, U.N. Industrial Development Organization, U.N. International Strategy for Disaster Reduction, and U.N. Office for Project Services, or UNOPS —  provided help under the U.N.'s strategic agreement.
International assistance for North Korea was fairly expansive during the late 1990s when the end of Soviet aid and devastating floods caused North Korea's food ration system to break down and famine was widespread. After 9/11, that aid wound down. In the past decade, it has been minimal.
Smuggling flourished on the Chinese border. The United States, European Union, Japan, South Korea and other nations imposed U.N.-approved sanctions punishing North Korea for its nuclear program, cyber attacks, human rights violations, money laundering and other activities.
But with two meetings in a month held between them at a border truce village, North Korea's Kim Jong Un and South Korea's Moon Jae-in raised hopes for negotiations towards removal of all nuclear weapons from the Korean Peninsula and a peace agreement to mark an official end to the Korean War.
Doing so would allow Kim to crack open more windows of opportunity and assistance for his nation through the tools of diplomacy, treaties and international organizations.
"Everyone's in a box until the political level opens up some gates to allow more meaningful interaction," Babson said. "If you work with an international organization, technocratically your job is to help them solve their problem, not to create a problem."
Lowering tensions
In defiance of U.N. sanctions, North Korea worked to develop nuclear-tipped missiles capable of reaching the United States. Last year it conducted its sixth and largest nuclear test and tested what it called its most advanced long-range ballistic missile capable of reaching anywhere in America.
Before the Inter-Parliamentary Union, however, North Korea's top delegate recently asserted his nation has an "international mission and responsibility" it intends to carry out. At the United Nations, North Korean envoys criticized the international sanctions imposed on their country, rejected evidence of human rights abuses and defended having nuclear weapons.
Amid rising U.S.-North Korean tenions, U.N. Undersecretary-General for Political Affairs Jeffrey Feltman, an American, visited North Korea in December to meet with foreign affairs ministers. He also visited U.N. staff and projects for feeding children and preventing tuberculosis and breast tumors.
Feltman, a former senior US State Department official, became the highest-level U.N. official to visit North Korea since 2011. After his visit, a U.N. note to journalists described the situation there as "the most tense and dangerous peace and security issue in the world today."
The trip represented what Babson called a "toe-in-the-water type of effort" by the United Nations so that "people are actually talking to each other instead of throwing rocks at each other." Babson should know. In 1998, he took an unprecedented trip to North Korea on behalf of the World Bank when the nation was in an "exploratory mode" toward outside help, knowledge and training, he recalled.
After Feltman's trip, U.N. Secretary-General António Guterres urged the U.N. Security Council to work to lower the risk of an accidental escalation of conflict on the Korean Peninsula. He also suggested renewing the talks between Russia, Japan, the United States, China and the Koreas that had stalled in 2008. Russia backed the idea, saying it already had open communications channels with North Korea.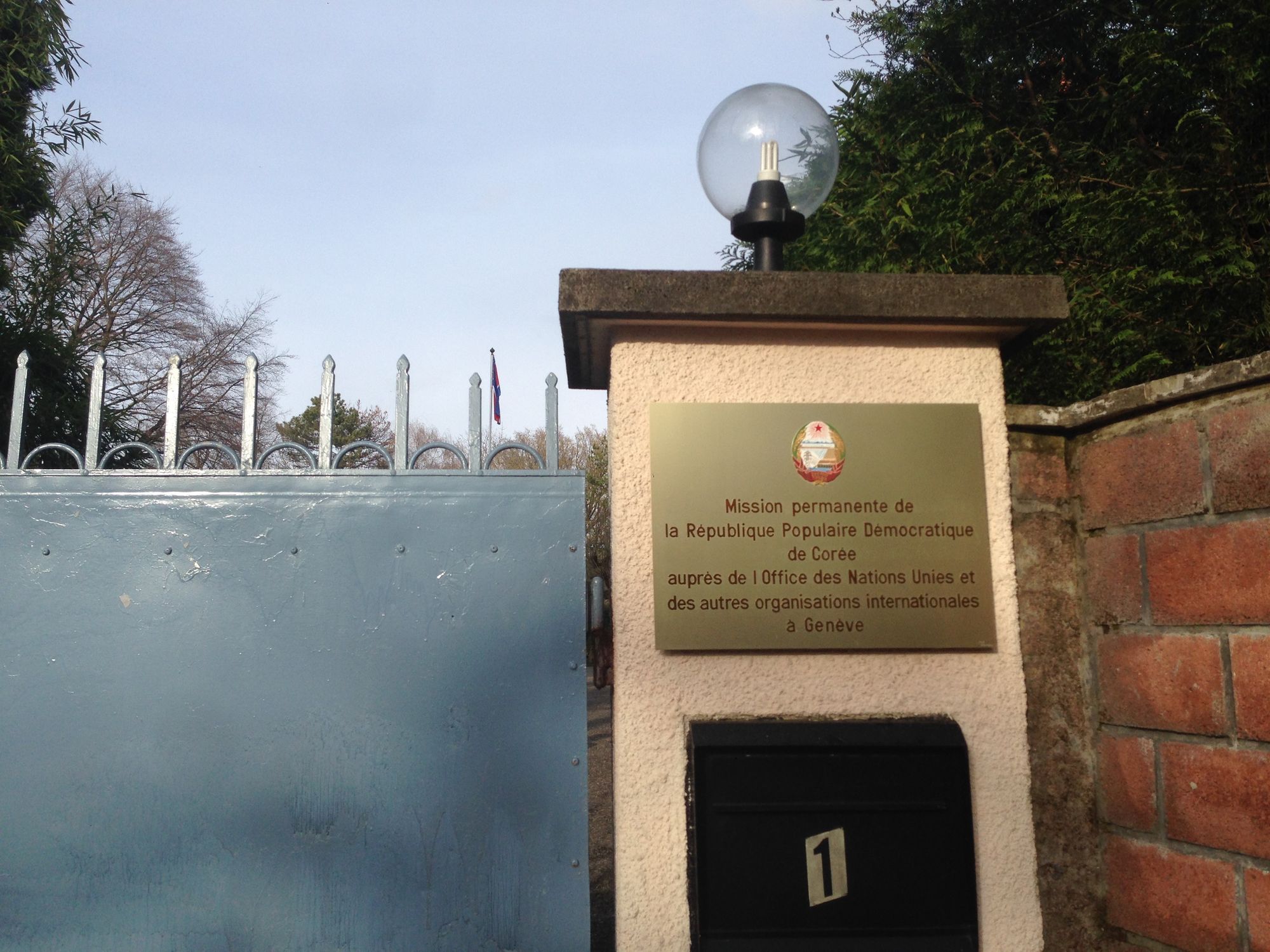 The entrance to North Korea's U.N. mission in Geneva (AN/John Heilprin)
Barriers to integration
Now, the United States hopes Kim will agree to scrap his nuclear weapons. Pyongyang will presumably try to further demonstrate its military capabilities if the talks crumble — particularly since Trump's newest national security adviser John Bolton, a fierce supporter of the 2003 invasion of Iraq, has made the case for a preemptive strike on North Korea's nuclear capabilities.
In the event of an impasse, the big challenge to the Trump administration would be to swallow its pride and accept a de facto deterrence relationship with North Korea as a nuclear nation — all to maintain stability on the Korean Peninsula.
The flurry of diplomacy and trade talks showcased China's potential influence over North Korea's nuclear program despite the recent tensions between the two countries. China's trade and other support provides a lifeline for North Korea's crippled economy. Pyongyang and Beijing recently demonstrated their ties, but only after showcasing they each had firm control on the home front.
When he was CIA director, Mike Pompeo met with Kim over an Easter weekend. Weeks later, Pompeo won U.S. Senate confirmation to become Trump's secretary of state. Upon his return, Pompeo reported finding room for opportunity to negotiate an end to North Korea's nuclear weapons program.
"Who knows how the ultimate discussions will go," Pompeo told ABC TV's This Week. "There is a lot of work to do, but I am very hopeful that the conditions that have been set by President Trump give us this chance."
North Korea's weapons tests badly strained relations. China, which regards North Korea as a potential threat but also a buffer against U.S.-allied South Korea, wants a break in U.S.-South Korean war games and a suspension of North Korea's nuclear and missile program. China, competing with U.S. influence in Asia and hoping to be seen as a global diplomat, agreed to stricter sanctions on North Korea.
North Korean withdrew from the International Atomic Energy Agency in 1994 and has not joined the World Bank, International Monetary Fund, or IMF, and many other major financial institutions, nor does it belong to the World Trade Organization — limiting its participation in market economies. But its diplomats occasionally take to the floor at the United Nations to deflect widespread criticisms.
North Korea has been adjusting to economic realities caused by the collapse of the former Soviet Union and Chinese economic reforms, forcing its state-directed system, counterfeit currency and illicit goods to navigate a world of capital, competitive prices and international markets.
Making such a leap will require major financial sector overhauls to entice portfolio and foreign direct investment. The sanctions have crimped the way the U.N. agencies and other international organizations can work in North Korea. Many of them have found it difficult to get financial resources legally and securely in and out of North Korea.
The Global Fund to Fight AIDS, Tuberculosis and Malaria announced in June it would close North Korean programs for tuberculosis and malaria that lack the "required level of assurance and risk management" to effectively administer its resources and grants, but hoped to re-engage when possible.
The decision halted further disbursements beyond the Global Fund's US$103 million in medical aid to North Korea that UNICEF has overseen since 2010. North Korea, with 130,000 tuberculosis infections in 2016, is on the World Health Organization's list of nations with the greatest incidence of the deadly lung disease, which exploits malnutrition and other conditions that compromise immune systems.
If North Korea were to start opening up, one of the first things they would need would be an improved statistical and financial system that is transparent and can be integrated with the IMF and WTO.
"Getting the IMF in there, to me, is really the priority for re-engaging the international community in a serious way on financial and economic transparency," said Babson. "It's not just about giving them goodies, it's about getting them integrated in the kind of information and transparency and rules-based interaction on economic and financial things that are at the heart of the international system."
A lesser-known aspect of the North Koreans' under-the-radar outreach is their attempt to access economic intelligence from the international community when they can. This suggests they are connecting the dots on how to bring their closed nation into world markets and the global economy.
Since 2011, the University of British Columbia has hosted six-month visits by North Korean professors who study English, international trade, finance and economics. The "knowledge partnership program" between Canada and North Korea shows how "universities can promote constructive engagement through teaching, learning and research," said Grace Wong, senior advisor to the university's provost.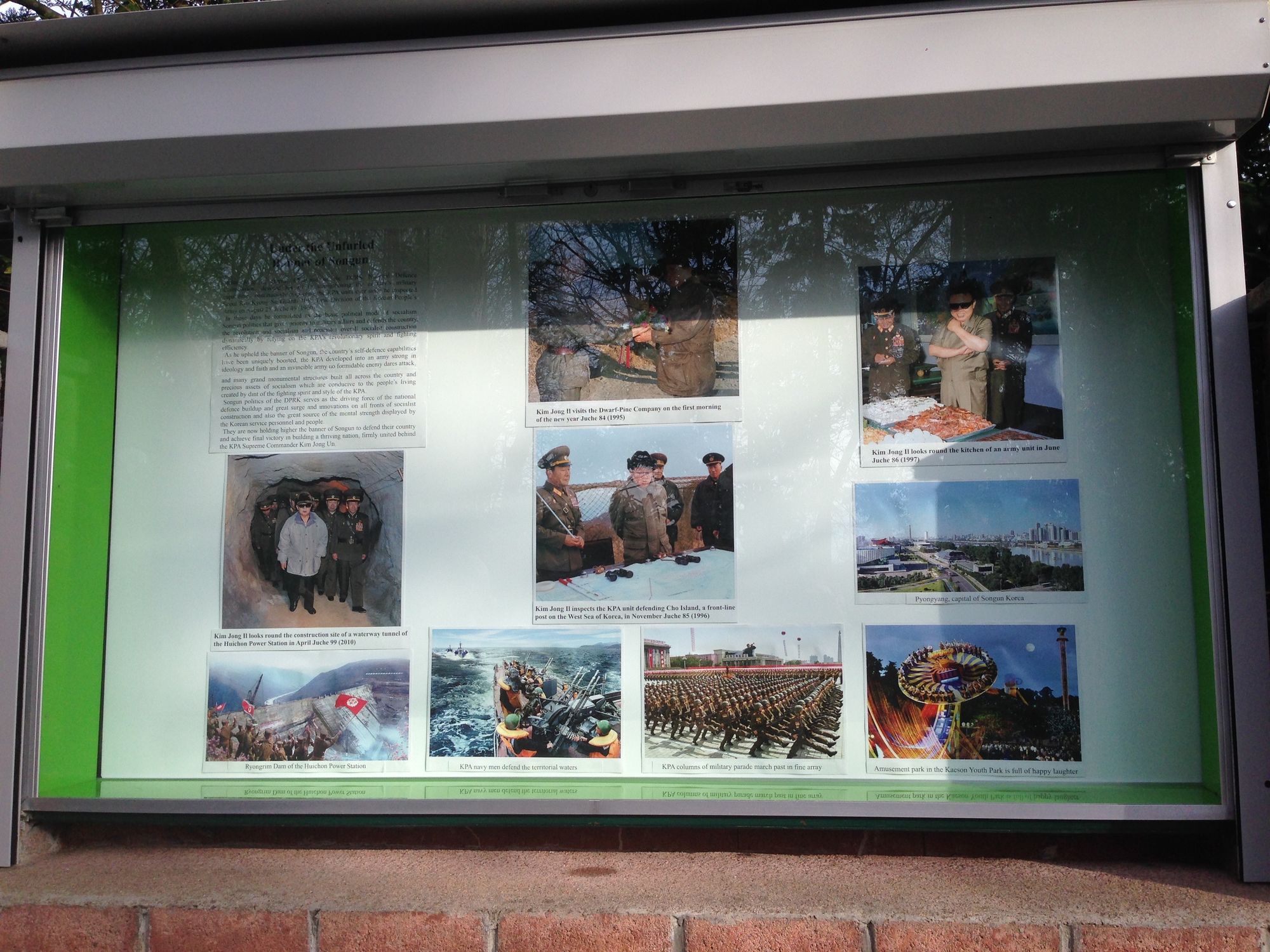 An exhibit at North Korea's U.N. mission in Geneva (AN/John Heilprin)
Neutral nations
A peace treaty with South Korea would finally bring a close to the Korean War, which technically never ended because the Korean War Armistice Agreement of 1953 was a cease-fire between military forces, not between governments.
The armistice, as the sole legal instrument for preventing armed hostilities on the Korean Peninsula, established the Demilitarized Zone, or DMZ, along the 38th parallel — and set up an international organization, the Neutral Nations Supervisory Commission, or NNSC, to keep brokering the peace.
Each year, NNSC members Poland, Sweden and Switzerland meet to discuss operational tasks and other routine matters. "As long as this agreement is not superseded by a comprehensive peace treaty, the role of the NNSC remains important in maintaining the military armistice as well as in promoting confidence on both sides of the demarcation line," the Swiss foreign ministry said.
But the commission has said it is concerned about North Korea's nuclear and ballistic missiles programs and the low level of confidence and trust on the Peninsula. It has called for denuclearization and lasting stability through a permanent peace treaty.
North Korea relies on the neutrality of countries like Switzerland, which established diplomatic relations with it in 1974 and has since promoted humanitarian aid and sustainable agriculture there. From 1997 to 1999, Switzerland hosted talks in Geneva between the Koreas, China and the United States. Switzerland also sponsored U.S.-North Korea meetings in Geneva seeking to improve relations.
Switzerland, Sweden and the DMZ were initially among the most speculated host sites for the Trump-Kim talks. The shortlist narrowed to front-runner Singapore, Mongolia and the DMZ — then, finally, Singapore. "We will both try to make it a very special moment for World Peace!" Trump tweeted.
Swiss connection
Kim also might call on a bit of knowledge and skills he may have gained at schools in Switzerland, whose discretion and privacy often protects children of foreign leaders.
Public school officials in a quiet suburb of Bern acknowledged that several North Korean children affiliated with local diplomats — including a boy who could have been Kim — were students in the Swiss capital during the 1990s.
Former teachers and classmates have said they spent time with Kim. Swiss newspapers reported he went to school under a pseudonym in Switzerland. At a summit in South Korea, Kim was served the Swiss fried potato dish rösti with a Korean twist as an homage to his childhood in Switzerland, according to a statement from South Korea's Blue House, which hosted the summit dinner.
North Korea never confirmed Kim's reported Swiss ties. Kim took over as leader of North Korea in 2011 after his father Kim Jong Il's death. Kim's aunt Ko Yung Suk and her husband Ri Kang, who now live in the United States, told The Washington Post in 2016 that during the 1990s she accompanied Kim while he grew up in Bern, where students learn in German, French and English.
She also offered some insight into the future North Korean leader, who Trump has called a "madman" and "rocket man … on a suicide mission for himself and for his regime." Kim, in turn, has described Trump as a "mentally deranged U.S. dotard."
While living and studying in Switzerland, Kim's aunt said, his life was made to seem as normal as possible, and he became so obsessed with playing basketball that he spent nights sleeping with one. Kim is also said to have enjoyed Swiss ski resorts.
"He wasn't a troublemaker, but he was short-tempered and had a lack of tolerance," his aunt said. "When his mother tried to tell him off for playing with these things too much and not studying enough, he wouldn't talk back, but he would protest in other ways, like going on a hunger strike."
North Korean participation among international organizations
Name of international organization (listed in order of year joined)
World Federation of Trade Unions (1947)
International Red Cross and Red Crescent Movement (1948)
International Organization for Standardization (1954)
International Federation of Red Cross and Red Crescent Societies (1956)
Joint Institute for Nuclear Research (1956)
Organization for Cooperation between Railways (1956)
FIFA (1958)
Group of 77 (1964)
Inter-Parliamentary Union (1973)
UN Conference on Trade and Development (1973)
World Health Organization (1973)
Asia-African Legal Consultative Organization (1974)
International Organization of Legal Metrology (1974)
UNESCO (1974)
Universal Postal Union (1974)
World Intellectual Property Organization (1974)
International Telecommunication Union (1975)
International Bureau of Education (1975)
Non-Aligned Movement (1975)
World Meteorological Organization (1975)
Food and Agriculture Organization (1977)
International Civil Aviation Organization (1977)
Intergovernmental Oceanographic Commission (1978)
U.N. Development Program (1979)
U.N. Industrial Development Organization (1981)
Codex Alimentarius Commission (1981)
International Bureau of Weights and Measures (1981)
Intersputnik International Organization of Space Communications (1983)
United Nations Population Fund (1985)
UNICEF (1985)
World Food Program (1986)
International Fund for Agricultural Development (1986)
International Maritime Organization (1986)
World Tourism Organization (1987)
International Hydrographic Organization (1987)
Intergovernmental Organization for Marketing Information and Technical Advisory Services for Fishery Products in the Asian and Pacific Region (1987)
U.N. Development Fund for Women (1989)
Common Fund for Commodities (1989)
United Nations (1991)
Asia-Pacific Broadcasting Union (1991)
U.N. Economic and Social Commission for Asia and the Pacific (1992)
U.N. Environment Program (1994)
Asia Pacific Telecommunity (1994)
South Center (1995)
Asia and Pacific Plant Protection Commission (1995)
Conference on Disarmament (1996)
International Textile & Clothing Bureau (1999)
ASEAN Regional Forum (2000)
Partnerships in Environmental Management for the Seas of East Asia (2000)
International Telecommunications and Satellite Organization (2001)
Society for Worldwide Interbank Financial Telecommunication (2001)
World Organization for Animal Health (2001)
International Electrotechnical Commission (2004)
Bureau International des Expositions (2007)
Animal Production and Health Commission for Asia and the Pacific (2009)
Center for Agriculture and Biosciences International (2010)
International Mobile Satellite Organization (2013)
Asia Pacific Group on Money Laundering (2014)
North Korean participation among international treaties
Name of treaty (listed in order of year joined)
Korean War Armistice Agreement (1953)
Geneva Conventions (1957)
ITU Constitution and Convention (1975)
Convention on International Civil Aviation (1977)
Postal Parcels Agreement (1978)
Insured Letters Agreement (1978)
Subscriptions to Newspapers and Periodicals Agreement (1978)
Vienna Convention on Diplomatic Relations (1980)
Madrid Agreement Concerning the International Registration of Marks (1980)
Paris Convention for the Protection of Industrial Property (1980)
Patent Cooperation Treaty (1980)
International Covenant on Civil and Political Rights (1981)
International Covenant on Economic, Social and Cultural Rights (1981)
Convention on the Prevention and Punishment of Crimes against Internationally Protected Persons, including Diplomatic Agents (1982)
Vienna Convention on the Representation of States in their Relations with International Organizations of a Universal Character (1982)
U.N. Convention on the Law of the Sea (1982)
UNESCO Convention on the Means of Prohibiting and Preventing the Illicit Import, Export and Transfer of Ownership of Cultural Property (1983)
Nairobi Treaty on the Protection of the Olympic Symbol (1983)
Vienna Convention on Consular Relations (1984)
Convention on the non-applicability of statutory limitations to war crimes and crimes against humanity (1984)
Convention on Special Missions (1985)
Convention on the International Regulations for Preventing Collisions at Sea (1985)
International Convention for the Safety of Life at Sea (1985)
International Convention on Standards of Training, Certification and Watchkeeping for Seafarers (1985)
Convention on Early Notification of a Nuclear Accident (1986)
Convention on Assistance in the Case of a Nuclear Accident or Radiological Emergency (1986)
Global System of Trade Preferences among Developing Countries (1988)
International Convention on Tonnage Measurement of Ships (1989)
International Convention for Safe Containers (1989)
International Convention on Load Lines (1989)
Convention on the Prevention and Punishment of the Crime of Genocide (1989)
Regional Convention on the Recognition of Studies, Diplomas and Degrees in Higher Education in Asia and the Pacific (1989)
Agreement on the Network of Aquaculture Centers in Asia and the Pacific (1990)
Convention on the Rights of the Child (1990)
Hague Agreement Concerning the International Registration of Industrial Designs (1992)
Convention on Facilitation of International Maritime Traffic (1992)
U.N. Framework Convention on Climate Change (1994)
Convention on Biological Diversity (1994)
Montreal Protocol on Substances that Deplete the Ozone Layer (1995)
Vienna Convention for the Protection of the Ozone Layer (1995)
Protocol Relating to the Madrid Agreement Concerning the International Registration of Marks (1996)
Locarno Agreement Establishing an International Classification for Industrial Designs (1997)
Nice Agreement Concerning the International Classification of Goods and Services for the Purposes of the Registration of Marks (1997)
Convention Concerning the Protection of the World Cultural and Natural Heritage (1998)
Patent Law Treaty (2000)
Convention on the Elimination of All Forms of Discrimination against Women (2001)
Budapest Treaty on the International Recognition of the Deposit of Microorganisms for the Purposes of Patent Procedure (2001)
Strasbourg Agreement Concerning the International Patent Classification (2001)
Stockholm Convention on Persistent Organic Pollutants (2002)
Convention on the Safety of United Nations and Associated Personnel (2003)
Berne Convention for the Protection of Literary and Artistic Works (2003)
International Treaty on Plant Genetic Resources for Food and Agriculture (2003)
U.N. Convention to Combat Desertification (2003)
International Plant Protection Convention (2003)
Cartagena Protocol on Biosafety to the Convention on Biological Diversity (2003)
Rotterdam Convention on the Prior Informed Consent Procedure for Certain Hazardous Chemicals and Pesticides in International Trade (2004)
Lisbon Agreement for the Protection of Appellations of Origin and their International Registration (2004)
Kyoto Protocol to the United Nations Framework Convention on Climate Change (2005)
WHO Framework Convention on Tobacco Control (2005)
Plant Protection Agreement for the Asia and Pacific Region (2006)
Convention for the Safeguarding of the Intangible Cultural Heritage (2008)
Basel Convention on the Control of Transboundary Movements of Hazardous Wastes and their Disposal (2008)
Convention on Registration of Objects Launched into Outer Space (2009)
International Convention against Doping in Sport (2010)
Intergovernmental Agreement on the Asian Highway Network (2012)
Intergovernmental Agreement on the Trans-Asian Railway Network (2012)
Optional Protocol to the Convention on the Rights of the Child on the Sale of Children, Child Prostitution and Child Pornography (2014)
Convention on the Rights of Persons with Disabilities (2016)
Marrakesh Treaty (2016)
Paris Agreement (2016)
Svalbard Treaty (2016)
Beijing Treaty on Audiovisual Performances (2016)
Singapore Treaty on the Law of Trademarks (2016)
Source: East-West Center and National Committee on North Korea
Comments