GENEVA (AN) — Saudi dissident journalist Jamal Khashoggi's apparent murder hung over a review of Saudi Arabia's troubled human rights record, with nations repeatedly calling for a proper investigation.
Diplomats from nations including Canada, Croatia, Denmark, Germany, Iceland, Ireland, Italy and Japan demanded a credible and transparent investigation into the apparent murder of Khashoggi, a Washington Post contributor, inside the Saudi consulate at Istanbul, Turkey on October 2.
"We are deeply concerned by the fate of Jamal Khashoggi," Germany's U.N. ambassador in Geneva, Michael Freiherr von Ungern-Sternberg, told the Geneva-based U.N. Human Rights Council, while urging Saudi Arabia to reveal the "complete" details of what happened to the journalist.
Saudi Arabia's top delegate, Bandar bin Mohammed Al-Aiban, defended the nation's record and promised to prosecute Khashoggi's killers. He told the council that King Salman instructed the Saudi public prosecutor to handle the case according to law and to bring "all the perpetrators to justice."
Widespread skepticism over Saudi Arabia's denials that its royal family was involved in the killing, and its insistence that it is "determined to find out all the facts," were the backdrop for the Universal Periodic Review, or UPR process for Saudi Arabia that is required of all 193 U.N. member nations.
Roughly twice each decade the 47-nation council examines each country's human rights record. Three previous UPR cycles have been held since council was created in 2006. This time around, the Saudi review could not have occurred at a more appropriate — or sensitive — time.
The nation's first two reviews were in 2009 and 2013. This third one came little more than a month after Khashoggi's death. It followed a U.N. report in August that found suspected war crimes in Yemen carried out by a government coalition with the United Arab Emirates and Saudi Arabia and by the opposition militia.
"U.N. member states must end their deafening silence on Saudi Arabia and do their duty of scrutinizing the cruelty in the kingdom in order to prevent further outrageous human rights violations in the country and in Yemen," Samah Hadid, Amnesty International's Middle East director of campaigns, said in a statement.
Ahead of the review, United Nations officials published a list of concerns about Saudi Arabia such as discrimination against women, use of the death penalty and crackdowns on freedom of expression.
On the defensive
A growing number of international observers in the Khashoggi affair have pointed a finger at Crown Prince Mohammed bin Salman, who controls the Saudi intelligence and security apparatus and is seen as the power behind his father King Salman, who suffers from Alzheimer's disease.
Turkish officials told The Washington Post and Hürriyet Daily News that Khashoggi was strangled before his body was cut up so it could be dissolved in acid to leave no trace behind at the consulate or Saudi consul general's nearby residence. Khashoggi, a Post columnist who had taken up residence in the Washington, D.C. region, had gone to the consulate to obtain marriage documents.
After a weeks-long denial, Saudi authorities admitted on October 25 that Khashoggi's death was a premeditated killing. They arrested 18 people. Khashoggi's fiancée, Hatice Cengiz, who had waited in vain outside the consulate for his safe return, said in an editorial published by the Post and several other newspapers that world leaders must now work to "bring the perpetrators to justice."
During the UPR process, Saudi Arabia submits a national report about its human rights record. More information is gathered from outside sources, including independent experts, other U.N. agencies and a range of national and international organizations. Three nations —  Tunisia, China and Belgium — were chosen to oversee the examination, which was carried live on U.N. Web TV.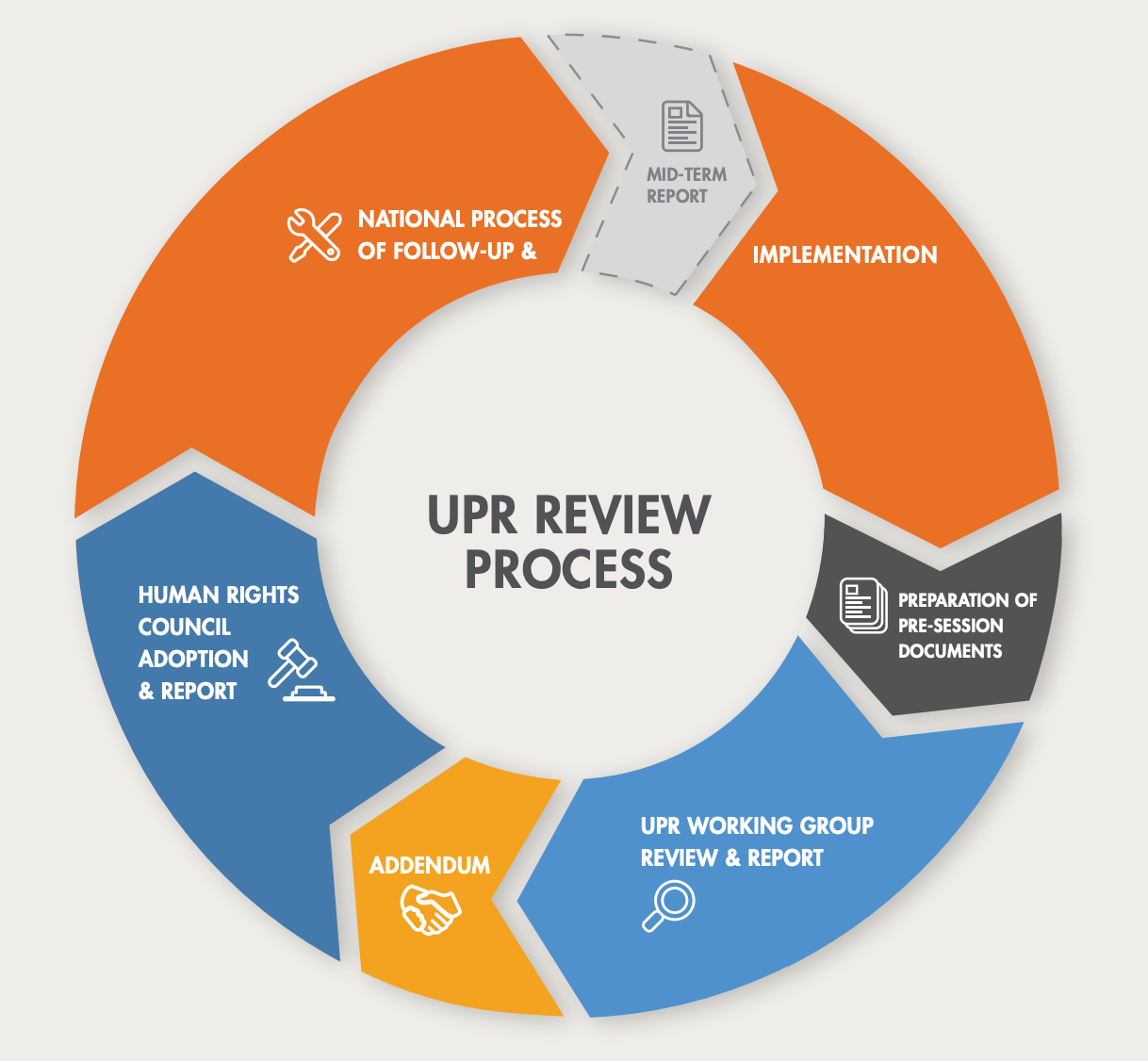 Illustration of the Universal Public Review (AN/HRC Secretariat)
Saudi Arabia was one of 14 nations that were scheduled to be reviewed this month. Its delegation was headed by Al-Aiban, president of the country's human rights commission.
In a statement read to the council, Mona Abdel Moneim Al-Shafei, a third secretary at the Saudi mission to the U.N. in Geneva, said that the kingdom considers it a priority to promote and protect human rights. She said her nation was keen to cooperate with the United Nations, the international community and other international organizations.
"It is not permissible to restrict, arrest or imprison anyone except under the provisions of law. Any act can be criminalized only on the basis of pre-defined legal texts and systems," she said. "Those whose rights are violated can file a complaint in accordance with the available equity system."
Comments